Find out everything you need to know ahead of our UEFA Champions League final at the Ataturk Olympic Stadium in Istanbul.
Team News
Ederson and Nathan Ake both return as Manchester City make two changes for the 2023 UEFA Champions League final against Inter in Istanbul.
The Brazilian international replaces Stefan Ortega in goal while Dutch defender Ake comes in for Kyle Walker for Saturday's biggest game of the season at the Olympic Ataturk Stadium.
They are the only changes from the side that secured FA Cup final glory against Manchester United last weekend.
Otherwise it's as you were for City as we seek to end a quite remarkable season on the ultimate high by claiming what would be our first-ever Champions League crown – and with it the historic Treble of Premier League, FA Cup and Champions League.
Teams
CITY XI: Ederson, Akanji, Stones, Dias, Ake, Rodrigo, Gundogan (c), De Bruyne, Bernardo, Grealish, Haaland
Subs: Ortega, Carson, Walker, Phillips, Laporte, Alvarez, Gomez, Mahrez, Perrone, Foden, Palmer
INTER: Onana, Darmian, Acerbi, Bastoni, Dumfries, Barella, Brozovic, Calhanoglu, Dimarco, Martinez, Dzeko.
Subs: Handanovic, Gagliardini, de Vrij, Gosens, Correa, Bellanova, Asllani, Cordaz, Mkhitaryan, D'Ambrosio, Skriniar, Lukaku
WHEN AND WHERE
We take on Inter on Saturday 10 June, with kick-off in Turkey scheduled for 20:00 (UK).
The meeting is available to watch in the UK on BT Sport 1, BT Sport Ultimate and live on the BT Sport Youtube channel, while supporters living around the world can learn how to tune in via our global TV listings courtesy of livesoccertv.com.
You can also keep across all of the action via the official app, as well as the key moments on Twitter: @ManCity.
MAN CITY APP COVERAGE
Our official app allows you to follow all the action from the exciting semi-final second leg in one place.
Minute-by-minute text updates will begin in our Matchday Centre two hours before kick-off, while our Matchday Live show will begin at approximately 18:45 (UK).
We will have special guests on the latest Matchday Live show, offering their expert insight at half-time and in greater detail after the final whistle.
They will also answer viewer questions throughout the broadcast, with audience participation actively encouraged on Matchday Live. To get in touch, send a WhatsApp to: +447537186538.
During the game you can listen to live audio commentary from Alistair Mann while our text commentary continues.
Make sure to have push notifications turned on as well, so you can be alerted to key moments in the action, including goals, red cards and the team news.
Highlights from the match will be available as will a full-match replay on CITY+ and Recast.
PEP GUARDIOLA PREVIEW
Ahead of the team travelling to Istanbul, Pep Guardiola addressed the media at the CFA.
When asked about his opinion on Inter ahead of the final, he said: "[They are] A team with a lot of history. They have done really well in the last years with the shape - not just how they defend, how good they are in transition and how they link with the strikers.
SUBSCRIBE TO THE OFFICIAL MAN CITY PODCAST
"They have a good process, and it starts with Onana. He is one of the best in the world at starting the build-up. It makes pressing hard. A really good team.
"We know them well because we saw as many games as possible and I understand completely why they are there." 
PREVIOUS MEETING
The two sides have never before met in a competitive fixture.
City's preparations for the 2011/12 season continued in fine style when we beat Inter in Dublin in July 2011.
Goals just either side of half time from Mario Balotelli and Erin Dzeko put City in control, but David Silva pulled the strings with a superb display. The win also gave City the Dublin Super Cup.
LAST TIME OUT
City secured a place in the final with a breath-taking victory over current holders Real Madrid.
Pep Guardiola's side completed an incredible 4-0 win in a pulsating second leg at the Etihad Stadium to complete a 5-1 aggregate semi-final victory.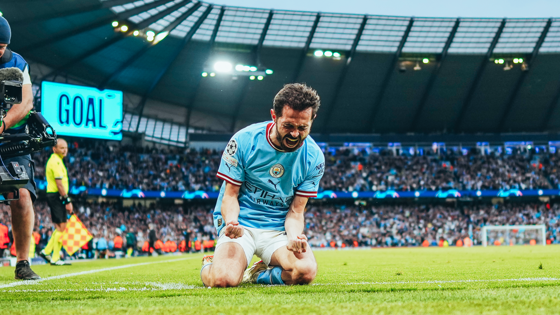 Bernardo Silva scored twice in the first half before a Manuel Akanji header and Julian Alvarez's late strike confirmed a wonderful win over the 14-times winners of the trophy.
In terms of our last fixture, City beat Manchester United 2-1 at Wembley on Saturday to seal a seventh FA Cup and the domestic Double for the 2022/23 season.
Inter eased into the final with a 3-0 aggregate victory over arch-rivals AC Milan, as Lautaro Martinez's goal sealed a 1-0 second-leg win over their rivals at the San Siro.
They have since completed the Serie A season with a 1-0 win at Torino, leaving them third in the table.
MATCH OFFICIALS
Referee: Szymon Marciniak (POL)
Assistants: Paweł Sokolnicki and Tomasz Listkiewicz (both POL)
Fourth official: Istvan Kovacs (ROM)
Reserve assistant: Vasile Florin Marinescu (ROM)
VAR: Tomasz Kwiatkowski (POL)
Assistant VAR: Bartosz Frankowski (POL)
VAR Support: Marco Fritz (GER)
GLOBAL TV LISTINGS
| | |
| --- | --- |
| Albania | RTSH App, RTSH Sport, RTSH 1 |
| Algeria | beIN SPORTS CONNECT |
| Andorra | TVE La 1 |
| Angola | SuperSport Football Plus ROA, DStv Now, SuperSport MaXimo 1, SuperSport MaXimo 2 |
| Anguilla | Flowsports.co, Flow Sports App |
| Antigua and Barbuda | Flowsports.co, Flow Sports App |
| Argentina | Star+ |
| Aruba | Flowsports.co, Flow Sports App |
| Australia | Stan Sport |
| Austria | ZDF, Sky Sport Austria 1 |
| Bahamas | Flow Sports App, Flowsports.co |
| Bahrain | beIN SPORTS CONNECT |
| Bangladesh | Sony LIV |
| Barbados | Flow Sports App, Flowsports.co |
| Benin | SuperSport MaXimo 2, SuperSport Football Plus ROA, SuperSport MaXimo 1 |
| Bermuda | Flow Sports App, Flowsports.co |
| Bhutan | Sony LIV |
| Bolivia | Star+ |
| Botswana | DStv Now, SuperSport Football Plus ROA, SuperSport MaXimo 1, SuperSport MaXimo 2 |
| Brazil | HBO Max |
| British Virgin Islands | Flow Sports App, Flowsports.co |
| Brunei | beIN Sports Connect, beIN Sports Connect Malaysia |
| Burkina Faso | SuperSport MaXimo 1, SuperSport Football Plus ROA, DStv Now, SuperSport MaXimo 2 |
| Burundi | SuperSport MaXimo 1, DStv Now, SuperSport MaXimo 2, SuperSport Football Plus ROA |
| Cambodia | beIN Sports Connect |
| Cameroon | DStv Now, SuperSport Football Plus ROA, SuperSport MaXimo 2, SuperSport MaXimo 1 |
| Canada | DAZN |
| Cape Verde | SuperSport MaXimo 1, DStv Now, SuperSport Football Plus ROA, SuperSport MaXimo 2 |
| Cayman Islands | Flowsports.co, Flow Sports App |
| Central African Republic | SuperSport MaXimo 2, SuperSport MaXimo 1, SuperSport Football Plus ROA |
| Chad | beIN SPORTS CONNECT, DStv Now, SuperSport MaXimo 2, SuperSport Football Plus ROA, SuperSport MaXimo 1 |
| Chile | Star+ |
| China | QQ Sports Live, iQiyi, Migu |
| Colombia | Star+ |
| Comoros | SuperSport MaXimo 1, SuperSport MaXimo 2, SuperSport Football Plus ROA |
| Congo | SuperSport MaXimo 1, SuperSport MaXimo 2, SuperSport Football Plus ROA, DStv Now |
| Congo DR | SuperSport Football Plus ROA, SuperSport MaXimo 1, SuperSport MaXimo 2 |
| Costa Rica | Star+ |
| Cote D'Ivoire | DStv Now, SuperSport MaXimo 2, SuperSport Football Plus ROA, SuperSport MaXimo 1 |
| Czech Republic | Nova Sport 3 |
| Denmark | Viaplay Denmark |
| Djibouti | SuperSport MaXimo 2, DStv Now, SuperSport MaXimo 1, beIN SPORTS CONNECT, SuperSport Football Plus ROA |
| Dominica | Flowsports.co, Flow Sports App |
| Dominican Republic | Star+ |
| Ecuador | Star+ |
| Egypt | beIN SPORTS CONNECT |
| El Salvador | Star+, TCS GO, Canal 4 El Salvador |
| Equatorial Guinea | SuperSport MaXimo 2, DStv Now, SuperSport MaXimo 1, SuperSport Football Plus ROA |
| Eritrea | SuperSport Football Plus ROA, DStv Now, SuperSport MaXimo 1, SuperSport MaXimo 2 |
| Estonia | Viaplay Estonia |
| Ethiopia | SuperSport MaXimo 1, SuperSport Football Plus ROA, DStv Now, SuperSport MaXimo 2 |
| Finland | C More Suomi |
| France | Free, Canal+ France |
| Gabon | SuperSport MaXimo 1, SuperSport MaXimo 2, DStv Now, SuperSport Football Plus ROA |
| Gambia | DStv Now, SuperSport Football Plus ROA, SuperSport MaXimo 2, SuperSport MaXimo 1 |
| Georgia | Adjarasport TV |
| Germany | ZDF |
| Ghana | DStv Now, SuperSport MaXimo 1, SuperSport Football Plus ROA, SuperSport MaXimo 2 |
| Grenada | Flowsports.co, Flow Sports App |
| Guatemala | Star+ |
| Guinea | DStv Now, SuperSport MaXimo 2, SuperSport Football Plus ROA, SuperSport MaXimo 1 |
| Guinea-Bissau | DStv Now, SuperSport MaXimo 1, SuperSport Football Plus ROA, SuperSport MaXimo 2 |
| Honduras | Star+ |
| Hong Kong | beIN Sports Connect Hong Kong |
| India | Sony LIV, JioTV |
| Indonesia | Vidio |
| International | YouTube |
| Iran | beIN SPORTS CONNECT |
| Iraq | beIN SPORTS CONNECT |
| Ireland | LiveScore App, BTSport.com, BT Sport App, BT Sport 1 |
| Italy | Sky Sport Uno, Sky Sport Football, Sky Sport 251, Sky Sport 4K |
| Jamaica | Flowsports.co, Flow Sports App |
| Jordan | beIN SPORTS CONNECT |
| Kenya | SuperSport MaXimo 2, SuperSport Football Plus ROA, DStv Now, SuperSport MaXimo 1 |
| Kosovo | ArtMotion |
| Kuwait | beIN SPORTS CONNECT |
| Laos | beIN Sports Connect |
| Latvia | Viaplay Latvia |
| Lebanon | beIN SPORTS CONNECT |
| Lesotho | SuperSport Football Plus ROA, SuperSport MaXimo 2, DStv Now, SuperSport MaXimo 1 |
| Liberia | SuperSport Football Plus ROA, SuperSport MaXimo 2, SuperSport MaXimo 1, DStv Now |
| Libya | beIN SPORTS CONNECT |
| Liechtenstein | Blue Sport |
| Lithuania | Viaplay Lithuania |
| Macau | iQiyi |
| Madagascar | SuperSport MaXimo 2, SuperSport MaXimo 1, SuperSport Football Plus ROA, DStv Now |
| Malawi | DStv Now, SuperSport MaXimo 2, SuperSport Football Plus ROA, SuperSport MaXimo 1 |
| Malaysia | beIN Sports Connect Malaysia |
| Maldives | Sony LIV |
| Mali | SuperSport MaXimo 2, DStv Now, SuperSport MaXimo 1, SuperSport Football Plus ROA |
| Mauritania | SuperSport MaXimo 1, DStv Now, beIN SPORTS CONNECT, SuperSport MaXimo 2, SuperSport Football Plus ROA |
| Mauritius | DStv Now, SuperSport MaXimo 1, SuperSport MaXimo 2, SuperSport Football Plus ROA |
| Mayotte | SuperSport MaXimo 1, SuperSport Football Plus ROA, SuperSport MaXimo 2 |
| Mexico | HBO Max |
| Montserrat | Flow Sports App, Flowsports.co |
| Morocco | beIN SPORTS CONNECT |
| Mozambique | SuperSport MaXimo 2, SuperSport MaXimo 1, DStv Now, SuperSport Football Plus ROA |
| Namibia | DStv Now, SuperSport MaXimo 1, SuperSport Football Plus ROA, SuperSport MaXimo 2 |
| Nepal | Sony LIV |
| New Zealand | Spark Sport |
| Nicaragua | Star+ |
| Niger | DStv Now, SuperSport MaXimo 2, SuperSport Football Plus ROA, SuperSport MaXimo 1 |
| Nigeria | SuperSport MaXimo 2, SuperSport Football Plus Nigeria, SuperSport MaXimo 1, DStv Now |
| Norway | TV 2 Play |
| Oman | beIN SPORTS CONNECT |
| Pakistan | Sony LIV |
| Palestine | beIN SPORTS CONNECT |
| Panama | Flowsports.co, Star+, Flow Sports App |
| Paraguay | Star+ |
| Peru | Star+ |
| Portugal | Eleven Sports 1 Portugal, TVI, TVI Player |
| Qatar | beIN SPORTS CONNECT |
| Reunion | SuperSport MaXimo 2, SuperSport Football Plus ROA, SuperSport MaXimo 1 |
| Russia | matchtv.ru |
| Rwanda | SuperSport Football Plus ROA, SuperSport MaXimo 1, SuperSport MaXimo 2 |
| Saint Helena | SuperSport MaXimo 2, SuperSport Football Plus ROA, SuperSport MaXimo 1 |
| Saint Kitts and Nevis | Flowsports.co, Flow Sports App |
| Saint Lucia | Flowsports.co, Flow Sports App |
| Saint Vincent and the Grenadines | Flow Sports App, Flowsports.co |
| Sao Tome And Principe | SuperSport Football Plus ROA, SuperSport MaXimo 1, SuperSport MaXimo 2 |
| Saudi Arabia | beIN SPORTS CONNECT |
| Senegal | SuperSport MaXimo 1, SuperSport MaXimo 2, SuperSport Football Plus ROA, DStv Now |
| Seychelles | SuperSport Football Plus ROA, SuperSport MaXimo 2, SuperSport MaXimo 1, Flowsports.co, Flow Sports App, DStv Now |
| Sierra Leone | SuperSport MaXimo 1, SuperSport MaXimo 2, DStv Now, SuperSport Football Plus ROA |
| Singapore | StarHub TV+, beIN Sports Connect Singapore |
| Slovakia | Nova Sport 3 |
| Somalia | SuperSport Football Plus ROA, SuperSport MaXimo 2, SuperSport MaXimo 1, beIN SPORTS CONNECT |
| South Africa | SuperSport MaXimo 2, DStv App, SuperSport Premier League, SuperSport MaXimo 1 |
| South Sudan | DStv Now, beIN SPORTS CONNECT |
| Spain | RTVE.es, TVE La 1, Movistar Liga de Campeones, Movistar+, fuboTV España |
| Sri Lanka | Sony LIV |
| Sudan | SuperSport Football Plus ROA, SuperSport MaXimo 2, beIN SPORTS CONNECT, SuperSport MaXimo 1, DStv Now |
| Swaziland | SuperSport MaXimo 2, SuperSport Football Plus ROA, DStv Now, SuperSport MaXimo 1 |
| Sweden | C More Sweden |
| Switzerland | Blue Sport, Canal+ France |
| Syria | beIN SPORTS CONNECT |
| Tanzania | DStv Now, SuperSport Football Plus ROA, SuperSport MaXimo 1, SuperSport MaXimo 2 |
| Thailand | beIN Sports Connect |
| Togo | SuperSport MaXimo 2, DStv Now, SuperSport MaXimo 1, SuperSport Football Plus ROA |
| Trinidad and Tobago | Flowsports.co, Flow Sports App |
| Tunisia | beIN SPORTS CONNECT |
| Turkey | TV8, Exxen |
| Turks and Caicos Islands | Flowsports.co, Flow Sports App |
| Uganda | DStv Now, SuperSport MaXimo 2, SuperSport Football Plus ROA, SuperSport MaXimo 1 |
| United Arab Emirates | beIN SPORTS CONNECT |
| United Kingdom | BT Sport 1, BT Sport App, BT Sport Ultimate, BTSport.com |
| United States | SiriusXM FC, TUDN.com, TUDN USA, TUDN App, VIX+, CBS, Paramount+ |
| Uruguay | Star+ |
| Venezuela | Star+ |
| Vietnam | FPT Play |
| Yemen | beIN SPORTS CONNECT |
| Zambia | SuperSport Football Plus ROA, SuperSport MaXimo 1, SuperSport MaXimo 2 |
| Zimbabwe | SuperSport MaXimo 2, SuperSport MaXimo 1, DStv Now, SuperSport Football Plus ROA |
News about Man City v Inter