Inter legend Gianluca Pagliuca believes Manchester City possess the greatest coach and striker in world football ahead of Saturday's Champions League final showdown.
Nicknamed 'The Wall', Pagliuca made 234 appearances for the Nerazzurri between 1994 and 1999 and was inducted into their Hall of Fame in 2021.
The 56-year-old still maintains strong ties with Inter and spoke of his pride in seeing his former club reach the showpiece final.
However, with Pep Guardiola in the dugout and the free-scoring Erling Haaland likely to lead the line among a vast collection of world class talent, the former Italy stopper says City will be a formidable opponent.
He said: "I have great respect for Manchester City.
"I consider it the most organised club in the world, with the best coach in the world and the best striker in the world.
"I would have been more confident if Inter had had to meet Real Madrid in the final, whereas I think it will be tougher against Manchester City both because they are the strongest team and because, having never won this trophy, they will have special motivations.
"I am very proud to see Inter in the final because both the team and coach Simone Inzaghi were criticised a lot but they redeemed themselves with two wonderful months in which they beat Benfica and Milan to reach the final.
"Obviously now that they've reached the final, they've found what in Italy we call the toughest nut to crack.
"I think City are the strongest team, they have more quality. Inter can have some hope though, if they hit the perfect match and City are not at their best.
"But I must be honest: if Manchester City are at their best, it will be very tough for Inter."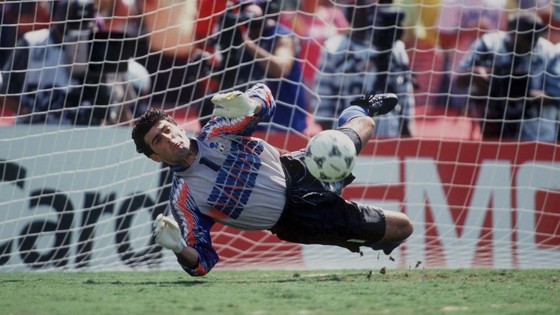 Pagliuca enjoyed a rich career that saw him travel to three World Cups - Italia 90, USA 94 and France 98 - helping Italy, alongside talismanic team-mates Franco Baresi, Paolo Maldini and Roberto Baggio, reach the 1994 final at Pasadena's Rose Bowl where they faced Brazil in front of a remarkable 94,194 fans.
He also captained the Nerazzurri to UEFA Cup success in 1998 against Lazio and featured in ten Milan derbies without losing.
Pagliuca also won the Cup Winners Cup in 1990, Serie A in 1991 as well as three Copa Italia titles across 1988, 1989 and 1994, all with Lazio.
Even now he's a keen student of the game and took time to assess the strengths and weaknesses of City and Inter ahead of Saturday's game in the Ataturk Stadium.
He continued: "There are many match winners at City. First of all the forwards, that's for sure: Erling Haaland, Phil Foden and it goes without saying - Jack Grealish and Riyad Mahrez.
"The midfielders are also fantastic: Ilkay Gundogan, the "lighthouse" of the team as we say in Italy and then there's that fantastic complete player that is Kevin De Bruyne. They are all super human!
"Inter's strongest department is certainly the midfield, with Nicolo Barella, Hakan Calhanoglu, Henrikh Mkhitaryan and Marcelo Brozovic. They can compete with City.
"But the defence is the department that has surprised me the most, there are players who have gone beyond expectations.
"As for the attack, it is also competitive as long as Lautaro Martínez, Edin Dzeko and Romelu Lukaku are all in top form."
This weekend's 68th edition of Europe's premier club football tournament will see Pep Guardiola aim to lead City to our first win in the competition.
For Guardiola it would represent his fourth success following 2009 and 2011 triumphs as a manager and his 1992 victory as a player, all with his beloved Barcelona.
That 1992 win came at Wembley at the expense of Sampdoria, the 1-0 victory coming courtesy of an extra time winner by Ronald Koeman.
Pagliuca was in goal for the Blucerchiati that day and shared the pitch with Guardiola.
While he admired Guardiola greatly as a player, it's as a manager where his appreciation has shot up although he's desperate for Inter to deny our boss another accolade this weekend.
He added: "Pep is the best coach in the world!
"He's the one who has left his mark on this team and he deserves all possible successes.
"But I hope he has to wait until next year to win another Champions League that he deserves."