From the 'Hemp Olympics' as a ten-year-old through to featuring on one of the world's biggest sporting stages, the City winger describes what Team GB selection means to her.
Making the cut as part of Hege Riise's 18-strong squad, Lauren Hemp lines up alongside nine of her City teammates at this summer's Olympic Games in Tokyo, Japan.
Hemp's selection is just rewards for a standout season at the Academy Stadium, where she was voted PFA Young Player of the Year for a second successive season.
Asked to describe her feelings ahead of her Team GB bow, our winger revealed that selection has realised a childhood dream.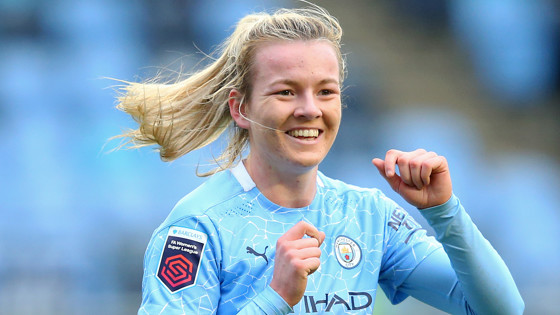 "When I was about ten, me and my sister used to do our own Olympics," Hemp explained.
"It was called the 'Hemp Olympics' and around the time of the Olympics, we'd go out in the garden and jump over bushes and see how far we could get!
"We did all these different events and in the end, I won obviously(!) but we sort of made our own Olympics.
"So, yeah, that was fun!"
Hemp's impressive campaign is perhaps made even more impressive when considering that she was sidelined until early December with a hamstring injury.
However, after grabbing her first goal of the season in emphatic fashion against Goteborg in our Champions League Round of 32 second leg clash a few weeks after her return to the first team fold, the winger never looked back.
And while she openly admits the recovery process wasn't easy, she firmly believes it made her a better player as a result.
She reflected: "Obviously, the injury (at the start of the season) wasn't very good and it took me a long time to get back.
"But I think I used that time effectively and made sure I was stronger, fitter, faster.
"That time in the gym has really helped me come back to full fitness and yeah, I do feel like I'm in a good form, although I know I can still improve and keep getting better.
"It's just going to take time. I think I've been working well with Gazza (Taylor) and finding different things I need to improve on.
"But I'm thankful that I've been given the opportunity to play... I do feel quite confident at the moment."
Team GB's first match of the Olympic games sees them lock horns with Chile in Group E on Wednesday 21 July with kick-off scheduled for 08:30 (UK).