Caroline Weir says being selected for Team GB ahead of this summer's Tokyo Olympics ranks as one of her biggest achievements to date.
The midfielder, alongside 11 of her City teammates, made the cut in Hege Riise's 18-strong squad, with Karen Bardsley later having to withdraw through injury.
The Team GB squad got together for the first time on Thursday and lock horns with Zambia in a warmup game on 1 July, before facing Chile in the opening game of the tournament 20 days later.
The Olympics was postponed last year due to the impact of the COVID-19 pandemic but, for Weir, the extended build-up to this summer's showpiece has made the occasion even more special.
It was a standout season for the Scottish schemer, who found the back of the net on nine occasions from midfield in all competitions and took home the Club's Nissan Goal of the Season award for an exquisite chip against Manchester United.
And while her focus was always on fighting for City during the season, she conceded that it was difficult not to have selection for the Olympics in the back of her mind.
"I think for me personally it's one of my proudest achievements being selected for this squad," she declared.
"I knew how competitive it was (to be selected), we had a lot of football to play thinking about it last season and then it got postponed so we had a full season to play for selection.
"For me, it was a challenge not to think about it too much but it was always in the back of my mind.
"I really wanted to be here and I'm very proud to be selected alongside such a talented group of people, some who I pay with at Manchester City.
"It was a really proud moment not just for me but my family as well who are really excited for me."
Weir is one of only three non-English players in Hege Riise's squad, with her fellow Scot Kim Little and Wales' Sophie Ingle making the cut alongside 15 Lionesses.
However, she conceded that being alongside nine of her City teammates has certainly helped her to settle in.
She said: "I play with these players every single day and have done for a few seasons now.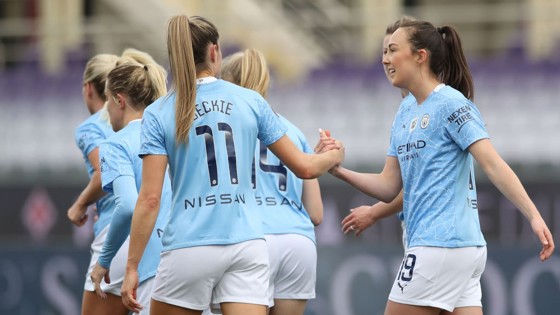 "It makes it easier for me coming in not just on the pitch but for the pitch as well I know them really well as well.
"I think the more connections we have like that, the better.
"But I don't think it's going to take too long to connect with the other players as well that I don't play with and aren't necessarily teammates.
"I do think it helps but hopefully we'll all develop a good bond going forward."
City trio Steph Houghton, Ellen White and Jill Scott are the only players to have previously turned out for Team GB at an Olympic games, reaching the quarter-finals of London 2012.
Weir admits that the team will have to develop an understanding quickly if they want to compete for a place on the medal podium, but she's confident it won't take long to gel.
CITY+ | SUBSCRIBE TO ACCESS EXCLUSIVE CONTENT
"I think that's one of our challenges (but) I also think it's an opportunity, we're starting fresh it's a clean slate, it's a new team," she pointed out.
"Of course, all the players know each other and a lot of us play together which I do think helps, having a lot of my Manchester City teammates is a positive.
"It takes a little bit of time training every day. We all know each other and play against each other so we know each other pretty well.
"It's about spending time on and off the pitch, getting to know each other more off the pitch.
"I've no doubt we'll develop those bonds pretty quickly."