Find out everything you need to know ahead of our Premier League clash with Newcastle United at the Etihad Stadium.
Team News
Pep Guardiola
has made six changes from the side that started against Bristol City in midweek.
Returning to the starting XI are Ederson, Kyle Walker, Ilkay Gundogan, Rodrigo, Jack Grealish and Erling Haaland.
Making way are Stefan Ortega Moreno, Rico Lewis, Julian Alvarez, Bernardo, Kalvin Phillips and Riyad Mahrez.
John Stones and Aymeric Laporte make a welcome return to the bench.
LINE-UPS
CITY: Ederson, Walker, Ake, Dias,  Akanji, Rodrigo, Gundogan (c), De Bruyne, Grealish, Foden, Haaland
Subs: Ortega Moreno, Phillips, Stones, Laporte, Alvarez, Bernardo, Mahrez, Palmer, Lewis
NEWCASTLE UNITED:  Pope, Trippier , Lascelles, Botman, Burn, Longstaff, Guimaraes, Joelinton, Almiron, Wilson, Gordon
Subs: Dubravka, Saint-Maximin, Ritchie, Targett, Isak, Manquillo, Murphy, Willock, Anderson
WHEN AND WHERE
We are back home at the Etihad Stadium on Saturday 4 March in the Premier League, with the match kicking off at 12:30 (UK).
The game will be shown live in the UK on BT Sport 1 and BT Sport Ultimate, while you can also keep across all of the action via the official Man City app, as well as the key moments on Twitter: @ManCity.
Supporters living around the world can find out how they can tune in via our global TV listings, courtesy of livesoccertv.com.
MAN CITY APP COVERAGE
Our official app allows you to follow all of the action from one place.
Minute-by-minute text updates will begin in our Matchday Centre two hours before kick-off, whilst our Matchday Live show will begin at 11:30 (UK).
Shaun Goater and Steve Howey are our special guests on the latest Matchday Live show, offering their expert insight before, during and after the action.
They will also answer viewer questions throughout the broadcast, with audience participation actively encouraged on Matchday Live. To get in touch, send a WhatsApp to: +447537186538.
During the game you can also listen to live audio commentary from Alistair Mann and Andy Morrison while our text commentary continues.
Make sure to have push notifications turned on as well, so you can be alerted to key moments in the action, including goals, red cards and the team news.
Highlights from the match, as well as a full-match replay [available on CITY+ and Recast] can be accessed from midnight.
CITY+ | SIGN UP TO ACCESS EXCLUSIVE CONTENT
PEP GUARDIOLA PREVIEW
On the fitness of Stones, Laporte and Ortega, Guardiola said: "They train. They feel better, much better."
SUBSCRIBE TO THE OFFICIAL MAN CITY PODCAST
The boss then added on the challenge of Newcastle: "Incredible. It happened last season and this season, they made a step forward. It looks like they came to stay here.
"What I've seen lately, even the final against United, what they have done all season.
"They are one of the toughest opponents we have until the end of the season in terms of quality, experience, threat, transitions, set-pieces they are the best team in the league.
"Many, many things. That's why they've been there all season."
PREVIOUS MEETING
City and Newcastle played out a thrilling 2-2 draw at St. James' Park back in August.
City took an early fifth minute lead through Ilkay Gundogan. but the hosts replied through Miguel Almiron and Callum Wilson before a Kieran Trippier free-kick further extended their advantage after the break.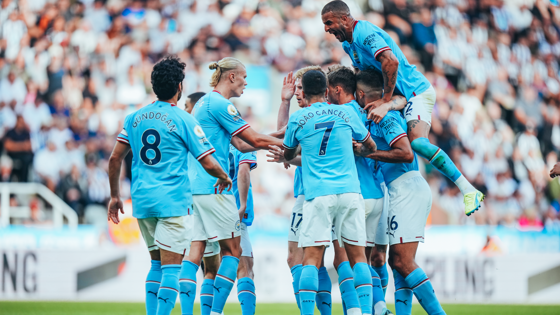 However, City showed our quality and resolve, hitting back to score twice inside four minutes via Erling Haaland and Bernardo Silva to draw level.
LAST TIME OUT
City secured passage to the quarter-finals of the FA Cup on Tuesday night with a 3-0 away victory over Bristol City thanks to a Phil Foden brace and Kevin De Bruyne effort.
That triumph followed a 4-1 win at Bournemouth in the Premier League, with Erling Haaland, Julian Alvarez and Foden all scoring one and assisted one each in a clinical display.
The Magpies last played in the league on 18 February, losing 2-0 at St James' Park against Liverpool.
Last weekend, they lost by the same scoreline in the Carabao Cup final against Manchester United at Wembley Stadium.
MATCH OFFICIALS
Referee: Simon Hooper. 
Assistants: Adrian Holmes, Simon Long. 
Fourth official: Anthony Taylor. 
VAR: Michael Salisbury. 
Assistant VAR: Dan Robathan.
GLOBAL TV LISTINGS
Courtesy of livesoccertv.com.
| | |
| --- | --- |
| Algeria | beIN SPORTS CONNECT, beIN 4K Arabia |
| Angola | SuperSport Premier League ROA, SuperSport MaXimo 2, DStv Now |
| Anguilla | Csport.tv |
| Antigua and Barbuda | Csport.tv |
| Argentina | Star+, ESPN Argentina |
| Armenia | Setanta Sports 1 |
| Aruba | Csport.tv |
| Australia | Optus Sport |
| Austria | Sky Sport Premier League, Sky Go |
| Azerbaijan | Setanta Sports 1 |
| Bahamas | Csport.tv |
| Bahrain | beIN SPORTS CONNECT, beIN 4K Arabia |
| Barbados | Csport.tv |
| Belarus | Setanta Sports 1 |
| Belgium | Play Sports 2, Play Sports, VOOsport World 1 |
| Belize | Paramount+ |
| Benin | SuperSport Premier League ROA, SuperSport MaXimo 2 |
| Bolivia | Star+ |
| Bosnia and Herzegovina | Moja TV, Arena Sport 1P |
| Botswana | SuperSport Premier League ROA, SuperSport MaXimo 2, DStv Now |
| Brazil | Star+ |
| British Virgin Islands | Csport.tv |
| Brunei | Astro Go |
| Bulgaria | Diema Sport 2, Play Diema Xtra |
| Burkina Faso | DStv Now, SuperSport MaXimo 2, SuperSport Premier League ROA |
| Burundi | DStv Now, SuperSport MaXimo 2, SuperSport Premier League ROA |
| Cameroon | SuperSport Premier League ROA, SuperSport MaXimo 2, DStv Now |
| Canada | fuboTV Canada |
| Cape Verde | SuperSport MaXimo 2, DStv Now, SuperSport Premier League ROA |
| Cayman Islands | Csport.tv |
| Central African Republic | SuperSport MaXimo 2, SuperSport Premier League ROA |
| Chad | SuperSport MaXimo 2, beIN 4K Arabia, DStv Now, SuperSport Premier League ROA, beIN SPORTS CONNECT |
| Chile | Star+, ESPN Chile |
| China | iQiyi, QQ Sports Live, Migu |
| Cocos Islands | Sky Sport NOW, Sky Sport Premier League |
| Colombia | ESPN, Star+ |
| Comoros | SuperSport Premier League ROA, SuperSport MaXimo 2 |
| Congo | SuperSport MaXimo 2, DStv Now, SuperSport Premier League ROA |
| Congo DR | SuperSport Premier League ROA, SuperSport MaXimo 2 |
| Costa Rica | Paramount+ |
| Cote D'Ivoire | SuperSport Premier League ROA, DStv Now, SuperSport MaXimo 2 |
| Croatia | Arena Sport 3 Croatia |
| Czech Republic | Canal+ Sport, Skylink |
| Denmark | V Sport Ultra HD, TV3+ HD, Viaplay Denmark |
| Djibouti | SuperSport Premier League ROA, beIN 4K Arabia, SuperSport MaXimo 2, DStv Now, beIN SPORTS CONNECT |
| Dominica | Csport.tv |
| Dominican Republic | Csport.tv, Paramount+ |
| Ecuador | Star+, ESPN |
| Egypt | beIN SPORTS CONNECT, beIN 4K Arabia |
| El Salvador | Paramount+ |
| Equatorial Guinea | SuperSport MaXimo 2, DStv Now, SuperSport Premier League ROA |
| Eritrea | SuperSport Premier League ROA, SuperSport MaXimo 2, DStv Now |
| Estonia | Setanta Sports 1, Viaplay Estonia |
| Ethiopia | SuperSport MaXimo 2, SuperSport Premier League ROA, DStv Now |
| Faroe Islands | TV3+ HD |
| Fiji | Sky Sport NOW, Sky Sport Premier League |
| Finland | V Sport 2 Finland, V Sport Premium, V Sport Ultra HD, Elisa Viihde Viaplay |
| France | Canal+ Foot |
| Gabon | SuperSport Premier League ROA, SuperSport MaXimo 2, DStv Now |
| Gambia | DStv Now, SuperSport Premier League ROA, SuperSport MaXimo 2 |
| Georgia | Setanta Sports 1 |
| Germany | WOW, Sky Go, Sky Sport Premier League |
| Ghana | DStv Now, SuperSport MaXimo 2, SuperSport Premier League ROA |
| Greece | Nova Sports Premier League |
| Grenada | Csport.tv |
| Guatemala | Paramount+ |
| Guinea | SuperSport MaXimo 2, SuperSport Premier League ROA, DStv Now |
| Guinea-Bissau | SuperSport Premier League ROA, DStv Now, SuperSport MaXimo 2 |
| Honduras | Paramount+ |
| Hong Kong | Now E, 620 Now Premier League TV, 621 Now Premier League 1, Now Player |
| Hungary | Spíler1, TV2 Play |
| Iceland | SíminnSport |
| India | JioTV, Hotstar VIP |
| Indonesia | Vidio |
| Iran | beIN SPORTS CONNECT, beIN 4K Arabia |
| Iraq | beIN SPORTS CONNECT, beIN 4K Arabia |
| Ireland | BT Sport 1, BTSport.com, TalkSport Radio UK, BT Sport App |
| Israel | Sport 1 |
| Italy | SKY Go Italia, Sky Sport 4K, NOW TV, Sky Sport Football, Sky Sport Uno |
| Jamaica | Csport.tv |
| Jordan | beIN SPORTS CONNECT, beIN 4K Arabia |
| Kazakhstan | Setanta Sports 1 |
| Kenya | SuperSport Premier League ROA, DStv Now, SuperSport MaXimo 2 |
| Kiribati | Sky Sport NOW, Sky Sport Premier League |
| Korea Republic | SPOTV ON |
| Kuwait | beIN SPORTS CONNECT, beIN 4K Arabia |
| Kyrgyzstan | Setanta Sports 1 |
| Latvia | Setanta Sports 1, Viaplay Latvia |
| Lebanon | beIN 4K Arabia, beIN SPORTS CONNECT |
| Lesotho | SuperSport Premier League ROA, DStv Now, SuperSport MaXimo 2 |
| Liberia | DStv Now, SuperSport Premier League ROA, SuperSport MaXimo 2 |
| Libya | beIN SPORTS CONNECT, beIN 4K Arabia |
| Lithuania | Viaplay Lithuania, Setanta Sports 1 |
| Macau | iQiyi |
| Madagascar | SuperSport Premier League ROA, DStv Now, SuperSport MaXimo 2 |
| Malawi | SuperSport Premier League ROA, DStv Now, SuperSport MaXimo 2 |
| Malaysia | Astro Go, Astro SuperSport 3, sooka |
| Mali | SuperSport Premier League ROA, DStv Now, SuperSport MaXimo 2 |
| Malta | GO TV Anywhere, TSN2 Malta |
| Marshall Islands | Sky Sport Premier League, Sky Sport NOW |
| Mauritania | beIN SPORTS CONNECT, SuperSport Premier League ROA, DStv Now, SuperSport MaXimo 2, beIN 4K Arabia |
| Mauritius | DStv Now, SuperSport Premier League ROA, SuperSport MaXimo 2 |
| Mayotte | SuperSport MaXimo 2, SuperSport Premier League ROA |
| Mexico | Paramount+ |
| Moldova | Setanta Sports 1 |
| Montenegro | Arena Sport 1P |
| Montserrat | Csport.tv |
| Morocco | beIN SPORTS CONNECT, beIN 4K Arabia |
| Mozambique | SuperSport Premier League ROA, DStv Now, SuperSport MaXimo 2 |
| Myanmar | Skynet Myanmar |
| Namibia | SuperSport MaXimo 2, SuperSport Premier League ROA, DStv Now |
| Nauru | Sky Sport NOW, Sky Sport Premier League |
| Netherlands | Viaplay Netherlands |
| New Zealand | Sky Sport Premier League, Sky Sport NOW |
| Nicaragua | Paramount+ |
| Niger | SuperSport Premier League ROA, DStv Now, SuperSport MaXimo 2 |
| Nigeria | SuperSport Premier League Nigeria, SuperSport MaXimo 2, DStv Now |
| Niue | Sky Sport Premier League, Sky Sport NOW |
| North Macedonia | Arena Sport 1P |
| Norway | Viaplay Norway, V Sport Premier League, V Sport Ultra HD |
| Oman | beIN 4K Arabia, beIN SPORTS CONNECT |
| Palau | Sky Sport NOW, Sky Sport Premier League |
| Palestine | beIN 4K Arabia, beIN SPORTS CONNECT |
| Panama | Paramount+, Csport.tv |
| Paraguay | Star+ |
| Peru | Star+ |
| Poland | Viaplay Poland, Canal+ Sport 2 Poland, Canal+ Sport Online |
| Portugal | Eleven Sports 1 Portugal |
| Qatar | beIN SPORTS CONNECT, beIN 4K Arabia |
| Reunion | SuperSport MaXimo 2, SuperSport Premier League ROA |
| Romania | Orange TV Go, Digi Sport 2 Romania, Orange Sport 2 Romania, Digi Online |
| Rwanda | SuperSport Premier League ROA, SuperSport MaXimo 2 |
| Saint Helena | SuperSport MaXimo 2, SuperSport Premier League ROA |
| Saint Kitts and Nevis | Csport.tv |
| Saint Lucia | Csport.tv |
| Saint Vincent and the Grenadines | Csport.tv |
| Samoa | Sky Sport Premier League, Sky Sport NOW |
| Sao Tome And Principe | SuperSport Premier League ROA, SuperSport MaXimo 2 |
| Saudi Arabia | beIN SPORTS CONNECT, beIN 4K Arabia |
| Senegal | DStv Now, SuperSport MaXimo 2, SuperSport Premier League ROA |
| Serbia | Arena Sport 1P |
| Seychelles | Csport.tv, SuperSport Premier League ROA, SuperSport MaXimo 2, DStv Now |
| Sierra Leone | SuperSport MaXimo 2, DStv Now, SuperSport Premier League ROA |
| Singapore | StarHub TV+ |
| Slovakia | Skylink, Canal+ Sport |
| Slovenia | Arena Sport 1 Premium |
| Solomon Islands | Sky Sport Premier League, Sky Sport NOW |
| Somalia | SuperSport MaXimo 2, beIN 4K Arabia, beIN SPORTS CONNECT, SuperSport Premier League ROA |
| South Africa | DStv App, SuperSport Premier League, SuperSport MaXimo 2 |
| South Sudan | DStv Now, beIN SPORTS CONNECT, beIN 4K Arabia |
| Spain | Movistar+, DAZN, DAZN 1 |
| Sudan | SuperSport MaXimo 2, beIN 4K Arabia, SuperSport Premier League ROA, DStv Now, beIN SPORTS CONNECT |
| Swaziland | SuperSport Premier League ROA, SuperSport MaXimo 2, DStv Now |
| Sweden | V Sport Ultra HD, Viaplay Sweden, V Sport Premium |
| Switzerland | Sky Sport Premier League |
| Syria | beIN 4K Arabia, beIN SPORTS CONNECT |
| Taiwan | ELTA Sports 1 |
| Tajikistan | Setanta Sports 1 |
| Tanzania | SuperSport Premier League ROA, SuperSport MaXimo 2, DStv Now |
| Togo | SuperSport Premier League ROA, SuperSport MaXimo 2, DStv Now |
| Tonga | Sky Sport NOW, Sky Sport Premier League |
| Trinidad and Tobago | Csport.tv |
| Tunisia | beIN SPORTS CONNECT, beIN 4K Arabia |
| Turkey | beIN CONNECT Turkey |
| Turkmenistan | Setanta Sports 1 |
| Turks and Caicos Islands | Csport.tv |
| Tuvalu | Sky Sport Premier League, Sky Sport NOW |
| Uganda | DStv Now, SuperSport Premier League ROA, SuperSport MaXimo 2 |
| Ukraine | Setanta Sports Ukraine |
| United Arab Emirates | beIN SPORTS CONNECT, beIN 4K Arabia |
| United Kingdom | BT Sport Ultimate, BT Sport 1, BTSport.com, TalkSport Radio UK, BT Sport App |
| United States | nbcsports.com, SiriusXM FC, NBC Sports App, UNIVERSO NOW, Telemundo Deportes En Vivo, USA Network, UNIVERSO |
| Uruguay | Star+ |
| Uzbekistan | Setanta Sports 1 |
| Vanuatu | Sky Sport Premier League, Sky Sport NOW |
| Venezuela | Star+, ESPN |
| Yemen | beIN 4K Arabia, beIN SPORTS CONNECT |
| Zambia | SuperSport Premier League ROA, SuperSport MaXimo 2 |
| Zimbabwe | SuperSport MaXimo 2, DStv Now, SuperSport Premier League ROA |
News about Man City v Newcastle