Media Watch
1
Media Watch: 'Silva deserves to be Player of Year'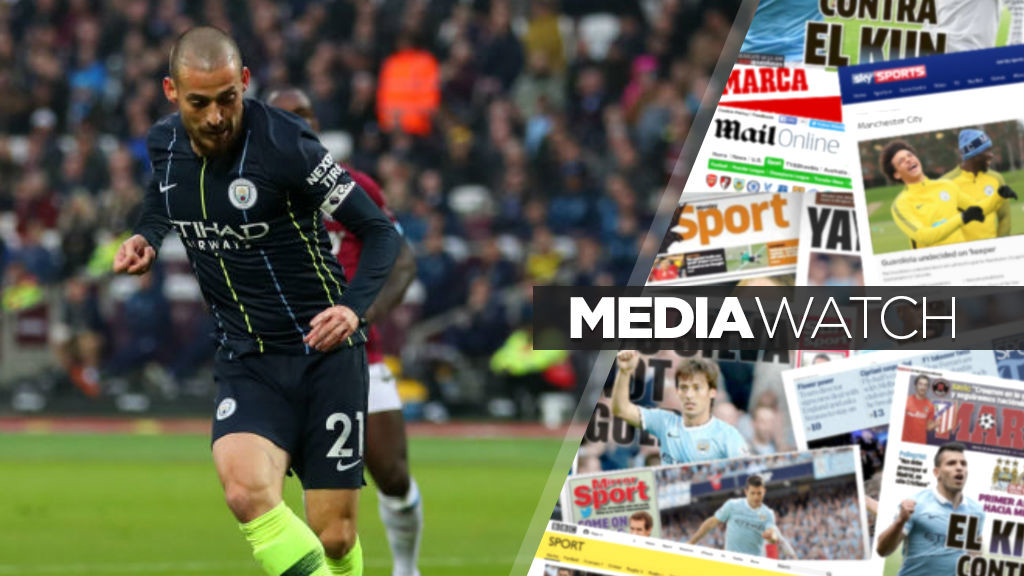 JUST CAPITAL: David Silva was at his mesmerising best in City's 4-0 win at West Ham on Saturday
We kick-off another busy week for City with fulsome praise for David Silva following yet another dazzling display from El Mago at the weekend.
There's also warm words from Pep Guardiola for Fabian Delph and some fascinating statistics which suggest the Blues have stepped up another level this season.
But we start with Silva who both scored and helped orchestrate the Blues' 4-0 win at West Ham on Saturday.
For many, the midfield maestro is playing some of the finest football of his career.
And according to TV pundit Chris Sutton, writing in his Daily Mail column, the weekend provided yet more compelling evidence that the Spaniard is a worthy candidate to be named Footballer of the Year.
Sutton writes: "When asked to name his toughest opponent, the great Zinedine Zidane said Paul Scholes. I'm sure plenty of players in the Premier League now would name David Silva.
READ: Talking Points | Bursting bubbles with the S factor
WATCH: West Ham 0-4 City | Extended highlights
GALLERY: More capital gains for City
"Manchester City's magician reminds me of Scholes: both great technicians who shun the limelight, instead focusing on simply being better than everyone else.
"Under Pep Guardiola, Silva has adapted his game. He has always been a brilliant creator. Now he is using his intelligence to drift into space, make piercing runs in behind and score.
"He plays with such serenity in our fast-paced, high-intensity league that it's as if he is having a kickabout in his back garden.
"Silva has twice been nominated for player of the year in 2012 and 2018.
"This year, I am backing him to go one better and receive the accolade his talent deserves."
The 32-year-old's performance at the London Stadium also caught the eye of Daily Mail reporter Steve Sammers.
In his Monday morning review, Sammers penned: "The game was over as a contest by half-time as the superb David Silva, the elusive Raheem Sterling and the born-again German striker Leroy Sane put the match beyond the reach of Manuel Pellegrini's men.

"There were no jeers as referee Andre Marriner blew the whistle to mark the end of 45 minutes in which City were breathtaking. Such scorelines have been known to prompt vicious comments towards the West Ham board. Not on Saturday.
"It was as if the home fans knew they had seen something special in a City team that could arguably become the most gifted to win the Premier League.
"Come springtime and a more accurate assessment of how good this City side are will be possible, but it is beyond debate that they will take some catching.
"There will be more exacting tests ahead, no question, but West Ham were demolished by the superb pass-and-move football that was a joy to watch. At the hub was David Silva, who just seems to get better and better."
READ: Which TV channel is Lyon v Man City on
WATCH: Sane: It's exciting to play with Raheem!
Over in the Daily Express meanwhile, there is praise for Fabian Delph following his fine display for the Blues at the London Stadium.
Delph once again demonstrated his vital versatility by producing an assured performance at left-back following the injury to Benjamin Mendy.
And, as Tony Banks reports, it was further confirmation of his value to both club and country.
Banks writes: "Teams occasionally target Delph because he is not a natural left-back and could be a potential weak spot in a team that does not have many.
"They usually find they are wrong – as West Ham did. Slotting into the role with Benjamin Mendy injured, once again the 29-year-old was his usual unflappable self.
"Despite the fact that this was only his third start in a league game this season, Delph helps this City side fit together so seamlessly.
"Delph had skippered England for the first time against the USA nine days earlier and Pep Guardiola said: "The reason he can do all these things and play in different positions is because he is a nice guy.

"You cannot be the England captain and help the team if you are not a good guy. Fabian is an important player for us. Last season he helped us by playing in that position when Mendy was injured, and he did well.
"It is not easy when you play in different positions, but he has. There is always room for the team to improve, but Fabian is always a banker for us – and the other players know it."
Finally, the Manchester Evening News have thrown up some fascinating statistics which make for pleasant Monday morning reading for every Blues fan.
Dan O'Toole reports on how a comparison of City's first 13 league games with the corresponding fixtures from last season reveal how Guardiola's league leaders have kicked on again.
READ: Stats behind City's impressive start
WATCH: City's Euro vision
O'Toole scribes: "Manchester City have accrued six more points in their opening 13 Premier League games compared to the corresponding fixtures last season.

"Pep Guardiola guided the Blues to a record-breaking title win with an unprecedented 100 points last term, but his side have been even better this time round.
"City sit top of the table on 35 points, with Saturday's 4-0 win against West Ham maintaining their two-point cushion over second-placed Liverpool.
"The Blues boast an incredible +35 goal difference, having conceded just five times in the league this season, and have scored five more goals than their total in the corresponding fixtures last term.
"What's more, City have notched eight goals against the three promoted sides they have faced this season to mean that the Blues have, incredibly, scored 12 more goals than any other side in the league. Six of them have not scored 12 in total."