Men's Team
1
Which TV channel is Lyon v City on?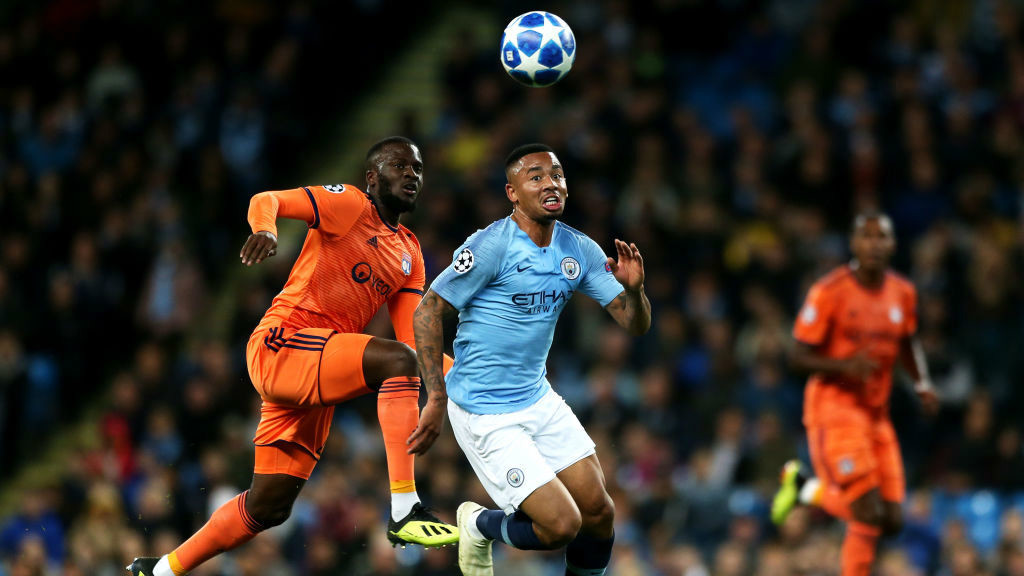 ACTION STATIONS: Gabriel Jesus powers in on the Lyon goal
Find out where you can watch City's Champions League Group F clash against Olympique Lyonnais...
The game is set to take place at the Groupama Stadium on Tuesday 27 November, kick-off at 8pm GMT.
The match is being shown live in the UK on BT Sport 2, but fans can alternatively follow our live Matchday Centre or our Twitter @ManCity for updates throughout the game.
Fans based outside the UK can find out where they can watch the match with our global TV listings, courtesy of livesoccertv...
| | |
| --- | --- |
| Algeria | beIN Sports HD 3,beIN SPORTS CONNECT |
| Angola | SuperSport 2 Africa |
| Australia | Optus Sport |
| Austria | DAZN |
| Bahrain | beIN SPORTS CONNECT,beIN Sports HD 3 |
| Bangladesh | Sony LIV |
| Belgium | Proximus 11+ |
| Benin | SuperSport 2 Africa,Canal+ Sport 1 Afrique |
| Bhutan | Sony LIV |
| Botswana | SuperSport 2 Africa |
| Brazil | Esporte Interativo Plus,Space Brazil |
| Brunei | beIN Sports Connect Malaysia |
| Burkina Faso | SuperSport 2 Africa,Canal+ Sport 1 Afrique |
| Burundi | Canal+ Sport 1 Afrique,SuperSport 2 Africa |
| Cambodia | Goal.com |
| Cameroon | Canal+ Sport 1 Afrique,SuperSport 2 Africa |
| Canada | DAZN |
| Cape Verde | Canal+ Sport 1 Afrique,SuperSport 2 Africa |
| Central African Republic | Canal+ Sport 1 Afrique,SuperSport 2 Africa |
| Chad | Canal+ Sport 1 Afrique,SuperSport 2 Africa,beIN SPORTS CONNECT,beIN Sports HD 3 |
| Comoros | SuperSport 2 Africa |
| Congo | SuperSport 2 Africa,Canal+ Sport 1 Afrique |
| Congo DR | SuperSport 2 Africa |
| Cote D'Ivoire | Canal+ Sport 1 Afrique,SuperSport 2 Africa |
| Croatia | Planet Sport 3 |
| Cyprus | Cytavision Sports 5,Cytavision Live |
| Czech Republic | O2 TV |
| Denmark | Viaplay Denmark |
| Djibouti | Canal+ Sport 1 Afrique,beIN SPORTS CONNECT,SuperSport 2 Africa,beIN Sports HD 3 |
| Egypt | beIN SPORTS CONNECT,beIN Sports HD 3 |
| Equatorial Guinea | SuperSport 2 Africa,Canal+ Sport 1 Afrique |
| Eritrea | SuperSport 2 Africa |
| Ethiopia | SuperSport 2 Africa |
| Finland | C More Sport 1,Viasat Fotboll Sweden,C More Suomi |
| France | RMC Sport en direct |
| Gabon | Canal+ Sport 1 Afrique,SuperSport 2 Africa |
| Gambia | SuperSport 2 Africa,Canal+ Sport 1 Afrique |
| Germany | DAZN |
| Ghana | Canal+ Sport 1 Afrique,SuperSport 2 Africa |
| Guinea | SuperSport 2 Africa,Canal+ Sport 1 Afrique |
| Guinea-Bissau | SuperSport 2 Africa,Canal+ Sport 1 Afrique |
| Hong Kong | 602 HD Sports 2,662 Sports 2 |
| Hungary | Spíler1 |
| Iceland | Stöð 2 Sport 3 |
| India | Sony LIV |
| Indonesia | K-Vision |
| International | UEFA Champions League App |
| Iran | beIN Sports HD 3,beIN SPORTS CONNECT |
| Iraq | beIN Sports HD 3,beIN SPORTS CONNECT |
| Ireland | BT Sport 2,BT Sport Live,Virgin TV Go |
| Italy | Sky Calcio 5,SKY Go Italia |
| Japan | DAZN |
| Jordan | beIN Sports HD 3,beIN SPORTS CONNECT |
| Kenya | SuperSport 2 Africa |
| Kuwait | beIN Sports HD 3,beIN SPORTS CONNECT |
| Laos | Goal.com |
| Lebanon | beIN SPORTS CONNECT,beIN Sports HD 3 |
| Lesotho | SuperSport 2 Africa |
| Liberia | SuperSport 2 Africa |
| Libya | beIN Sports HD 3,beIN SPORTS CONNECT |
| Macedonia | MaxTV Go |
| Madagascar | SuperSport 2 Africa |
| Malawi | SuperSport 2 Africa |
| Malaysia | beIN Sports Connect Malaysia |
| Maldives | Sony LIV |
| Mali | Canal+ Sport 1 Afrique,SuperSport 2 Africa |
| Mauritania | beIN SPORTS CONNECT,Canal+ Sport 1 Afrique,beIN Sports HD 3 |
| Mauritius | SuperSport 2 Africa |
| Morocco | beIN Sports HD 3,beIN SPORTS CONNECT |
| Mozambique | SuperSport 2 Africa |
| Namibia | SuperSport 2 Africa |
| Nepal | Sony LIV |
| Netherlands | Ziggo Sport Golf |
| Niger | SuperSport 2 Africa,Canal+ Sport 1 Afrique |
| Nigeria | SuperSport 2 Africa,Canal+ Sport 1 Afrique |
| Norway | Viaplay Norway,Viasport 3 |
| Oman | beIN Sports HD 3,beIN SPORTS CONNECT |
| Pakistan | Sony LIV |
| Palestinian Territory | beIN Sports HD 3,beIN SPORTS CONNECT |
| Philippines | Goal.com |
| Poland | IPLA,Polsat Sport Premium 5 |
| Qatar | beIN SPORTS CONNECT,beIN Sports HD 3 |
| Romania | Digi Sport 4 Romania,Telekom TV Live |
| Rwanda | SuperSport 2 Africa,Canal+ Sport 1 Afrique |
| Sao Tome And Principe | SuperSport 2 Africa |
| Saudi Arabia | beIN Sports HD 3,beIN SPORTS CONNECT |
| Senegal | SuperSport 2 Africa,Canal+ Sport 1 Afrique |
| Seychelles | SuperSport 2 Africa |
| Sierra Leone | Canal+ Sport 1 Afrique,SuperSport 2 Africa |
| Singapore | beIN Sports Connect Singapore |
| Somalia | beIN Sports HD 3,beIN SPORTS CONNECT |
| South Africa | SuperSport 2 Africa,SuperSport 5 |
| South Sudan | SuperSport 2 Africa,beIN SPORTS CONNECT,beIN Sports HD 3 |
| Spain | Movistar+ |
| Sri Lanka | Sony LIV |
| Sudan | beIN Sports HD 3,beIN SPORTS CONNECT |
| Swaziland | SuperSport 2 Africa |
| Sweden | Viaplay Sweden,Viasat Fotboll Sweden |
| Switzerland | TeleClub Sport Live |
| Syria | beIN Sports HD 3,beIN SPORTS CONNECT |
| Tanzania | SuperSport 2 Africa |
| Thailand | Goal.com |
| Togo | Canal+ Sport 1 Afrique,SuperSport 2 Africa |
| Tunisia | beIN SPORTS CONNECT,beIN Sports HD 3 |
| Turkey | beIN Sports 4 Turkey,beIN CONNECT Turkey,Digiturk Play |
| Uganda | SuperSport 2 Africa |
| Ukraine | OLL.tv |
| United Arab Emirates | beIN Sports HD 3,beIN SPORTS CONNECT |
| United Kingdom | BBC Radio Manchester,BT Sport Live,BT Sport 2 |
| United States | B/R Live,Galavision,Univision Deportes En Vivo |
| Vietnam | K +PC |
| Yemen | beIN SPORTS CONNECT,beIN Sports HD 3 |
| Zambia | SuperSport 2 Africa |
| Zimbabwe | SuperSport 2 Africa |