Men's Team
1
Pep: 'We were good but can be much better'
WATCHING BRIEF: Pep Guardiola looks on at the London Stadium
Pep Guardiola believes City's display at West Ham was good, but far from perfect.
The City boss was understandably happy with the 4-0 victory at the London Stadium – the champions' eighth win on the bounce – but feels the international break disrupted his team's overall rhythm.
"Well, we are delighted with the win," said Pep.
READ: West Ham 0 City 4: Official verdict
READ: Sterling: There's much more to come

"After international break you can easily drop points, but the players came back at the same level and that's why I am so satisfied for the victory, even though the performance could have been better.

"If you see the results after international break, it's good. We saw result for Madrid (beaten by Eibar) and United (held 0-0 by Palace).
Costa Rican legend on his time with City....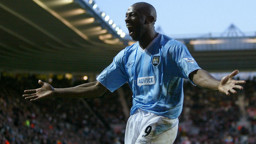 "We give a lot of credit for victory, but it was not the best performance and we were a little lucky today.

"We arrived a few times and scored, whereas West Ham did the same many times and didn't score - but I am sure we will be back soon to where we normally are.

"The most important thing is that after what we achieved last season, we are still consistent and humble.
"Our passing today wasn't great, but in terms of how we run without the ball it was fantastic.

"This season will be tough - Tottenham didn't spend one pound and they are they are there. The Premier League remains tough, we can't deny it.

"I have an incredible staff and they know exactly when we have to train and when need to have days off.

"They are the master at that, especially Lorenzo Buenaventura. How you handle regeneration is key. We push the players, it's the only way."

The boss added that competition for places is the key to keeping the squad on their toes and hungry for success.

He said: "That is what we are proud of the most, especially the squad. Riyad has to play well, because Sterling is there, and Sterling has to play well, because Riyad is there.

"Nico Otamendi was incredible last season, but he has to play well because Laporte and Stones are playing well – I am so fortunate

"Txiki and the people at City have provided me with a great squad. If you want to compete, the players have to play well, every time. If they don't, next time they are not going to play."

Pep also saved special praise for two-goal Leroy Sane, saying: "We didn't have doubts about his quality. His movement is so fast. It's not easy to play high against us because of his pace.

"We cannot forget that except Sergio, all the forwards are so young. I am sure he will improve, and he will be more solid and consistent."


The City striker who had the lot...