Georgia Stanway says she is inspired every day by Aoife Mannion's incredible strength, determination and optimistic outlook.
Mannion, who joined the Club last summer, endured a heart-rending start to her City career, suffering an ACL injury just three months in, during a UEFA Women's Champions League fixture with Atletico Madrid.
However, the right-back has shown remarkable mental strength and resilience to maintain a positive attitude throughout her recovery, posting light-hearted daily updates on her Instagram account and opening up on her journey.
Mannion's hopeful attitude has proved to be an inspiration – not just to her fans and followers – but also her teammates, as Stanway explains, in the latest of our new feature Teammates, presented by QNET.
Asked how the squad are keeping motivated during lockdown, the forward stated: "Everyone's kind of doing their bit. Everyone's putting stuff in the group – exercises and meals they've cooked – to keep everyone ticking over.
"Watch Aoife Mannion's Instagram videos. That will motivate you if you ever need some.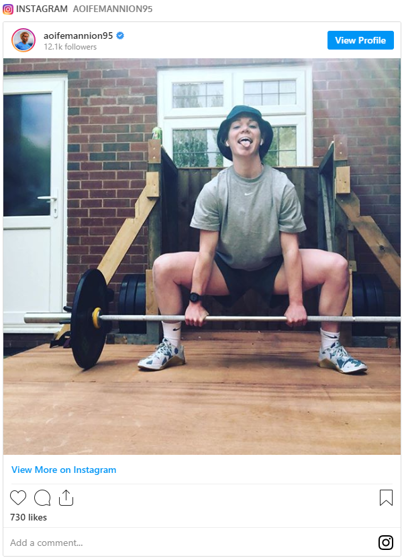 "What she's going through and how she's dealing with it is massive. It puts a smile on your face.
"Make sure you do what can during this period to get out of it what you can. It's a challenge but you have to embrace challenges."
Personable, funny and mischievous, Stanway is as much-loved off the pitch as she is on it, although she admits her banter and impish ways (with sidekick Keira Walsh) can sometimes prove too much for some!
SHOP | Check out our home fitness range
"I'd say I was closet to Keira Walsh in the squad. We're the trouble-makers – always the ones to cause problems. We try to liven things up a little!" she joked.
"Janine Beckie is often the one to get the brunt of it. Sometimes, it goes down well and sometimes, we have to say sorry! Caroline Weir gets a lot of it too.
"We like to wind people up and see what happens. It's all fun and games. We enjoy it. We're always the ones giving the stick.
"We were always hiding people's clothes! One time, Nadia Nadim and Claire Emslie came into training quite smart and they had these heeled boots and Keira and Abbie McManus wore them into the gym!
"All the lads were in as well, laughing at them. It's just random stuff. It was funny at the time!
"Keira's got good banter. I bring out the immature side of her so it's funny.
CITY+ | Free to Cityzens until football resumes
"When she goes home, back to her family, they give me stick for making her more childish!
"It is funny. Whatever she puts in the group chat is dead serious; whatever I put in is the complete opposite.
"We've been sending each other funny videos to keep each other ticking over during this time too."
Perhaps thankfully for the rest of the squad(!), Stanway and Walsh share rooms with other squad members on away trips.
Stanway revealed she rooms with housemate and fellow England international Ellie Roebuck – a long-standing friend, despite her messiness!
"My roommate is Ellie Roebuck," she added. "I've been with her from the start.
"We get on really well. We lived together so it made sense to room together.
CITYZENS AT HOME | Fun & educational activities to do at home
"She's good. On Matchday -1, she likes to chill and go back to the room and get an early night, watching Netflix, whereas I go down for snacks at 9pm, chat and come up to the room to be in bed for 10.
"We have contrasting emotions when comes to Matchday -1 – we both like our routine and we respect it. It's good to room with her, although she's messy!
"She'll give me stick for this but she was always leaving pots everywhere (in the house), forgetting to take pots to wash up.
"I was always tidying up after her. I was the mum of the house!
"In the summer, we always used to do barbecues in the garden. They're good memories, looking back now. Hopefully, we'll get the opportunity to do it again soon.
"Ellie moved into a new apartment and I'm going to move into a house soon. Hopefully, we'll have many more opportunities to do that in the sun."
Stanway believes sharing such close friendships and mutual respect away from the pitch also maintains strong relationships on it.
DAVID SILVA | Made in Gran Canaria
"It's amazing to see how well we're all getting on," she concluded. "It's good because I've got Keira to look up to and although Roebuck plays a different position, she's worked so hard to get to where she is.
"It's massive for me to see that and it pushes me on because I want to stick with them and fulfil my journey with them.
"It's good that we have each other – that you always have somebody to fall back on.
"We're all young so we're in the same boat – we know what disappointment feels like, we know what not getting selected feels like. It's good to be able to have those conversations. It's relatable."
A season to remember for many different reasons. A highlight being playing and winning at the Etihad. Thank you for your support @ManCity fans, long may it continue 💙 pic.twitter.com/MK3J6ohsZw

— Georgia Stanway (@StanwayGeorgia) May 27, 2020