Lauren Hemp has fired a warning to Chelsea in the FA Women's Super League title race, warning City have not given up hope of a second league crown.
Gareth Taylor's side ensured the hotly-contested battle for top spot will go down to the last game next weekend, thanks to a superb 4-0 win over Birmingham at the Academy Stadium.
The winger produced a Player of the Match display, as the hosts moved top of the table (having played one game more than Chelsea), completing the 2020/21 league campaign unbeaten on home soil in the process.
Reflecting on the crucial win, Hemp hailed the professionalism of her teammates and asserted her side will push Emma Hayes' side to the wire.
CITY+ | WATCH FULL-MATCH REPLAYS OF EVERY CITY GAME
"Credit to the team. We scored four good goals," she said. "We'd have loved to score more but we kept the pressure on and took Birmingham to the final whistle.
"It's in the back of our minds - we'd love to win the league - although sadly it's not in our hands.
"It's down to Chelsea now and they should know we're right behind them.
"We've done what we could. We put in a good performance [against them] but sadly it wasn't enough. On Sunday, we did what we could, although we could have scored more.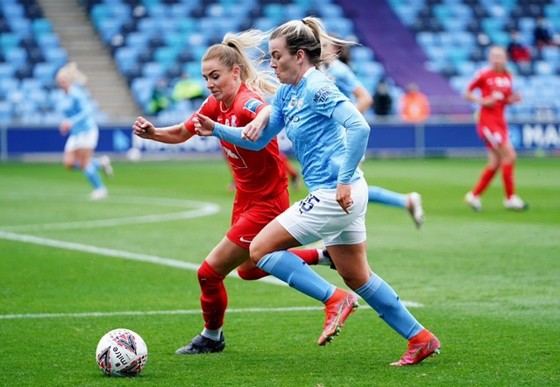 "We're right there and we'll keep pushing. Next weekend [in the final league game of the season against West Ham], we'll hope to score more and be in contention because the league is still up for grabs."
Sunday's triumph was sadly marred by a serious injury to Chloe Kelly, who was stretchered off in the second half after a collision which led to a City penalty.
A close friend of her fellow winger, Hemp expressed her sincere concern for her teammate (who had put City 2-0 up with two first-half strikes) sending her best wishes.
"It was a bit of a dampener that Chloe was injured," she admitted.
"She's one of our best players and one of my good friends. It was sad to see her go down like that.
"I hope she's well - we're all thinking about her."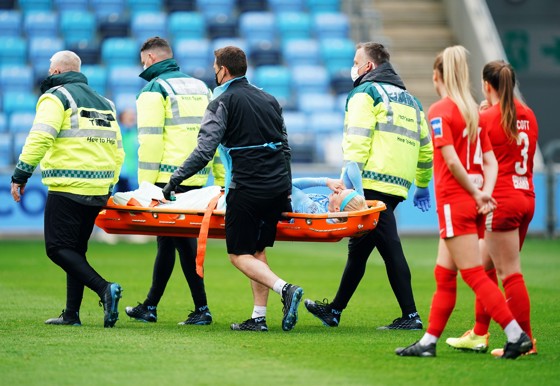 Head Coach Taylor admitted in his post-match interview it is too soon to know the extent of Kelly's injury.
In more positive news, Esme Morgan netted her first goal for her beloved childhood Club to make it 3-0.
The lifelong Blue was naturally ecstatic to fulfil her long-awaited dream, and roommate Hemp could not have been more proud.
"I'm delighted for her," she smiled. "Like Chloe, she's one of my closest friends.
"I live with her and she's a great person.
"Her goal has been a long time coming but she's deserved it.
"I'm so happy for her and I have couldn't wanted it for anyone more."