Gareth Taylor heaped praise on youngster Esme Morgan, predicting a 'big future' for the versatile defender.
The 20-year-old fulfilled a lifelong dream on Sunday, scoring her first goal for her beloved childhood Club, as City stormed to a 4-0 league win over Birmingham.
The lifelong Blue - deputising in the centre-back role in captain Steph Houghton's absence - produced a composed display to help her side to a crucial victory in our final home league game of the season, ensuring the title race will go down to the final day next weekend.
CITY+ | WATCH FULL-MATCH REPLAYS OF EVERY CITY GAME
Taylor expressed his delight for Morgan, highlighting her 'agility' and versatility 'worth their weight in gold.'
"I love working with Esme," he said. "She has a big future.
"She had a good experience, going out on loan at Everton to get some much-needed gametime under her belt but I really wanted to keep her here.
"There was talk of her going out on loan again and gaining more experience but I wanted to work with her.
"After working with her in pre-season, I knew we had a very agile player, who can play in a number of positions along the backline.
"Players like that are worth their weight in gold. She's got a big future in the game.
"There are parts of her game we're working on and she's working tremendously well.
"I thought in the previous corners, she could have got off the floor a little bit - she wasn't jumping her height, she was quite rooted - but the one she got, she put away really well."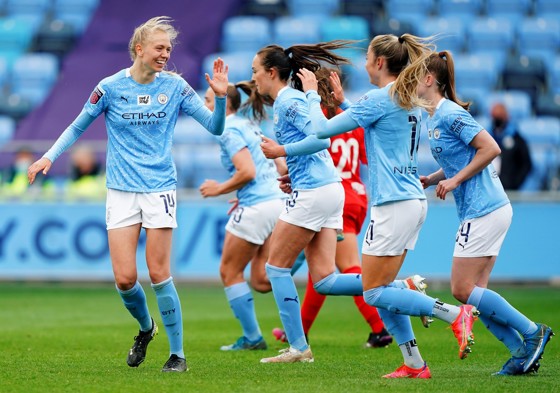 Reflecting on the clash, which lifted City top of the table, having played one game more than Chelsea, Taylor stated his satisfaction of his side's ruthlessness and patience against a struggling and battling Birmingham outfit - and expressed his pride for an impressive home record.
"It was a good win - three points," he added. "We're the only team in the WSL to go unbeaten at home, which is very impressive. We've created a bit of a fortress.
"We'd have liked to have had more goals potentially - their goalkeeper had an inspired performance. It could have been more but we have to be happy with three points and four goals.
"We had some good moments. It's always difficult against a low block but we scored early on with a couple from Chloe.
"The game took us to 100 goals in all competitions. As much as we want more (we always do), we're happy."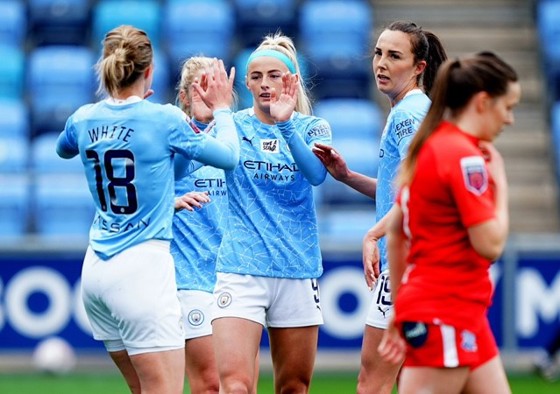 Sadly, the win was marred significantly by a serious injury to two-goal Chloe Kelly, who was stretched off in the second half.
Taylor provided an update on the winger and also Demi Stokes, who missed the game due to a thigh injury
"I've been in to see Chloe, although we haven't been able to fully assess what's going on," he explained.
"Most injuries take a scan to find out for certain but she was okay.
"I don't think it seems to be a huge swelling, which is a positive, but at the moment, it's hard to give an idea.
"She was a little bit upset. She wanted to take the penalty! She was on a hat-trick!
"She's okay in herself."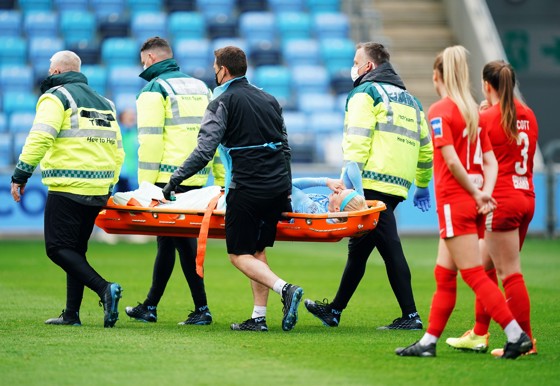 On Stokes, he continued: "It's a thigh injury, which keeps coming back - a previous injury.
"She played against Chelsea but sustained a bit of a dead leg and a muscle tear in her upper thigh, which will keep her out for a little longer.
"It's a frustrating period for Demi. She comes back for certain games and then picks up another injury.
"She's not quite ready at the moment. We have to see how she is for the next few games."
While City top the table, the title race lies out of our hands with Chelsea set to be crowned Champions, should they win both of their remaining games.
However, Taylor asserted City will do all they can to push the Londoners to the final whistle, eager to finish an impressive campaign on a high.
"It's great that we're taking it into the final game," he declared.
"That's what we wanted, although of course, we would have wanted to be ahead, going into the final day. We had the opportunity against Chelsea.
"We have to make sure we go to West Ham and do a professional job.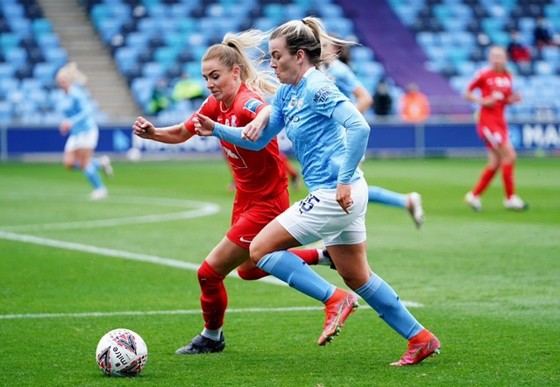 "Everyone is playing at the same time but we'll be concentrating on our end. First thing we'll do if we achieve our objective is see what happens elsewhere.
"We've seen today with Reading - they got a positive result and made it difficult for us when we played there this season.
"But we can't look too much into that. We'll just do what we can against West Ham to give ourselves the best chance.
"If it happens for us, amazing. If it doesn't, it was down to us - we had our chance.
"It's been frustrating not to have had supporters. The spectacle put on in the WSL and the excitement to have the title race go to the final game is amazing for women's football."