Alex Greenwood says Sunday's Women's FA Cup success can provide the catalyst for City to become 'unstoppable.'
The 27-year-old, who joined the Club in September, did not have to wait long for her first trophy in sky blue, providing the assist for Sam Mewis' opener at Wembley, as City ran out 3-1 winners over Everton after extra-time.
Greenwood hailed her side's display as an 'unbelievable' collective performance and believes the triumph is just the start for Gareth Taylor's side.
"Sunday was fantastic and it's just a taste of what I came here for," she reflected.
CITY+ | SIGN UP TO ACCESS EXCLUSIVE CITY CONTENT
"It's about winning trophies and this Club epitomises that – and that's exactly why I'm here.
"I'm so proud of the team – it was a great performance in a tough game, especially over 120 minutes.
"Over the course of the game, we looked like we got stronger, fitter and faster! The players we brought on were outstanding.
"I'm so proud of the team and the staff – the job they did behind-the-scenes was unbelievable and that's what made us lift the trophy: a collective, team performance.
"It's been amazing. There's no better start, even if you take away Sunday, which is easy for me sit here and say three days later!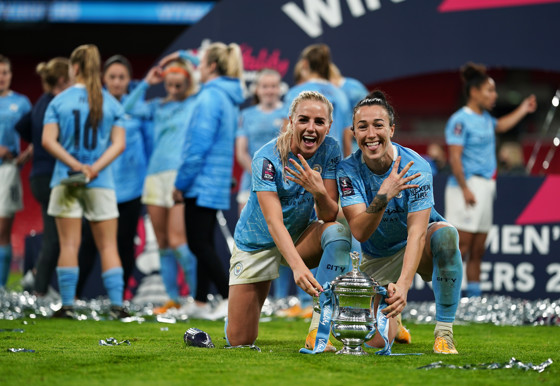 "We've just won a trophy but I'm also realistic. I know some of the league performances haven't been amazing but it's coming – it's building.
"I watch games back all the time and I listen to the commentators – ex-players and what they say.
"I hear a lot that we're not playing well and that it's going to take time. I agree to some extent – this is a new team and some of the football we've played is unbelievable.
"We just have to be patient. We've had new players, new personalities… it does take time. We've seen spells of it in games. It's just about getting it over 90 minutes.
"I'm excited by what I'm seeing on the training ground – the football we play and the football Gaz wants us to play: on the front foot, exciting and with freedom.
"When it comes together, there's no-one who can stop us. I believe we can be unstoppable."
City have had little time to celebrate Sunday's achievement with the resumption of Continental Cup action on Wednesday afternoon, as Taylor's side travel to Liverpool in Matchday Two of Group C in a 14:00 (UK) kick-off.
For Greenwood, it's a trip back home but the defender asserts she will approach the game as any other.
CHECK OUT OUR 2020/21 WOMEN'S TRAINING RANGE
"Every game is a big game," she added. "It's back home for me – It's my childhood club – but it's just another game of football.
"It will not be easy. I've seen Liverpool and they played well against United. They got the victory there.
"I think it's important we get the win on Wednesday to leave ourselves in a good position. Then we go back into the league.
"There are so many games and it's absolutely brilliant.
"I love coming in to train and prepare for the next game – that's how football should be."