Gareth Taylor says leading City to the Women's FA Cup 'meant everything' and hopes his maiden trophy will mark the springboard to further success.
City needed extra-time to retain the trophy, triumphing 3-1 over Everton at Wembley, as substitutes Georgia Stanway and Janine Beckie struck late on, after Sam Mewis' opener had been cancelled out by Valerie Gauvin in normal time.
Taylor hailed his side's 'desire and will' as key to grinding out the win and admits the victory was a special one for him on a personal level – one he felt the need to share with his family after the celebrations had died down.
"It means everything," he said. "It's a mix of emotions at the moment. It's not sunk in my I am really proud.
CHECK OUT OUR WOMEN'S FA CUP WINNERS RANGE
"I am fresh to this – I have not even hit double figures for games under my belt. I have been blown away by the support of the girls and their effort and application.
"(After the game), I spoke to my family. I was on the phone to my mum. I think she had been though the ringer more than I have!
"She said when she used to watch me play, she was just focused on me but she was focused on everything. It's different.
"It was nice to share that moment on the pitch and take it all in. Sometimes, you have to savour the moment – it's something to be really proud of.
"Desire and will got us through. It was a tough situation to be in.
"We played some really good stuff and controlled most of the game. I had been contemplating coming in at half-time at 0-0.
"We had to deal with the suckerpunch of conceding in the second period. It didn't seem like we had mad ethe most of our dominance.
"Within 10 minutes of the second period, we had to find some resolve. I've been there – it's tough when the opposition haven't had many chances.
"Naturally, it goes through your mind that it might not be your day. I just wanted us to play our game.
"When we stuck to the principles of keeping the ball, I was confident it would come.
"I was confident of going into extra-time. If Everton had scored later in the game, it might have been different.
"We kept knowing on the door and it eventually came.
"The collective will of the team was top class.
"This reinforces the message: we want to make history. It's a challenge for the players to now do what other clubs have done and win the FA Cup three years in a row.
"I think it can be a springboard. This is my ninth game and four of those have been in cups.
"We have had five league games. We've had two draws in the WSL, although I thought we played really well in them.
"We need to improve our final actions – you saw that – but it was all about winning. We are trying to improve – that takes time.
"It is new for a lot of the players and also new for me.
"It's about building on the foundations we have already. We have been successful previously and we want to kick on. That's not easy because everyone else is trying to do the same.
"This gives us a platform to push on. I expect us to compete. City have a reputation: we fight to the end, and we'll fight in all competitions.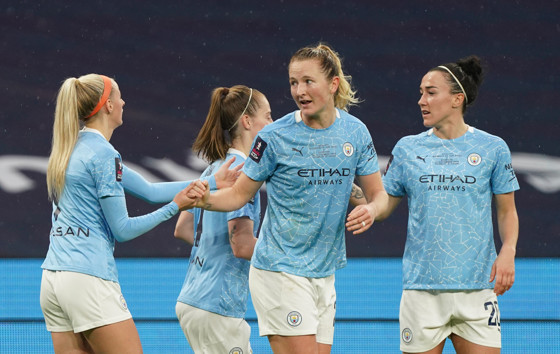 "We'll draw on the resources of the squad. We understand everyone else wants to be successful. To get a trophy under our belts in the second month of the season is great.
"The players have been first-class and the staff have been great. I am new, I am going to make mistakes but I will try and do everything I can to bring success to this Club."
Taylor also praised the impact of Player of the Match Mewis and substitutes with Stanway, Beckie and teenager Jess Park, who played starring roles from the bench.
"The impact they made was great," he added.
"For Jess to have shown that maturity in that performance and how she got Everton on the back foot was fantastic. She'd done that against Everton last month. Her performance was beyond her years.
"She is an exciting player – how can you not get excited when she's on the ball? – but she's learning. She is a player who will improve playing next to Lucy Bronze and Sam Mewis.
"Sam is a huge player for us. Sometimes, in the throes of the season, with games coming thick and fast, you don't have time to reflect on how important she has been.
CHECK OUT OUR 2020/21 WOMEN'S TRAINING RANGE
"I saw this when we were going through recruitment meets. She looks such a team player and if you've got someone like that, you know she will drag players with her.
"The effect she has had on young players like Jess Park has been amazing. I don't take that lightly."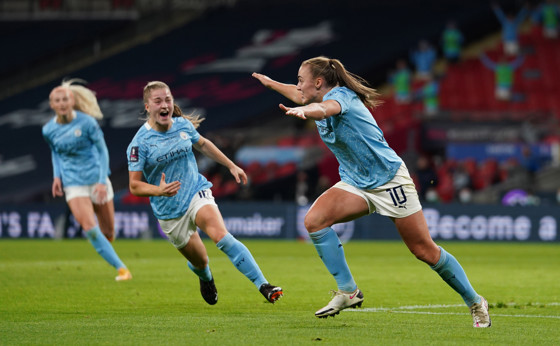 Taylor was also delighted to bring some good news to the city of Manchester and the loyal fans, watching from home.
"It is tough times at the moment," he admitted. "We are probably going to endure another tough period.
"It was a really proud moment. We missed he supporters but we feel the love.
"When we came in the dressing room, there were messages of support from home. It is strange playing in an empty stadium but we feel the supporters behind us.
"Everton supporters should be proud of them as well. They put up a great fight.
"Hopefully, we can give the fans things to be happy about."