Find out everything you need to know about Manchester City's UEFA Champions League Group G clash away to Sevilla.
WHEN AND WHERE
Our Champions League campaign begins in Spain on Tuesday 6 September, with kick-off at 20:00 (UK).
The match will be broadcast live in the UK on BT Sport 2 and the BT Sport App.
Supporters living around the world can also find out how they can tune in via our global TV listings, courtesy of livesoccertv.com.
MAN CITY APP COVERAGE
You can follow all the action on our official app.
Minute-by-minute text updates will begin in our Matchday Centre two hours before kick-off, whilst our Matchday Live show will begin one hour before we get under way in Spain.
The Matchday Live team will reconvene for a half-time debrief before a more in-depth post-match verdict after the full-time whistle.
The guests will also answer viewer questions throughout the broadcast, with audience participation actively encouraged on Matchday Live. To get in touch, send a WhatsApp to: +447537186538.
During the game you can listen to live audio commentary from Alistair Mann while our text commentary continues.
Highlights from the match can be found from 23:00, while a full-match replay will also be available to CITY+ subscribers from midnight following the game.
TEAM NEWS
Manuel Akanji is handed a City debut while Sergio Gomez is afforded a first start as Pep Guardiola makes three changes for Tuesday's Champions League group opener away at Sevilla.
Swiss international Akanji, who joined us last week from Borussia Dortmund, will partner Ruben Dias in the heart of defence with fellow summer signing Gomez set to be deployed at left back.
Jack Grealish also comes into the starting line up from the side that drew 1-1 at Aston Villa on Saturday.
Ilkay Gundogan reverts to the bench.
John Stones and Kyle Walker also miss out through muscular injuries with the England defensive duo not being part of City's travelling squad which flew out to Spain on Tuesday.
Teams
SEVILLA: Bono, Jesús Navas, Carmona, Nianzou, Acuña, Gudelj, Delaney, Rakitic, Papu Gómez, Telles, Isco
Subs: Dmitrovic, Montiel, Rekik, Dolberg, Suso, Jordan, Januzaj, Rafa Mir, En-Nesri, Fernando, Kike Salas, Alberto F
CITY XI: Ederson, Cancelo, Dias, Akanji, Gomez, Rodrigo, De Bruyne, Bernardo, Foden, Haaland, Grealish
Subs: Ortega, Carson, Phillips, Ake, Gundogan, Alvarez, Mahrez, Palmer, Lewis, Wilson-Esbrand
Pep Guardiola preview
"They won't be concerned with just defending. We have to be prepared because they will be aggressive.
"This competition is played with a lot of enthusiasm. More so in a stadium like this one. We have to be prepared for that. We have to crank up the pace.
"There is a great emotional component here, much more than just tactics."
CITY+ | SIGN UP TO ACCESS EXCLUSIVE CONTENT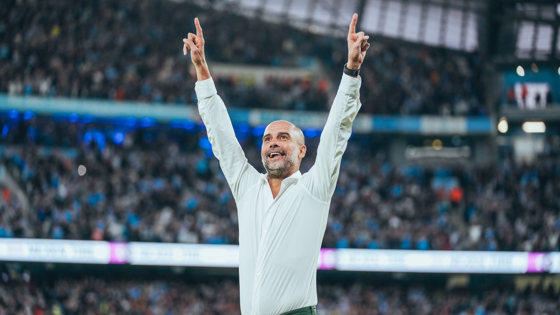 rodrigo preview
"They have a great manager - he works really well - and Sevilla have great players, it's true a few players have left but they are always a competitive team, especially at home.
"They will be attacking all the time -they have players to do that and they will. This is the first match of group stage and it's important to start well.
"In my position they have Fernando, who played for City and is a great player, but generally speaking they have great players across the pitch. We tend not to focus on individual players. Sevilla are a complete squad."
PREVIOUS MEETING 
We secured a place in the Champions League last 16 in 2015 by beating Sevilla with a blistering attacking display.
Raheem Sterling struck from a tight angle after eight minutes - and former City skipper Fernandinho's header doubled City's lead just 170 seconds later.
Sevilla hit back through Benoit Tremoulinas' free header, but Wilfried Bony swept in for a 3-1 half-time lead.
City cruised through the second half to progress into the knockout stages with two games to spare in the group stage.
LAST TIME OUT
City maintained our unbeaten start to the Premier League season, but were held to a 1-1 draw by a resolute Aston Villa.
Erling Haaland
scored his tenth goal of the season to open the scoring after the break, but Leon Bailey pulled the hosts level at Villa Park.
As for Sevilla, they fell to a 3-0 defeat at home to Barcelona in La Liga.
FORM GUIDE
City are still unbeaten this season after six matches, with four wins and two draws.
We currently sit second in the Premier League table, but have gone 19 matches without defeat in the top flight, our best run since March 2021.
Sevilla meanwhile have endured a difficult start to their campaign, having lost three times and drawn once so far in the league.
GLOBAL TV LISTINGS 
Courtesy of livesoccertv.com.
Three City games will be broadcast on BT Sport in the UK over the next month, so click here to sign up for a 30-day BT Sport Monthly Pass for £25.
| | |
| --- | --- |
| Algeria | beIN Sports Premium 3, TOD, beIN SPORTS CONNECT |
| Angola | SuperSport Football Plus ROA, DStv Now |
| Argentina | Star+ |
| Australia | Stan Sport |
| Austria | Sky Sport Austria 1, Sky Sport Austria 6, DAZN |
| Bahrain | beIN SPORTS CONNECT, TOD, beIN Sports Premium 3 |
| Belgium | Pickx+ Sports 3 |
| Benin | SuperSport Football Plus ROA |
| Bolivia | Star+ |
| Botswana | DStv Now, SuperSport Football Plus ROA |
| Brazil | HBO Max |
| Brunei | beIN Sports Connect, beIN Sports 3 Thailand |
| Bulgaria | MAX Sport 2, MAX Sport 3 |
| Burkina Faso | DStv Now, SuperSport Football Plus ROA |
| Burundi | DStv Now, SuperSport Football Plus ROA |
| Cambodia | beIN Sports 3 Thailand, beIN Sports Connect |
| Cameroon | DStv Now, SuperSport Football Plus ROA |
| Canada | DAZN |
| Cape Verde | SuperSport Football Plus ROA, DStv Now |
| Central African Republic | SuperSport Football Plus ROA |
| Chad | beIN Sports Premium 3, DStv Now, TOD, SuperSport Football Plus ROA, beIN SPORTS CONNECT |
| Chile | Star+ |
| China | PPTV Sport China, QQ Sports Live |
| Colombia | Star+ |
| Comoros | SuperSport Football Plus ROA |
| Congo | DStv Now, SuperSport Football Plus ROA |
| Congo DR | SuperSport Football Plus ROA |
| Costa Rica | Star+ |
| Cote D'Ivoire | SuperSport Football Plus ROA, DStv Now |
| Croatia | Arena Sport 7 Croatia |
| Cyprus | Cytavision on the Go, Cytavision Sports 4 |
| Denmark | Viaplay Denmark, TV3+ HD |
| Djibouti | DStv Now, TOD, beIN Sports Premium 3, beIN SPORTS CONNECT, SuperSport Football Plus ROA |
| Dominican Republic | Star+ |
| Ecuador | Star+ |
| Egypt | beIN Sports Premium 3, TOD, beIN SPORTS CONNECT |
| El Salvador | Star+ |
| Equatorial Guinea | SuperSport Football Plus ROA, DStv Now |
| Eritrea | SuperSport Football Plus ROA, DStv Now |
| Estonia | Viaplay Estonia |
| Ethiopia | DStv Now, SuperSport Football Plus ROA |
| Faroe Islands | TV3+ HD |
| Finland | C More Suomi |
| France | beIN SPORTS CONNECT, Free, beIN Sports 3 |
| Gabon | DStv Now, SuperSport Football Plus ROA |
| Gambia | DStv Now, SuperSport Football Plus ROA |
| Germany | DAZN2, DAZN |
| Ghana | SuperSport Football Plus ROA, DStv Now |
| Greece | Cosmote Sport 5 HD |
| Guatemala | Star+ |
| Guinea | DStv Now, SuperSport Football Plus ROA |
| Guinea-Bissau | SuperSport Football Plus ROA, DStv Now |
| Honduras | Star+ |
| Hungary | Sport 2 Hungary |
| Indonesia | Vidio |
| Iran | beIN SPORTS CONNECT, beIN Sports Premium 3, TOD |
| Iraq | TOD, beIN Sports Premium 3, beIN SPORTS CONNECT |
| Ireland | BT Sport App, LiveScore App, BTSport.com, BT Sport 2 |
| Italy | NOW TV, SKY Go Italia, Sky Sport 255, Sky Sport Calcio, Mediaset Infinity |
| Jordan | beIN SPORTS CONNECT, beIN Sports Premium 3, TOD |
| Kenya | SuperSport Football Plus ROA, DStv Now |
| Kuwait | beIN SPORTS CONNECT, beIN Sports Premium 3, TOD |
| Laos | beIN Sports 3 Thailand, beIN Sports Connect |
| Latvia | Viaplay Latvia |
| Lebanon | beIN SPORTS CONNECT, TOD, beIN Sports Premium 3 |
| Lesotho | DStv Now, SuperSport Football Plus ROA |
| Liberia | SuperSport Football Plus ROA, DStv Now |
| Libya | beIN SPORTS CONNECT, TOD, beIN Sports Premium 3 |
| Lithuania | Viaplay Lithuania |
| Luxembourg | Pickx+ Sports 3 |
| Madagascar | DStv Now, SuperSport Football Plus ROA |
| Malawi | DStv Now, SuperSport Football Plus ROA |
| Mali | SuperSport Football Plus ROA, DStv Now |
| Mauritania | beIN SPORTS CONNECT, DStv Now, beIN Sports Premium 3, TOD, SuperSport Football Plus ROA |
| Mauritius | SuperSport Football Plus ROA, DStv Now |
| Mayotte | SuperSport Football Plus ROA |
| Mexico | Cinemax, HBO Max |
| Morocco | beIN Sports Premium 3, TOD, beIN SPORTS CONNECT |
| Mozambique | DStv Now, SuperSport Football Plus ROA |
| Namibia | SuperSport Football Plus ROA, DStv Now |
| Netherlands | Ziggo Sport Voetbal |
| Nicaragua | Star+ |
| Niger | DStv Now, SuperSport Football Plus ROA |
| Nigeria | SuperSport Football Plus Nigeria, DStv Now |
| Norway | TV 2 Play |
| Oman | beIN SPORTS CONNECT, beIN Sports Premium 3, TOD |
| Palestinian Territory | beIN SPORTS CONNECT, beIN Sports Premium 3, TOD |
| Panama | Star+ |
| Paraguay | Star+ |
| Peru | Star+ |
| Poland | IPLA, Polsat Sport Premium 3 |
| Portugal | Eleven Sports 1 Portugal, Eleven Sports 3 Portugal |
| Qatar | beIN Sports Premium 3, beIN SPORTS CONNECT, TOD |
| Reunion | SuperSport Football Plus ROA |
| Romania | Digi Online, Prima Sport 3, Digi Sport 3 Romania |
| Rwanda | SuperSport Football Plus ROA |
| Saint Helena | SuperSport Football Plus ROA |
| Sao Tome And Principe | SuperSport Football Plus ROA |
| Saudi Arabia | beIN SPORTS CONNECT, TOD |
| Senegal | SuperSport Football Plus ROA, DStv Now |
| Seychelles | DStv Now, SuperSport Football Plus ROA |
| Sierra Leone | DStv Now, SuperSport Football Plus ROA |
| Somalia | TOD, SuperSport Football Plus ROA, beIN SPORTS CONNECT, beIN Sports Premium 3 |
| South Africa | DStv App, SuperSport Premier League, MáXimo 360 |
| South Sudan | TOD, DStv Now, beIN Sports Premium 3, beIN SPORTS CONNECT |
| Spain | Movistar+, Movistar Liga de Campeones 2 |
| Sudan | beIN SPORTS CONNECT, beIN Sports Premium 3, TOD, DStv Now, SuperSport Football Plus ROA |
| Swaziland | SuperSport Football Plus ROA, DStv Now |
| Sweden | C More Sweden |
| Switzerland | Blue Sport |
| Syria | beIN SPORTS CONNECT, TOD, beIN Sports Premium 3 |
| Tanzania | DStv Now, SuperSport Football Plus ROA |
| Thailand | beIN Sports Connect, beIN Sports 3 Thailand |
| Togo | SuperSport Football Plus ROA, DStv Now |
| Tunisia | TOD, beIN Sports Premium 3, beIN SPORTS CONNECT |
| Turkey | Exxen |
| Uganda | SuperSport Football Plus ROA, DStv Now |
| United Arab Emirates | beIN Sports Premium 3, beIN SPORTS CONNECT, TOD |
| United Kingdom | BTSport.com, LiveScore App, BT Sport 2, BT Sport App |
| United States | VIX+, Paramount+ |
| Uruguay | Star+ |
| Venezuela | Star+ |
| Vietnam | FPT Play |
| Yemen | beIN SPORTS CONNECT, beIN Sports Premium 3, TOD |
| Zambia | SuperSport Football Plus ROA |
| Zimbabwe | SuperSport Football Plus ROA, DStv Now |
News about Sevilla v Man City