Find out everything you need to know about the 188th Manchester derby.
WHEN AND WHERE
We will welcome Manchester United to the Etihad Stadium on Sunday 2 October in the Premier League, with the match kicking off at 14:00 (UK).
The match will be broadcast live in the UK on Sky Sports.
Supporters living around the world can find out how they can tune in via our global TV listings, courtesy of livesoccertv.com.
MAN CITY APP COVERAGE
You can follow all the action on our official app.
Minute-by-minute text updates will begin in our Matchday Centre two hours before kick-off, whilst our Matchday Live show, will begin one hour before we get under way at Molineux Stadium.
The Matchday Live team will reconvene for a half-time debrief before a more in-depth post-match verdict after the full-time whistle.
The guests will also answer viewer questions throughout the broadcast, with audience participation actively encouraged on Matchday Live. To get in touch, send a WhatsApp to: +447537186538.
During the game you can listen to live audio commentary from Alistair Mann while our text commentary continues.
Highlights from the match can be found later in the evening, while a full-match replay will also be available to CITY+ subscribers from midnight following the game.
CITY+ | SIGN UP TO ACCESS EXCLUSIVE CONTENT
Teams
City
XI: Ederson, Walker, Akanji, Ake, Cancelo, Gundogan, De Bruyne, Bernardo, Grealish, Foden, Haaland
Subs: Ortega-Moreno, Carson, Dias, Laporte, Alvarez, Gomez, Mahrez, Palmer, Lewis
United
XI: De Gea, Martinez, Fernandes, Rashford, Malacia, Eriksen, Varane, Dalot, Antony, Sancho, McTominay 
Subs: Heaton, Lindelof, Ronaldo, Martial, Fred, Casemiro, Shaw, Pellistri, Elanga 
CITY TACTICS
4-3-3 for City today.
Ederson starts in goal, with his distribution a vital aspect of City's build-up play.
Manuel Akanji and Nathan Ake will form the centre-back partnership designed to protect the Brazilian, with Kyle Walker and Joao Cancelo operating in the full-back roles, charged with getting forward and supplementing our attacks.
In the absence of Rodri, it's captain Ilkay Gundogan who will sit at the base of midfield and screen the back four, with Kevin De Bruyne and Bernardo Silva just ahead of him.
Phil Foden and Jack Grealish will play either side of the prolific Erling Haaland in our forward line - a front three containing guile and goals.
Pep Guardiola said on Friday City will need to 'play the perfect game' to beat Manchester United today. He knows United have had success at the Etihad in recent seasons, with their counter-attacking football often causing us difficulties.
The key for City will be to play with intensity, with and without the ball. When we have possession, we need to move it quickly, and when we lose it, we must win it back with haste.
If we do that, this home crowd here at the Etihad will respond and it should be a great occasion.
MATCH STATS
Head-to-head
Manchester City could win three consecutive league games against United for the first time since a run of four between April 2013 and November 2014.
United are in danger of suffering their 18th Premier League loss against City - it would equal their highest number of defeats against a specific opponent (matching their totals against Liverpool and Chelsea).
This Premier League fixture has been won 21 times by the respective away side - no other match has produced more victories for the away team.
Manchester City
Manchester City could win eight consecutive top-flight home games whilst scoring at least three times in each victory - a feat last achieved by Tottenham in 1965.
City have scored 10 first-half goals and 13 second-half goals in the Premier League this season - Manchester United have eight in total.
Erling Haaland has netted 100 goals in 99 club appearances in all competitions, including 12 goals in seven games for City. He has scored from each of his last six Premier League shots on target at the Etihad.
Kevin de Bruyne has registered six assists and 25 chances created, both league highs. He has been directly involved in 30 goals in his last 30 Premier League starts, scoring 16 and assisting 14.
Pep Guardiola has lost three out of four Premier League games against the Red Devils at the Etihad Stadium. They are the only opponent against whom he has lost more than two top-flight home matches as a manager.
Ruben Dias is one short of 100 City appearances.
Manchester United
Manchester United could become the fourth team in English top-flight history to lose their opening two games then win their next five, emulating Sheffield United (1931), West Bromwich Albion (1954) and Arsenal (2018).
United last won five consecutive league matches in April 2021 under Ole Gunnar Solskjaer.
This will be Erik ten Hag's first Manchester derby - each of the five United's previous five managers have lost their opening league fixture against City, with Alex Ferguson the last to begin with a win in 1987.
Ten Hag won eight of his nine league and cup matches as Ajax manager against historic rivals Feyenoord - a match known as De Klassieker in the Netherlands.
The Red Devils have conceded a league-high share 75% of their goals in the opening 45 minutes this term.
Cristiano Ronaldo can make five consecutive league appearances as a substitute for the first time since 2003, during his breakthrough season at Sporting Lisbon.
The forward has 699 career club goals in all competitions, including 497 in the league, and has registered four goals and two red cards in 12 competitive Manchester derbies.
Christian Eriksen is one short of 400 career league appearances.
FURTHER READING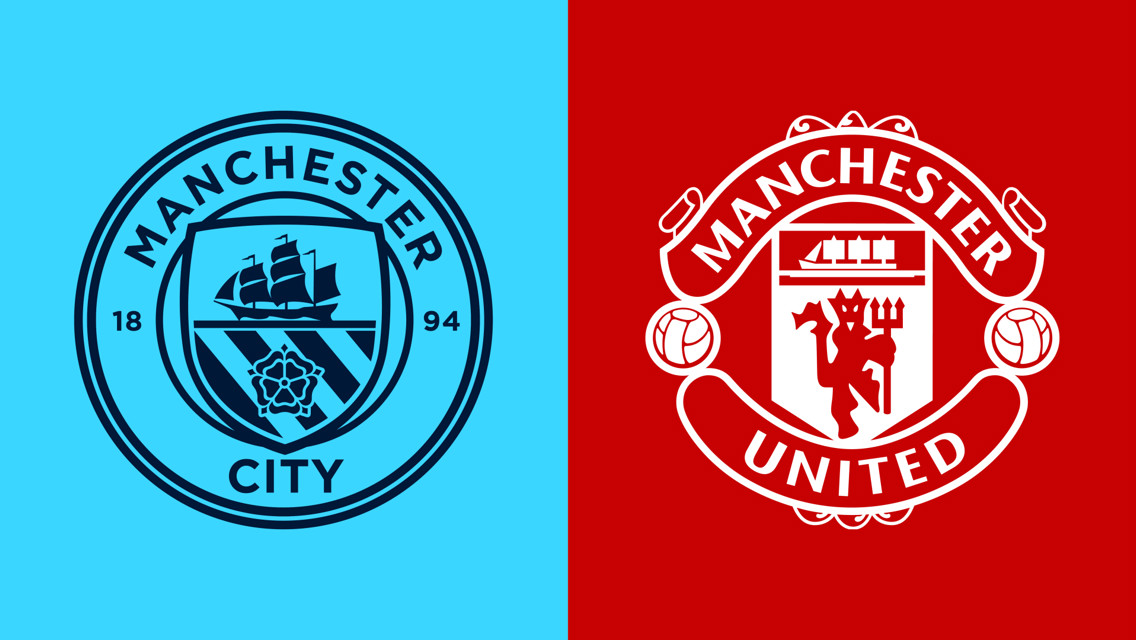 City v United- Derby Day Matchday Live Updates
MEN'S TEAM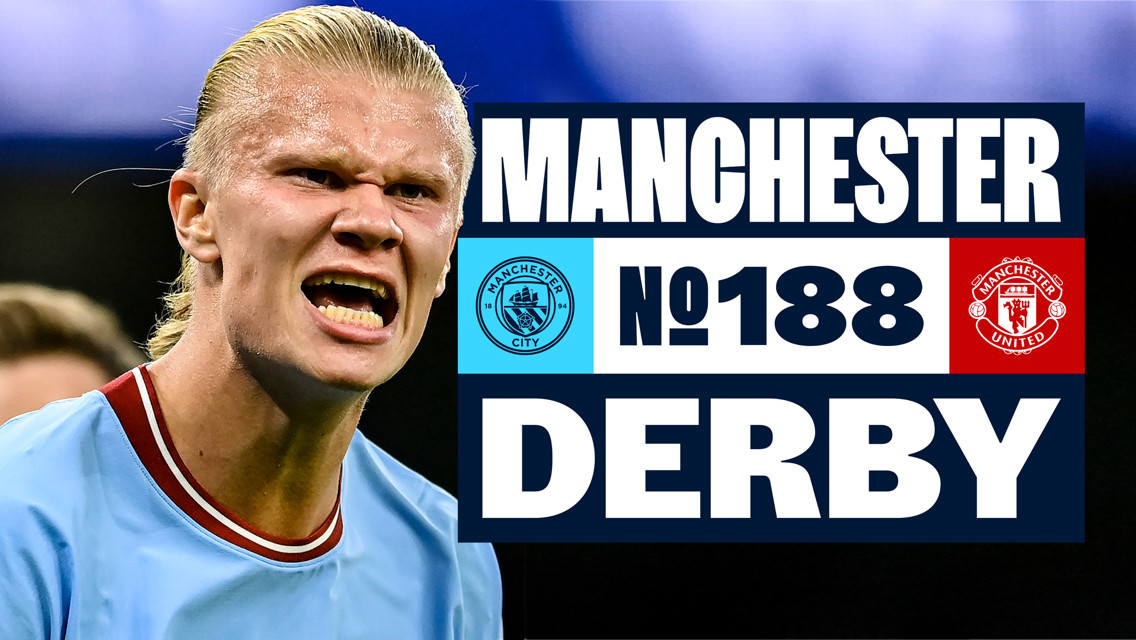 Watch: It's time for the 188th Manchester derby!
FEATURES
Manchester City FC Ltd 2022
How many Manchester derbies have there been?
Manchester City and Manchester United will play out the 188th Manchester derby on Sunday 2 October.
City have won on 57 occasions, with United victorious 77 times. The two sides could not be separated in 53 of the previous 187 matches.
The first competitive meeting between the sides came in 1891 in the first qualifying round of the FA Cup. City were then called Ardwick AFC and Manchester United went by the name of Newton Heath. Newton Heath won 5-1 at their North Road ground.
As this was a qualifying round of the FA Cup, some organisations do not include it in their records. However, this weekend's match will be considered the 188th competitive meeting between the two clubs on all Manchester City channels.
Previous meeting
City ran out emphatic 4-1 winners over Manchester United in March, as we continued our run to the 2021/22 Premier League title.
Kevin De Bruyne scored the first of the match, a left footed effort that wrongfooted David De Gea. Jadon Sancho equalised for Manchester United before De Bruyne restored our lead following a scramble in the box.
Perhaps the goal of the game came from the boot of Riyad Mahrez, who stepped on to De Bruyne's corner to sweep home from the edge of the box. The Algerian completed the scoring with a thunderous effort that burst through De Gea to make it four.
Last time out
The international break means it will be more than two weeks since City's last match when we take to the pitch on Sunday.
That last outing was a comprehensive 3-0 victory on the road at Wolves. Jack Grealish opened the scoring for City inside a minute, before Erling Haaland doubled the lead after just 16 minutes.
A second-half strike from Phil Foden completed the scoring and ensured City went top of the table overnight.
Form guide
We sit in second place in the Premier League with five wins and two draws from our seven matches so far this season. Those two draws both came on the road, at Aston Villa and Newcastle United. In the league so far, we have scored 23 goals and conceded just six.
United have 12 points from six matches so far in the league this season, winning four and losing twice. They have a goal difference of 0, having scored and conceded eight goals.
Global TV listings
Courtesy of livesoccertv.com.
| | |
| --- | --- |
| Algeria | beIN SPORTS CONNECT |
| Angola | SuperSport Premier League ROA, DStv Now, SuperSport MaXimo 2 |
| Anguilla | Csport.tv |
| Antigua and Barbuda | Csport.tv |
| Argentina | Star+, ESPN Argentina |
| Aruba | Csport.tv |
| Australia | Optus Sport |
| Bahamas | Csport.tv |
| Bahrain | beIN SPORTS CONNECT |
| Barbados | Csport.tv |
| Belize | Paramount+ |
| Benin | SuperSport Premier League ROA, SuperSport MaXimo 2 |
| Bolivia | Star+ |
| Botswana | SuperSport Premier League ROA, DStv Now, SuperSport MaXimo 2 |
| Brazil | GUIGO, ESPN, Star+, NOW NET e Claro |
| British Virgin Islands | Csport.tv |
| Brunei | Astro Go |
| Burkina Faso | SuperSport Premier League ROA, DStv Now, SuperSport MaXimo 2 |
| Burundi | DStv Now, SuperSport Premier League ROA, SuperSport MaXimo 2 |
| Cameroon | DStv Now, SuperSport Premier League ROA, SuperSport MaXimo 2 |
| Canada | fuboTV Canada |
| Cape Verde | SuperSport MaXimo 2, SuperSport Premier League ROA, DStv Now |
| Cayman Islands | Csport.tv |
| Central African Republic | SuperSport Premier League ROA, SuperSport MaXimo 2 |
| Chad | beIN SPORTS CONNECT, SuperSport MaXimo 2, SuperSport Premier League ROA, DStv Now |
| Chile | Star+, ESPN Chile |
| China | Migu, PPTV Sport China, iQiyi, QQ Sports Live |
| Cocos Islands | Sky Sport NOW |
| Colombia | Star+, ESPN |
| Comoros | SuperSport MaXimo 2, SuperSport Premier League ROA |
| Congo | DStv Now, SuperSport Premier League ROA, SuperSport MaXimo 2 |
| Congo DR | SuperSport MaXimo 2, SuperSport Premier League ROA |
| Costa Rica | Paramount+ |
| Cote D'Ivoire | DStv Now, SuperSport MaXimo 2, SuperSport Premier League ROA |
| Czech Republic | Skylink |
| Denmark | Viaplay Denmark, See |
| Djibouti | beIN SPORTS CONNECT, SuperSport Premier League ROA, SuperSport MaXimo 2, DStv Now |
| Dominica | Csport.tv |
| Dominican Republic | Csport.tv, Paramount+ |
| Ecuador | Star+, ESPN |
| Egypt | beIN SPORTS CONNECT |
| El Salvador | Paramount+ |
| Equatorial Guinea | SuperSport Premier League ROA, DStv Now, SuperSport MaXimo 2 |
| Eritrea | SuperSport MaXimo 2, DStv Now, SuperSport Premier League ROA |
| Estonia | Viaplay Estonia |
| Ethiopia | SuperSport Premier League ROA, DStv Now, SuperSport MaXimo 2 |
| Faroe Islands | See |
| Fiji | Sky Sport NOW |
| Finland | V Sport Premium, V Sport 2 Finland, Elisa Viihde Viaplay |
| Gabon | DStv Now, SuperSport Premier League ROA, SuperSport MaXimo 2 |
| Gambia | SuperSport MaXimo 2, DStv Now, SuperSport Premier League ROA |
| Ghana | SuperSport MaXimo 2, SuperSport Premier League ROA, DStv Now |
| Grenada | Csport.tv |
| Guatemala | Paramount+ |
| Guinea | SuperSport Premier League ROA, SuperSport MaXimo 2, DStv Now |
| Guinea-Bissau | SuperSport Premier League ROA, SuperSport MaXimo 2, DStv Now |
| Honduras | Paramount+ |
| Hong Kong | Now E |
| India | JioTV, Hotstar VIP |
| Indonesia | Vidio |
| Iran | beIN SPORTS CONNECT |
| Iraq | beIN SPORTS CONNECT |
| Ireland | Sky Sports Main Event, Sky Sports Premier League, Sky Ultra HD, SKY GO Extra |
| Italy | Sky Sport Football, SKY Go Italia, NOW TV |
| Jamaica | Csport.tv |
| Jordan | beIN SPORTS CONNECT |
| Kenya | SuperSport Premier League ROA, SuperSport MaXimo 2, DStv Now |
| Kiribati | Sky Sport NOW |
| Kuwait | beIN SPORTS CONNECT |
| Latvia | Viaplay Latvia |
| Lebanon | beIN SPORTS CONNECT |
| Lesotho | SuperSport MaXimo 2, DStv Now, SuperSport Premier League ROA |
| Liberia | SuperSport MaXimo 2, SuperSport Premier League ROA, DStv Now |
| Libya | beIN SPORTS CONNECT |
| Lithuania | Viaplay Lithuania |
| Macau | iQiyi |
| Madagascar | SuperSport MaXimo 2, DStv Now, SuperSport Premier League ROA |
| Malawi | DStv Now, SuperSport Premier League ROA, SuperSport MaXimo 2 |
| Malaysia | Astro Go |
| Mali | DStv Now, SuperSport Premier League ROA, SuperSport MaXimo 2 |
| Marshall Islands | Sky Sport NOW |
| Mauritania | DStv Now, beIN SPORTS CONNECT, SuperSport MaXimo 2, SuperSport Premier League ROA |
| Mauritius | SuperSport Premier League ROA, SuperSport MaXimo 2, DStv Now |
| Mayotte | SuperSport Premier League ROA, SuperSport MaXimo 2 |
| Mexico | Paramount+ |
| Montserrat | Csport.tv |
| Morocco | beIN SPORTS CONNECT |
| Mozambique | SuperSport Premier League ROA, DStv Now, SuperSport MaXimo 2 |
| Namibia | DStv Now, SuperSport MaXimo 2, SuperSport Premier League ROA |
| Nauru | Sky Sport NOW |
| Netherlands | Viaplay Netherlands |
| New Zealand | Sky Sport NOW |
| Nicaragua | Paramount+ |
| Niger | SuperSport Premier League ROA, SuperSport MaXimo 2, DStv Now |
| Nigeria | DStv Now, SuperSport MaXimo 2, SuperSport Premier League Nigeria |
| Niue | Sky Sport NOW |
| Norway | V Sport Premier League, Viaplay Norway |
| Oman | beIN SPORTS CONNECT |
| Palau | Sky Sport NOW |
| Palestine | beIN SPORTS CONNECT |
| Panama | Csport.tv, Paramount+ |
| Paraguay | Star+ |
| Peru | Star+ |
| Poland | Viaplay Poland |
| Portugal | Eleven Sports 1 Portugal |
| Qatar | beIN SPORTS CONNECT |
| Reunion | SuperSport MaXimo 2, SuperSport Premier League ROA |
| Rwanda | SuperSport Premier League ROA, SuperSport MaXimo 2 |
| Saint Helena | SuperSport Premier League ROA, SuperSport MaXimo 2 |
| Saint Kitts and Nevis | Csport.tv |
| Saint Lucia | Csport.tv |
| Saint Vincent and the Grenadines | Csport.tv |
| Samoa | Sky Sport NOW |
| Sao Tome And Principe | SuperSport MaXimo 2, SuperSport Premier League ROA |
| Saudi Arabia | beIN SPORTS CONNECT |
| Senegal | DStv Now, SuperSport Premier League ROA, SuperSport MaXimo 2 |
| Seychelles | Csport.tv, DStv Now, SuperSport MaXimo 2, SuperSport Premier League ROA |
| Sierra Leone | DStv Now, SuperSport MaXimo 2, SuperSport Premier League ROA |
| Singapore | StarHub TV+ |
| Slovakia | Skylink |
| Solomon Islands | Sky Sport NOW |
| Somalia | SuperSport Premier League ROA, beIN SPORTS CONNECT, SuperSport MaXimo 2 |
| South Africa | DStv App, SuperSport MaXimo 2, SuperSport Premier League |
| South Sudan | beIN SPORTS CONNECT, DStv Now |
| Spain | DAZN |
| Sudan | SuperSport Premier League ROA, DStv Now, SuperSport MaXimo 2, beIN SPORTS CONNECT |
| Swaziland | SuperSport Premier League ROA, SuperSport MaXimo 2, DStv Now |
| Sweden | V Sport Premium, Viaplay Sweden |
| Syria | beIN SPORTS CONNECT |
| Tanzania | SuperSport Premier League ROA, SuperSport MaXimo 2, DStv Now |
| Togo | DStv Now, SuperSport Premier League ROA, SuperSport MaXimo 2 |
| Tonga | Sky Sport NOW |
| Trinidad and Tobago | Csport.tv |
| Tunisia | beIN SPORTS CONNECT |
| Turkey | beIN CONNECT Turkey |
| Turks and Caicos Islands | Csport.tv |
| Tuvalu | Sky Sport NOW |
| Uganda | SuperSport Premier League ROA, SuperSport MaXimo 2, DStv Now |
| United Arab Emirates | beIN SPORTS CONNECT |
| United Kingdom | Sky Sports Main Event, Sky Sports Premier League, SKY GO Extra, Sky Ultra HD |
| United States | Telemundo Deportes En Vivo, Telemundo, Peacock |
| Uruguay | Star+ |
| Vanuatu | Sky Sport NOW |
| Venezuela | ESPN, Star+ |
| Yemen | beIN SPORTS CONNECT |
| Zambia | SuperSport Premier League ROA, SuperSport MaXimo 2 |
| Zimbabwe | SuperSport MaXimo 2, SuperSport Premier League ROA, DStv Now |
News about Man City v Man United