Pep Guardiola believes his players' mentality will play a crucial role in Sunday's Premier League curtain-raiser against Tottenham Hotspur.
The final members of our squad returned to the first team fold at the beginning of this week, having been afforded an extended rest period following their exploits at this summer's Copa America and European Championships.
Given that quick turnaround, Guardiola admitted that it could take time before the players are back to our usual sharpness, but was confident that our mentality was as strong as ever going into our clash in the capital.
Indeed, it's a quality that the City boss also highlighted as a crucial factor in both our ability to shake off a slow start to the previous season, and in our ultimate march to the Premier League title eight months later.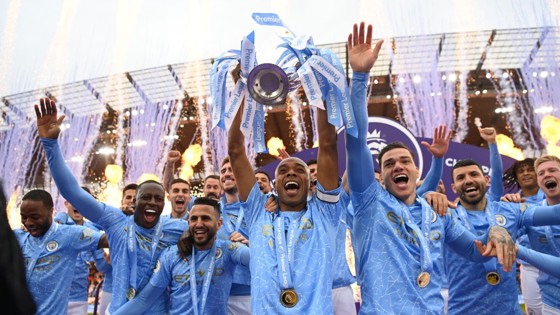 "It's quite similar like last season when we played Wolves without any friendly game being played. All of you asked 'how is the team', I said 'I don't know'" Guardiola reflected when comparing our start to this season with 2020-21.
"That's why the mentality and being strong in the head will be more important, we know we are still away from our best condition. This is normal.
"The most impressive thing that we did last season in the beginning was that when we started we adjusted, we had to adapt, no complaints. That's the reality.
"That's why we had success last season, we didn't cry in the beginning, we accepted we had to do better, what can we do to improve and then we started to win and over three or four months we were unbeatable.
"That's why we won the Premier League and arrived in the latter stages of all competitions. The reality is it is what it is, adapt and go forward."
After storming to a third league title in four seasons, City will once again be considered one of the favourites for top spot going into the new campaign.
Nonetheless, Guardiola insists that he and the players are bracing themselves for a hotly contested pursuit of the Premier League crown, and that our exploits last time out are now a thing of the past.
He also pointed out that our recent achievements, and those of our rivals, have set a new standard in English football, raising the level of competition across the board.
He declared: "When you start the season, every team wants to be champion.
"We have a trophy in our cabinet for sure, but we start from zero this weekend.
"Since I arrived in my first season everyone said the Premier League is completely different to the other leagues, it's more difficult. Everyone can beat everyone and I said 'yes that's true', I felt it.
CITY+ | WATCH FULL-MATCH REPLAYS OF EVERY CITY GAME
"But Manchester City, and Liverpool as well, have raised the bar and now we have to get 90 points to be champion.
"Every season, Leicester is a fantastic team, they could join Arsenal, Tottenham, Chelsea, (Manchester) United, Liverpool and ourselves to be contenders.
"We start like everyone in that situation, I know how difficult all of the contenders are in this league, always has been, always is and always will be."