Played: five, wins: five… a breakdown of some of the astonishing opening day statistics and records we've achieved during Pep Guardiola's reign so far.
Giving 100%
The boss' time in English football has been littered with phenomenal accomplishments, and his opening day record at Manchester City is no different when put under the microscope.
Incredibly, Guardiola is the only boss to have won every single one of his Premier League curtain-raisers, when compared with other bosses to have been charge of a club for the same period of time.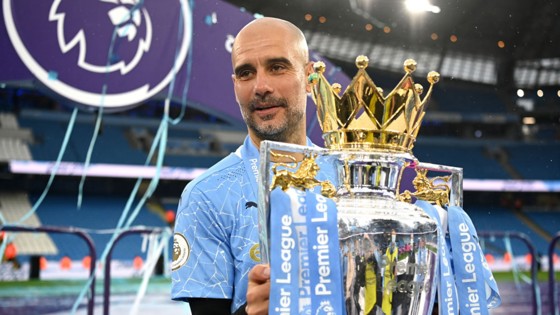 The Catalan's 100% opening day winning record sees him top an illustrious list, with former Chelsea, Manchester United and Tottenham boss Jose Mourinho his closest rival on 82% (9 wins from 11 matches).
In terms of current Premier League managers, Liverpool's Jurgen Klopp sits on 80% (4 wins from 5 matches), while Leicester's Brendan Rodgers is third on the list with 57% (4 wins from 7 matches).
The players
And Guardiola's success has been emulated by three of his current stars.
John Stones, Raheem Sterling and Kevin De Bruyne boast the best opening day records of any Premier League player since 2016, each featuring in all of the Catalan's five successive victories.
Of the trio, Stones has started in each of those matches, while Sterling and De Bruyne came off the bench in victories over Brighton and Arsenal in 2017-18 and 2018-19 respectively.
Nonetheless, Sterling could sit alongside Sergio Aguero on an astonishing nine wins from nine opening day matches across his Premier League career, should he step across the white line on Sunday afternoon.
That accomplishment would move him alongside our record goalscorer as the player with the best opening day win percentage in Premier League history.
Guardiola on the cusp of history
Victory at the Tottenham Hotspur Stadium this Sunday would see Guardiola reach yet another phenomenal milestone.
The City boss would surpass both Gerard Houllier and Arsene Wenger's record for the longest uninterrupted opening day winning run as a Premier League manager, should we get the better of Spurs.
The French duo registered five successive victories to kickstart their campaigns for Liverpool and Arsenal from 1998-2002 and 2001-2005 respectively, while Jose Mourinho achieved six successive opening day victories over two separate spells at Chelsea.
Guardiola is on the verge of taking that crown for the longest continual run in Premier League history and would also match Mourinho's all-time record set between 2004 and 2007 and 2013-14 at Stamford Bridge with another three points on Sunday afternoon.
Goals, goals, goals
Considering our phenomenal opening day record under Guardiola, it comes as no surprise to learn that we boast an imperious goal difference across those five years with the Catalan at the helm.
Since the opening day of the 2016-17 campaign, City have scored 14 goals and conceded just two against Sunderland, Brighton, Arsenal, West Ham and Wolves respectively.
CITY+ | WATCH TOGETHER FILM NOW!
In short, we fall just short of averaging three goals per opening day clash under the boss' guidance and have only conceded once every two matches.
It's safe to say that, with Pep at the wheel, we've consistently been quick out of the blocks.
It's a team game
Collectively, City have led the way in the Premier League since Pep's appointment five years ago.
We boast the best opening day record in the English top flight since the Catalan took charge, and are also one of only three sides to remain unbeaten during that time.
Merseyside rivals Everton and Liverpool have both avoided defeat in each of their last five curtain-raisers but, despite that impressive record, they still fall short of City's 100% winning record.