Find out everything you need to know ahead of our Premier League clash with Southampton.
TEAM NEWS
Pep Guardiola makes five changes to the City starting XI for the visit of Southampton this afternoon.
Nathan Ake, Manuel Akanji, Phil Foden, Kevin De Bruyne are all recalled, while Rodrigo has recovered from, a minor knock.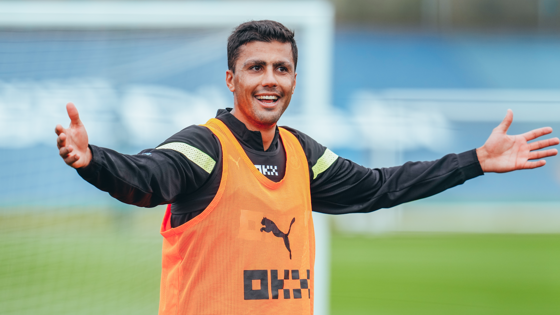 Line-ups
City:
Ederson, Cancelo, Ake, Akanji, Dias, Rodrigo, De Bruyne (c), Bernardo, Foden, Haaland, Mahrez
Subs: Ortega Moreno, Gundogan, Laporte, Grealish, Alvarez, Gomez, Palmer, Lewis, Wilson-Esbrand
Southampton:
Bazunu, Walker-Peters, Salisu, Bella-Kotchap, Perraud, S Armstrong, Ward-Prowse, Diallo, Aribo, A Armstrong, Adams
Substitutes McCarthy, Maitland-Niles, Lyanco, Caleta-Car, Mara, Djenepo, Elyounoussi, Larios López, Walcott
WHEN AND WHERE
We will welcome the Saints to the Etihad Stadium on Saturday 8 October in the Premier League, with the match kicking off at 15:00 (UK).
The match will not be broadcast live in the UK. Supporters living around the world can find out how they can tune in via our global TV listings, courtesy of livesoccertv.com.
MAN CITY APP COVERAGE
You can follow all the action on our official app.
Minute-by-minute text updates will begin in our Matchday Centre two hours before kick-off, whilst our Matchday Live show, will begin one hour before we get under way at the Etihad.
The Matchday Live team will reconvene for a half-time debrief before a more in-depth post-match verdict after the full-time whistle.
The guests will also answer viewer questions throughout the broadcast, with audience participation actively encouraged on Matchday Live. To get in touch, send a WhatsApp to: +447537186538.
During the game you can listen to live audio commentary from Alistair Mann while our text commentary continues.
Highlights from the match can be found later in the evening, while a full-match replay will also be available to CITY+ subscribers from midnight following the game.
CITY+ | SIGN UP TO ACCESS EXCLUSIVE CONTENT
PEP GUARDIOLA PREVIEW
Asked what he expects from Southampton, the manager said: "The same, a brave team. So aggressive and well organised. It doesn't matter what happened in last games, they have a culture that I like a lot without the ball. We need to create a good rhythm. It's important fixture for us and we want to get another three points.

"We don't have time to be distracted, today we prepare and then we play. Then we travel again and play another one. The players and backroom staff are just focused on what we have to do.
Previous meeting
City's remarkable goalscoring run came to an end after being held to a goalless draw against Southampton at the Etihad in September 2021.
Guardiola's side came into the game having scored 17 goals in our previous four outings, but were frustrated by the Saints' spirited performance.
Raheem Sterling thought he had scored a 90th minute winner when he reacted quickest to turn in the rebound after substitute Phil Foden's header was saved, but City's joy proved short lived as the video check agreed the assistant referee had correctly flagged for offside.
Last time out
City emerged 6-3 victors in the 188th Manchester derby last weekend, whilst Southampton fell to a 2-1 home defeat at the hands of Everton.
Form guide
We sit in second place in the Premier League with six wins and two draws after eight league matches, whilst the Saints linger just one point above the relegation zone, with two wins, one draw and five losses.
MATCH PROGRAMME
Our official matchday programme is the perfect way to get you in the mood for City v Southampton
It's packed full of exclusive interviews, in-depth features, Pep Guardiola's notes, superb photography and all the stats and facts you could want to keep you entertained before kick-off.
As well as being available for purchase at the ground, supporters who may not be able to attend the game can still order the City matchday programme online for home delivery.
Fans can also order a programme subscription, which saves 25p per issue and includes free postage and packing in the UK.
Order your City v Southampton programme, HERE.
Global TV listings
Courtesy of livesoccertv.com.
| | |
| --- | --- |
| Algeria | beIN SPORTS CONNECT |
| Angola | SuperSport Premier League ROA, SuperSport MaXimo 2, DStv Now, SuperSport GOtv Football |
| Anguilla | Csport.tv |
| Antigua and Barbuda | Csport.tv |
| Argentina | Star+ |
| Armenia | Setanta Sports 1 |
| Aruba | Csport.tv |
| Australia | Optus Sport |
| Azerbaijan | Setanta Sports 1 |
| Bahamas | Csport.tv |
| Bahrain | beIN SPORTS CONNECT |
| Barbados | Csport.tv |
| Belarus | Setanta Sports 1 |
| Belgium | Play Sports 1, Play Sports |
| Belize | Paramount+ |
| Benin | SuperSport GOtv Football, SuperSport MaXimo 2, SuperSport Premier League ROA |
| Bolivia | Star+ |
| Botswana | DStv Now, SuperSport Premier League ROA, SuperSport GOtv Football,SuperSport MaXimo 2 |
| Brazil | Star+ |
| British Virgin Islands | Csport.tv |
| Brunei | Astro Go, Astro SuperSport 2 |
| Bulgaria | Nova Sport Bulgaria |
| Burkina Faso | SuperSport GOtv Football, SuperSport MaXimo 2, DStv Now, SuperSport Premier League ROA |
| Burundi | DStv Now, SuperSport MaXimo 2, SuperSport Premier League ROA, SuperSport GOtv Football |
| Cameroon | DStv Now, SuperSport MaXimo 2, SuperSport GOtv Football, SuperSport Premier League ROA |
| Canada | fuboTV Canada |
| Cape Verde | DStv Now, SuperSport GOtv Football, SuperSport Premier League ROA,SuperSport MaXimo 2 |
| Cayman Islands | Csport.tv |
| Central African Republic | SuperSport MaXimo 2, SuperSport Premier League ROA, SuperSport GOtv Football |
| Chad | DStv Now, SuperSport MaXimo 2, SuperSport Premier League ROA, SuperSport GOtv Football, beIN SPORTS CONNECT |
| Chile | Star+ |
| China | iQiyi, QQ Sports Live, PPTV Sport China, Migu |
| Cocos Islands | Sky Sport Premier League, Sky Sport NOW |
| Colombia | Star+ |
| Comoros | SuperSport Premier League ROA, SuperSport MaXimo 2, SuperSport GOtv Football |
| Congo | SuperSport Premier League ROA, SuperSport GOtv Football, SuperSport MaXimo 2, DStv Now |
| Congo DR | SuperSport MaXimo 2, SuperSport Premier League ROA, SuperSport GOtv Football |
| Cook Islands | Sky Sport 3 NZ |
| Costa Rica | Paramount+ |
| Cote D'Ivoire | SuperSport Premier League ROA, SuperSport GOtv Football, SuperSport MaXimo 2, DStv Now |
| Croatia | Arena Sport 7 Croatia |
| Czech Republic | Skylink |
| Denmark | Viaplay Denmark |
| Djibouti | DStv Now, beIN SPORTS CONNECT, SuperSport GOtv Football, SuperSport Premier League ROA, SuperSport MaXimo 2 |
| Dominica | Csport.tv |
| Dominican Republic | Paramount+, Csport.tv |
| Ecuador | Star+ |
| Egypt | beIN SPORTS CONNECT |
| El Salvador | Paramount+ |
| Equatorial Guinea | SuperSport Premier League ROA, SuperSport GOtv Football, DStv Now,SuperSport MaXimo 2 |
| Eritrea | SuperSport GOtv Football, DStv Now, SuperSport Premier League ROA,SuperSport MaXimo 2 |
| Estonia | Setanta Sports 1, Viaplay Estonia |
| Ethiopia | SuperSport MaXimo 2, DStv Now, SuperSport GOtv Football, SuperSport Premier League ROA |
| Fiji | Sky Sport Premier League, Sky Pacific, Sky Sport 3 NZ, Sky Sport NOW |
| Finland | V Sport Football, V Sport 2 Finland, Elisa Viihde Viaplay |
| Gabon | SuperSport GOtv Football, SuperSport MaXimo 2, DStv Now, SuperSport Premier League ROA |
| Gambia | SuperSport Premier League ROA, DStv Now, SuperSport MaXimo 2, SuperSport GOtv Football |
| Georgia | Setanta Sports 1 |
| Ghana | SuperSport Premier League ROA, SuperSport GOtv Football, DStv Now,SuperSport MaXimo 2 |
| Grenada | Csport.tv |
| Guatemala | Paramount+ |
| Guinea | SuperSport Premier League ROA, SuperSport MaXimo 2, DStv Now, SuperSport GOtv Football |
| Guinea-Bissau | SuperSport MaXimo 2, SuperSport GOtv Football, SuperSport Premier League ROA, DStv Now |
| Honduras | Paramount+ |
| Hong Kong | 621 Now Premier League 1, Now E, 620 Now Premier League TV, Now Player |
| Hungary | Match4 |
| Iceland | Síminn, SíminnSport |
| India | Hotstar VIP, JioTV |
| Indonesia | Vidio |
| Iran | beIN SPORTS CONNECT |
| Iraq | beIN SPORTS CONNECT |
| Ireland | Premier Sports ROI 1 |
| Israel | Sport 2 |
| Italy | SKY Go Italia, Sky Sport Uno, NOW TV |
| Jamaica | Csport.tv |
| Jordan | beIN SPORTS CONNECT |
| Kazakhstan | Setanta Sports 1 |
| Kenya | DStv Now, SuperSport MaXimo 2, SuperSport Premier League ROA, SuperSport GOtv Football |
| Kiribati | Sky Sport Premier League, Sky Sport NOW, Sky Sport 3 NZ |
| Kuwait | beIN SPORTS CONNECT |
| Kyrgyzstan | Setanta Sports 1 |
| Latvia | Setanta Sports 1, Viaplay Latvia |
| Lebanon | beIN SPORTS CONNECT |
| Lesotho | SuperSport Premier League ROA, DStv Now, SuperSport MaXimo 2, SuperSport GOtv Football |
| Liberia | SuperSport MaXimo 2, SuperSport Premier League ROA, SuperSport GOtv Football, DStv Now |
| Libya | beIN SPORTS CONNECT |
| Lithuania | Setanta Sports 1, Viaplay Lithuania |
| Macau | iQiyi |
| Madagascar | SuperSport Premier League ROA, DStv Now, SuperSport MaXimo 2, SuperSport GOtv Football |
| Malawi | SuperSport MaXimo 2, SuperSport GOtv Football, DStv Now, SuperSport Premier League ROA |
| Malaysia | Astro Go, Astro SuperSport 2 |
| Mali | SuperSport Premier League ROA, SuperSport MaXimo 2, SuperSport GOtv Football, DStv Now |
| Malta | TSN2 Malta, GO TV Anywhere |
| Marshall Islands | Sky Sport 3 NZ, Sky Sport NOW, Sky Sport Premier League |
| Mauritania | SuperSport GOtv Football, SuperSport Premier League ROA, beIN SPORTS CONNECT, DStv Now, SuperSport MaXimo 2 |
| Mauritius | DStv Now, SuperSport Premier League ROA, SuperSport MaXimo 2, SuperSport GOtv Football |
| Mayotte | SuperSport Premier League ROA, SuperSport GOtv Football, SuperSport MaXimo 2 |
| Mexico | Paramount+ |
| Moldova | Setanta Sports 1 |
| Montserrat | Csport.tv |
| Morocco | beIN SPORTS CONNECT |
| Mozambique | SuperSport GOtv Football, SuperSport MaXimo 2, DStv Now, SuperSport Premier League ROA |
| Namibia | SuperSport Premier League ROA, DStv Now, SuperSport MaXimo 2, SuperSport GOtv Football |
| Nauru | Sky Sport NOW, Sky Sport 3 NZ, Sky Sport Premier League |
| Netherlands | Viaplay Netherlands |
| New Zealand | Sky Sport NOW, Sky Sport Premier League, Sky Sport 3 NZ |
| Nicaragua | Paramount+ |
| Niger | DStv Now, SuperSport Premier League ROA, SuperSport GOtv Football,SuperSport MaXimo 2 |
| Nigeria | SuperSport Premier League Nigeria, SuperSport GOtv Football, SuperSport MaXimo 2, DStv Now |
| Niue | Sky Sport 3 NZ, Sky Sport Premier League, Sky Sport NOW |
| Norway | Viaplay Norway |
| Oman | beIN SPORTS CONNECT |
| Palau | Sky Sport Premier League, Sky Sport 3 NZ, Sky Sport NOW |
| Palestine | beIN SPORTS CONNECT |
| Panama | Paramount+, Csport.tv |
| Paraguay | Star+ |
| Peru | Star+ |
| Poland | Viaplay Poland |
| Portugal | Eleven Sports 1 Portugal |
| Qatar | beIN SPORTS CONNECT |
| Reunion | SuperSport Premier League ROA, SuperSport MaXimo 2, SuperSport GOtv Football |
| Romania | Digi Online, Digi Sport 1 Romania |
| Rwanda | SuperSport GOtv Football, SuperSport Premier League ROA, SuperSport MaXimo 2 |
| Saint Helena | SuperSport GOtv Football, SuperSport Premier League ROA, SuperSport MaXimo 2 |
| Saint Kitts and Nevis | Csport.tv |
| Saint Lucia | Csport.tv |
| Saint Vincent and the Grenadines | Csport.tv |
| Samoa | Sky Sport 3 NZ, Sky Sport NOW, Sky Sport Premier League |
| Sao Tome And Principe | SuperSport MaXimo 2, SuperSport GOtv Football, SuperSport Premier League ROA |
| Saudi Arabia | beIN SPORTS CONNECT |
| Senegal | SuperSport MaXimo 2, SuperSport GOtv Football, SuperSport Premier League ROA, DStv Now |
| Serbia | Arena Sport 3P |
| Seychelles | SuperSport Premier League ROA, SuperSport GOtv Football, Csport.tv, DStv Now, SuperSport MaXimo 2 |
| Sierra Leone | SuperSport Premier League ROA, SuperSport GOtv Football, DStv Now,SuperSport MaXimo 2 |
| Singapore | StarHub TV+ |
| Slovakia | Skylink |
| Slovenia | Arena Sport 1 Premium |
| Solomon Islands | Sky Sport NOW, Sky Sport Premier League, Sky Sport 3 NZ |
| Somalia | SuperSport MaXimo 2, beIN SPORTS CONNECT, SuperSport Premier League ROA, SuperSport GOtv Football |
| South Africa | SuperSport MaXimo 2, DStv App, SuperSport GOtv Football, SuperSport Premier League |
| South Sudan | beIN SPORTS CONNECT, DStv Now |
| Spain | DAZN, DAZN 1 |
| Sudan | SuperSport Premier League ROA, SuperSport MaXimo 2, DStv Now, beIN SPORTS CONNECT, SuperSport GOtv Football |
| Swaziland | SuperSport GOtv Football, SuperSport MaXimo 2, DStv Now, SuperSport Premier League ROA |
| Sweden | Viaplay Sweden, V Sport Football |
| Syria | beIN SPORTS CONNECT |
| Tajikistan | Setanta Sports 1 |
| Tanzania | SuperSport Premier League ROA, SuperSport GOtv Football, SuperSport MaXimo 2, DStv Now |
| Togo | SuperSport GOtv Football, SuperSport MaXimo 2, SuperSport Premier League ROA, DStv Now |
| Tonga | Sky Sport 3 NZ, Sky Sport Premier League, Sky Sport NOW |
| Trinidad and Tobago | Csport.tv |
| Tunisia | beIN SPORTS CONNECT |
| Turkey | beIN CONNECT Turkey |
| Turkmenistan | Setanta Sports 1 |
| Turks and Caicos Islands | Csport.tv |
| Tuvalu | Sky Sport NOW, Sky Sport Premier League, Sky Sport 3 NZ |
| Uganda | SuperSport GOtv Football, SuperSport Premier League ROA, SuperSport MaXimo 2, DStv Now |
| Ukraine | Setanta Sports Ukraine |
| United Arab Emirates | beIN SPORTS CONNECT |
| United States | Peacock, SiriusXM FC |
| Uruguay | Star+ |
| Uzbekistan | Setanta Sports 1 |
| Vanuatu | Sky Sport 3 NZ, Sky Sport Premier League, Sky Sport NOW |
| Venezuela | Star+ |
| Yemen | beIN SPORTS CONNECT |
| Zambia | SuperSport MaXimo 2, SuperSport GOtv Football, SuperSport Premier League ROA |
| Zimbabwe | DStv Now, SuperSport MaXimo 2, SuperSport GOtv Football, SuperSport Premier League ROA |
News about Man City v Saints