Everything you need to know ahead of our Champions League quarter-final first leg against Borussia Dortmund.
starting Xi
Phil
Foden
is among one of five changes to City's starting line-up against Borussia Dortmund.
MATCHDAY CENTRE - TUNE IN NOW!
City: Ederson, Walker, Cancelo, Dias, Stones, Rodrigo, De Bruyne, Gundogan, Bernardo, Mahrez, Foden
Subs: Steffen, Trafford, Ake, Sterling, Jesus, Aguero, Zinchenko, Laporte, Torres, Mendy, Fernandinho, Garcia
WHEN AND WHERE
City host Borussia Dortmund at the Etihad Stadium in the quarter-final of the Champions League on Tuesday 6 April, with kick-off at 20:00 (UK).
Fans living in the UK will be able to watch the game live on BT Sport, whilst supporters living abroad can check the TV Listings at the foot of the page to find out how they can tune in.
If you are unable to watch the game, we will have minute-by-minute updates from our live Matchday Centre, whilst CITY+ subscribers can listen to audio commentary from Alistair Mann.
You can also follow live updates on our Twitter page: @ManCity, whilst a full-match replay will also be available to watch on CITY+ from midnight after the game.
Viewers in the UK can watch the game live with a BT Sport Monthly Pass for £25.
SIGN UP HERE
. 
CITY+ | WATCH FULL-MATCH REPLAYS OF EVERY CITY GAME
WE'RE NOT REALLY HERE
Presenter, Natalie Pike will be joined by former City teammates, Paul Dickov and Andy Morrison for our We're Not Really Here matchday show.
The show will begin just over an hour before kick-off at 18:55 (UK), and you can tune in to hear expert opinion and analysis from the City pair ahead of the game.
We will then head back to the studio at half-time to take a look at the first 45 minutes, before returning after the full-time whistle where we will hear the post-match thoughts of our City experts.
We're Not Really Here is available to view across all of our digital platforms, and fans can get involved with the show by using the hashtag #WNRH on twitter.
INJURY NEWS
City have no new injury concerns. 
Dortmund are still without Jadon Sancho, who is struggling with a muscle injury.
Defender Dan-Axel Zagadou is also out, while forward Youssoufa Moukoko has been ruled out for the season. 
PEP PREVIEW
"Of course [the defeat to Lyon last season was tough, emotionally]," Pep said. "It remains in my head for weeks. It was painful, I cannot deny it.
"It was the last game of the season. We wanted to go through. We congratulate Lyon. We didn't do it quite well. We didn't deserve to go through.
"It was painful of course, but what can we do? For a short time, ten days, we suffer. Then, we wake up and prepare for the next season.
"But the defeat hurts - especially this one. Day after, we say goodbye and everyone goes away. It was disappointing.
"But we are here again to try again."
Edin Terzić preview
"We need to be at the top of our game in both legs; on it from the first second to the last, and maybe for extra time too. To overcome Manchester City would be something special. Guardiola is undoubtedly one of the best coaches in the world. For almost 15 years his teams have dominated football."
FORM GUIDE
City have also enjoyed a succesful Champions League campaign thus far, having won seven and drawn one of our eight games in Europe this season.
We head into the quarter-final having not conceded a Champions League goal in 11 hours and 35 minutes of football - the second longest run in the competition's history.
We booked our place in the quarter-final thanks to a 4-0 aggregate win over Borussia Monchengladbach in the Round of 16.
Our win at Leicester on Saturday means we have won 26 of our last 27 matches in all competitions.
Form: W W W W W L
Latest: Leicester City 0-2 Manchester City
Where we stand: 1st in Premier League
The German side have also enjoyed a succesful Champions League campaign this term, having lost just one of their eight games in this season's competiton.
They come into the quarter-final having defeated Spanish outfit Sevilla, 5-4 on aggregate in the Round of 16.
On Saturday, they were beaten at home by Eintracht Frankfurt in the Bundesliga. 
Form: L D W D L W
Latest: Dortmund 1-2 Frankfurt.
Where they stand: 5th in Bundesliga
Match officials
Referee: Ovidiu Haţegan (ROU)
Assistant referees: Octavian Șovre (ROU), Sebastian Gheorghe (ROU)
Video Assistant Referee: Marco Di Bello (ITA)
Assistant Video Assistant Referee: Paolo Valeri (ITA)
Fourth official: István Kovács (ROU)
UEFA Delegate: Kris Bellon (BEL)
UEFA Referee observer: Hugh Dallas (SCO)
LAST MEETING
Our last competative clash with Dortmund came in a Champion League group stage game in December 2012, where the German side ran out 1-0 winners at Signal Iduna Park courtesy of a second half strike from Julian Schieber.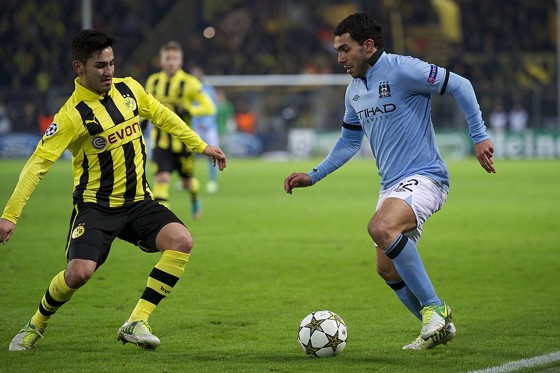 Dortmund would go on to reach the final of the competition that campaign, as current City star, Ilkay Gundogan, got his name on the scoresheet in a 2-1 final defeat to Bayern Munich at Wembley Stadium.
TV LISTINGS
| | |
| --- | --- |
| Algeria | beIN SPORTS CONNECT |
| Angola | DStv Now, SuperSport Variety ROA, SuperSport MáXimo 2, Supersport Grandstand |
| Anguilla | Flowsports.co, Flow Sports App |
| Antigua and Barbuda | Flow Sports App, Flowsports.co |
| Argentina | ESPN Sur |
| Aruba | Flowsports.co, Flow Sports App |
| Australia | Optus Sport |
| Austria | DAZN, Sky Sport 1/HD, Sky Go |
| Bahamas | Flow Sports App, Flowsports.co |
| Bahrain | beIN SPORTS CONNECT |
| Barbados | Flowsports.co, Flow Sports App |
| Belgium | Proximus Sports |
| Belize | Fox Sports Cono Norte, Fox Sports 2 Cono Norte |
| Benin | SuperSport MáXimo 2, Supersport Grandstand, SuperSport Variety ROA |
| Bermuda | Flowsports.co, Flow Sports App |
| Bolivia | ESPN Sur |
| Bosnia and Herzegovina | Klik SPORT |
| Botswana | SuperSport MáXimo 2, SuperSport Variety ROA, Supersport Grandstand, DStv Now |
| Brazil | GUIGO, TNT Go, Estádio TNT Sports, TNT Brasil |
| British Virgin Islands | Flowsports.co, Flow Sports App |
| Brunei | beIN Sports Connect |
| Burkina Faso | SuperSport Variety ROA, Supersport Grandstand, SuperSport MáXimo 2, DStv Now |
| Burundi | SuperSport Variety ROA, SuperSport MáXimo 2, Supersport Grandstand, DStv Now |
| Cambodia | beIN Sports Connect, Goal.com |
| Cameroon | SuperSport Variety ROA, SuperSport MáXimo 2, DStv Now, Supersport Grandstand |
| Canada | DAZN |
| Cape Verde | Supersport Grandstand, SuperSport MáXimo 2, DStv Now, SuperSport Variety ROA |
| Cayman Islands | Flow Sports App, Flowsports.co |
| Central African Republic | SuperSport Variety ROA, Supersport Grandstand, SuperSport MáXimo 2 |
| Chad | SuperSport Variety ROA, SuperSport MáXimo 2, beIN SPORTS CONNECT, DStv Now, Supersport Grandstand |
| Chile | ESPN Sur |
| China | QQ Sports Live, PPTV Sport China |
| Colombia | ESPN Sur |
| Comoros | SuperSport MáXimo 2, Supersport Grandstand, SuperSport Variety ROA |
| Congo | SuperSport Variety ROA, SuperSport MáXimo 2, DStv Now, Supersport Grandstand |
| Costa Rica | Fox Sports 2 Cono Norte, Fox Sports Cono Norte |
| Cote D'Ivoire | SuperSport MáXimo 2, SuperSport Variety ROA, Supersport Grandstand, DStv Now |
| Croatia | Klik SPORT |
| Cyprus | Cytavision on the Go |
| Czech Republic | O2 TV |
| Denmark | Viaplay Denmark |
| Djibouti | beIN SPORTS CONNECT, DStv Now |
| Dominica | Flow Sports App, Flowsports.co |
| Dominican Republic | Fox Sports Cono Norte, Fox Sports 2 Cono Norte |
| Ecuador | ESPN Sur, ESPN Andina |
| Egypt | beIN SPORTS CONNECT |
| El Salvador | Fox Sports 2 Cono Norte, Fox Sports Cono Norte |
| Equatorial Guinea | SuperSport Variety ROA, SuperSport MáXimo 2, DStv Now, Supersport Grandstand |
| Eritrea | SuperSport MáXimo 2, SuperSport Variety ROA, DStv Now, Supersport Grandstand |
| Ethiopia | DStv Now, SuperSport Variety ROA, Supersport Grandstand, SuperSport MáXimo 2 |
| Finland | C More Suomi |
| France | RMC Sport en direct, RMC Sport 2 |
| Gabon | Supersport Grandstand, SuperSport Variety ROA, DStv Now, SuperSport MáXimo 2 |
| Gambia | SuperSport Variety ROA, SuperSport MáXimo 2, DStv Now, Supersport Grandstand |
| Germany | Sky Ticket, Sky Sport 1/HD, DAZN, Blue Sport, Sky Go |
| Ghana | DStv Now, SuperSport Variety ROA, SuperSport MáXimo 2, Supersport Grandstand |
| Grenada | Flowsports.co, Flow Sports App |
| Guatemala | Fox Sports Cono Norte, Fox Sports 2 Cono Norte |
| Guinea | Supersport Grandstand, SuperSport MáXimo 2, DStv Now, SuperSport Variety ROA |
| Guinea-Bissau | SuperSport Variety ROA, SuperSport MáXimo 2, Supersport Grandstand, DStv Now |
| Honduras | Fox Sports 2 Cono Norte, Fox Sports Cono Norte |
| Iceland | Stöð 2 Sport 3 |
| Indonesia | Vidio |
| Iran | beIN SPORTS CONNECT |
| Iraq | beIN SPORTS CONNECT |
| Ireland | BT Sport 3, BT Sport Extra, BBC Radio 5 Live, BT Sport App, Virgin TV Go, BTSport.com |
| Italy | SKY Go Italia |
| Jamaica | Flow Sports App, Flowsports.co |
| Jordan | beIN SPORTS CONNECT |
| Kenya | DStv Now, Supersport Grandstand, SuperSport MáXimo 2, SuperSport Variety ROA |
| Kuwait | beIN SPORTS CONNECT |
| Laos | beIN Sports Connect, Goal.com |
| Lebanon | beIN SPORTS CONNECT |
| Lesotho | DStv Now |
| Liberia | Supersport Grandstand, SuperSport Variety ROA, DStv Now, SuperSport MáXimo 2 |
| Libya | beIN SPORTS CONNECT |
| Luxembourg | RMC Sport 2 |
| Macedonia | Klik SPORT |
| Madagascar | DStv Now, SuperSport Variety ROA, Supersport Grandstand, SuperSport MáXimo 2 |
| Malawi | Supersport Grandstand, SuperSport Variety ROA, SuperSport MáXimo 2, DStv Now |
| Mali | SuperSport Variety ROA, SuperSport MáXimo 2, DStv Now, Supersport Grandstand |
| Mauritania | beIN SPORTS CONNECT, DStv Now |
| Mauritius | Supersport Grandstand, SuperSport MáXimo 2, DStv Now, SuperSport Variety ROA, RMC Sport 2 |
| Mexico | Fox Sports Cono Norte, Fox Sports 2 Cono Norte |
| Monaco | RMC Sport 2 |
| Montenegro | Klik SPORT |
| Montserrat | Flowsports.co, Flow Sports App |
| Morocco | beIN SPORTS CONNECT |
| Mozambique | SuperSport MáXimo 2, SuperSport Variety ROA, DStv Now, Supersport Grandstand |
| Myanmar | Skynet Myanmar |
| Namibia | SuperSport MáXimo 2, DStv Now, Supersport Grandstand, SuperSport Variety ROA |
| Nicaragua | Fox Sports 2 Cono Norte, Fox Sports Cono Norte |
| Niger | SuperSport MáXimo 2, DStv Now, SuperSport Variety ROA, Supersport Grandstand |
| Oman | beIN SPORTS CONNECT |
| Palestinian Territory | beIN SPORTS CONNECT |
| Panama | Flowsports.co, Fox Sports Cono Norte, Flow Sports App, Fox Sports 2 Cono Norte |
| Paraguay | ESPN Sur |
| Peru | ESPN Sur |
| Philippines | beIN Sports Connect Philippines, Goal.com |
| Poland | IPLA |
| Qatar | beIN SPORTS CONNECT |
| Romania | telekomsport.ro |
| Russia | matchtv.ru, Sportbox.ru |
| Rwanda | SuperSport MáXimo 2, Supersport Grandstand, SuperSport Variety ROA |
| Saint Kitts and Nevis | Flow Sports App, Flowsports.co |
| Saint Lucia | Flow Sports App, Flowsports.co |
| Saint Vincent and the Grenadines | Flowsports.co, Flow Sports App |
| Sao Tome And Principe | Supersport Grandstand, SuperSport Variety ROA, SuperSport MáXimo 2 |
| Senegal | Supersport Grandstand, SuperSport Variety ROA, DStv Now, SuperSport MáXimo 2 |
| Serbia | Klik SPORT |
| Seychelles | Flowsports.co, Supersport Grandstand, SuperSport Variety ROA, DStv Now, Flow Sports App |
| Sierra Leone | Supersport Grandstand, DStv Now, SuperSport Variety ROA |
| Somalia | beIN SPORTS CONNECT |
| South Africa | DStv App, Supersport Grandstand, SuperSport MáXimo 2, SuperSport Variety |
| South Sudan | SuperSport Variety ROA, Supersport Grandstand, SuperSport MáXimo 2, DStv Now, beIN SPORTS CONNECT |
| Spain | Mitele Plus, Movistar+ |
| Sudan | beIN SPORTS CONNECT, DStv Now |
| Swaziland | SuperSport MáXimo 2, Supersport Grandstand, DStv Now, SuperSport Variety ROA |
| Sweden | Viaplay Sweden |
| Switzerland | Sky Sport 1/HD, Blue Sport |
| Syria | beIN SPORTS CONNECT |
| Tanzania | SuperSport Variety ROA, SuperSport MáXimo 2, DStv Now, Supersport Grandstand |
| Thailand | beIN Sports Connect, Goal.com |
| Togo | SuperSport MáXimo 2, Supersport Grandstand, SuperSport Variety ROA, DStv Now |
| Trinidad and Tobago | Flow Sports App, Flowsports.co |
| Tunisia | beIN SPORTS CONNECT |
| Turkey | beIN CONNECT Turkey, Digiturk Play |
| Turks and Caicos Islands | Flowsports.co, Flow Sports App |
| Uganda | DStv Now, Supersport Grandstand, SuperSport Variety ROA, SuperSport MáXimo 2 |
| Ukraine | OLL.tv |
| United Arab Emirates | beIN SPORTS CONNECT |
| United Kingdom | BT Sport Ultimate, BT Sport Extra, BTSport.com, BT Sport 3, BBC Radio 5 Live, BT Sport App |
| United States | ZonaFutbol, Paramount+, TUDN.com, TUDN App, TUDNxtra |
| Uruguay | ESPN Sur |
| Venezuela | Fox Sports Cono Norte, Fox Sports 2 Cono Norte, ESPN Andina, ESPN Sur |
| Yemen | beIN SPORTS CONNECT |
| Zambia | SuperSport Variety ROA, Supersport Grandstand, SuperSport MáXimo 2 |
| Zimbabwe | SuperSport Variety ROA, SuperSport MáXimo 2, Supersport Grandstand, DStv Now |
News about Man City v Borussia Dortmund