Find out everything you need to know about Manchester City's Premier League clash away to Aston Villa.
WHEN AND WHERE
We will head to Villa Park on Saturday 3 September, with the match kicking off at 17:30 (UK).
The match will be broadcast live in the UK on Sky Sports Main Event and Sky Sports Premier League. 
Supporters living around the world can find out how they can tune in via our global TV listings, courtesy of livesoccertv.com.
MAN CITY APP COVERAGE
You can follow all the action on our official app.
Minute-by-minute text updates will begin in our Matchday Centre two hours before kick-off, whilst our Matchday Live show, will begin one hour before we get under way at Villa Park.
The Matchday Live team will reconvene for a half-time debrief before a more in-depth post-match verdict after the full-time whistle.
The guests will also answer viewer questions throughout the broadcast, with audience participation actively encouraged on Matchday Live. To get in touch, send a WhatsApp to: +447537186538.
During the game you can listen to live audio commentary from Alistair Mann while our text commentary continues.
Highlights from the match can be found later in the evening, while a full-match replay will also be available to CITY+ subscribers from midnight following the game.
CITY+ | SIGN UP TO ACCESS EXCLUSIVE CONTENT
TEAMS
Aston Villa
Starting XI: Martinez, Cash, Konsa, Mings, Digne, McGinn, Kamara, Douglas Luiz, J. Ramsey, Watkins, Bailey
Subs: Olsen, Chambers, Bednarek, Augustinsson, Young, Coutinho, Buendia, Archer, Ings
City
Starting XI: Ederson, Walker, Stones, Dias, Cancelo, Rodri, Gundogan, De Bruyne, Bernardo, Foden, Haaland
Subs: Ortega Moreno, Ake, Grealish, Alvarez, Gomez, Mahrez, Palmer, Lewis, Wilson-Esbrand
TACTICS
It's 4-3-3 for City at Villa Park, the formation which has formed the bedrock of our recent domination of English football.
Ederson is in goal, with his outstanding distribution a key facet in City's build-up play. John Stones, who has been superb in our last two matches, starts alongside Ruben Dias at centre-half.
Kyle Walker will look to get forward from right-back at every possibility, as will Joao Cancelo down the left. Indeed, Cancelo's outstanding ability going forward was in evidence on Wednesday when he scored a powerful long-range effort against Nottingham Forest. 
Our midfield three has a little bit of everything. Rodri will play as a holding midfielder, protecting our back four. His ability to be in the right place at the right time continues to amaze.
And just ahead of him are Kevin De Bruyne and Ilkay Gundogan, two of the finest passers in the Premier League. They will pull the strings and look to provide chances for our forward three. 
Erling Haaland will lead the line, fresh from two hat-tricks in the space of five days, with Phil Foden to his left and Bernardo Silva on the right.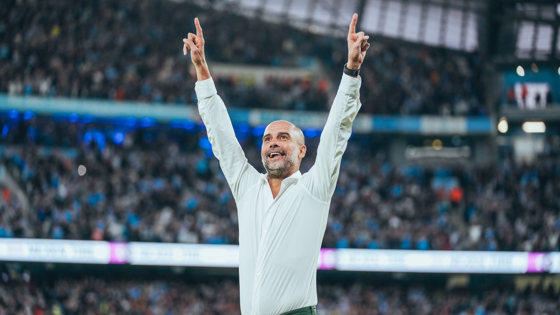 Pep Guardiola preview
"It's more dangerous now [to face Aston Villa]. I would prefer to play Villa in a good position. Always they are difficult but tomorrow is more difficult.
"The quality is there with the manager but the players!
"They have added [Leander] Dendoncker, [Jan Bednarek] from Southampton, two experienced players.
"I cannot imagine how tough it will be. I feel immediately after we finished the last game."
PREVIOUS MEETING 
Our last meeting with Aston Villa proved memorable for Manchester City fans as a 3-2 comeback win secured us our sixth Premier League title. 
Matty Cash and Phil Coutinho put Steven Gerrard's side ahead before goals from Rodri, Kevin De Bruyne, and a winner from Ilkay Gundogan sent the Etihad Stadium into raptures as we saw Pep Guardiola's side lift the Premier League title once again. 
LAST TIME OUT
Erling Haaland
scored his second hat-trick in five days as City beat Nottingham Forest 6-0 in the Premier League.
The striker poked City ahead after 12 minutes, before doubling our lead 11 minutes later, tapping into an empty net after good link up play with Phil Foden to claim his eighth league goal of the season.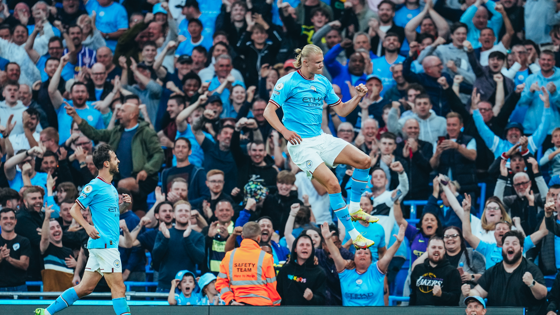 Seven minutes before the interval, the Norwegian completed his treble with a header from three yards out.
Pep Guardiola's side remained on the front foot after the break and added another through Joao Cancelo, whose thunderous strike from outside the box crashed into the top corner. Julian Alvarez added a fifth and then the Argentine powered in his second and City's sixth of the evening shortly before full-time, blasting into the roof of the net with his left foot.
As for Villa, they fell to a 2-1 defeat at the Emirates Stadium in midweek.
FORM GUIDE
City have won four and drawn once from the opening five Premier League matches and sit in second place in the table, whilst Aston Villa have just one win this season and sit in the bottom three.
GLOBAL TV LISTINGS 
Courtesy of livesoccertv.com.
| | |
| --- | --- |
| Algeria | beIN SPORTS CONNECT |
| Angola | SuperSport MaXimo 2, DStv Now, SuperSport GOtv Football, SuperSport Premier League ROA |
| Anguilla | Csport.tv |
| Antigua and Barbuda | Csport.tv |
| Argentina | Star+ |
| Aruba | Csport.tv |
| Australia | Optus Sport |
| Austria | Sky Sport Premier League, Sky Go |
| Bahamas | Csport.tv |
| Bahrain | beIN SPORTS CONNECT |
| Barbados | Csport.tv |
| Belgium | VOOsport World 1, Play Sports, Play Sports 2 |
| Belize | Paramount+ |
| Benin | SuperSport Premier League ROA, SuperSport MaXimo 2, SuperSport GOtv Football |
| Bolivia | Star+ |
| Botswana | SuperSport MaXimo 2, DStv Now, SuperSport GOtv Football, SuperSport Premier League ROA |
| Brazil | Star+ |
| British Virgin Islands | Csport.tv |
| Brunei | Astro Go |
| Burkina Faso | SuperSport MaXimo 2, DStv Now, SuperSport Premier League ROA, SuperSport GOtv Football |
| Burundi | SuperSport GOtv Football, SuperSport MaXimo 2, DStv Now, SuperSport Premier League ROA |
| Cameroon | SuperSport Premier League ROA, SuperSport GOtv Football, SuperSport MaXimo 2, DStv Now |
| Canada | fuboTV Canada |
| Cape Verde | SuperSport Premier League ROA, SuperSport GOtv Football, SuperSport MaXimo 2, DStv Now |
| Cayman Islands | Csport.tv |
| Central African Republic | SuperSport Premier League ROA, SuperSport GOtv Football, SuperSport MaXimo 2 |
| Chad | SuperSport Premier League ROA, SuperSport MaXimo 2, DStv Now, SuperSport GOtv Football, beIN SPORTS CONNECT |
| Chile | Star+ |
| China | PPTV Sport China, Migu, iQiyi, QQ Sports Live |
| Cocos Islands | Sky Sport NOW |
| Colombia | Star+ |
| Comoros | SuperSport Premier League ROA, SuperSport MaXimo 2, SuperSport GOtv Football |
| Congo | SuperSport MaXimo 2, SuperSport Premier League ROA, DStv Now, SuperSport GOtv Football |
| Congo DR | SuperSport GOtv Football, SuperSport Premier League ROA, SuperSport MaXimo 2 |
| Costa Rica | Paramount+ |
| Cote D'Ivoire | SuperSport GOtv Football, DStv Now, SuperSport Premier League ROA, SuperSport MaXimo 2 |
| Czech Republic | Skylink |
| Denmark | TV3+ HD, Viaplay Denmark |
| Djibouti | beIN SPORTS CONNECT, DStv Now, SuperSport GOtv Football, SuperSport Premier League ROA, SuperSport MaXimo 2 |
| Dominica | Csport.tv |
| Dominican Republic | Csport.tv, Paramount+ |
| Ecuador | Star+ |
| Egypt | beIN SPORTS CONNECT |
| El Salvador | Paramount+ |
| Equatorial Guinea | SuperSport GOtv Football, SuperSport MaXimo 2, DStv Now, SuperSport Premier League ROA |
| Eritrea | SuperSport Premier League ROA, DStv Now, SuperSport GOtv Football, SuperSport MaXimo 2 |
| Estonia | Viaplay Estonia |
| Ethiopia | SuperSport GOtv Football, DStv Now, SuperSport Premier League ROA, SuperSport MaXimo 2 |
| Faroe Islands | TV3+ HD |
| Fiji | Sky Sport NOW |
| Finland | Elisa Viihde Viaplay, V Sport Premium |
| Gabon | DStv Now, SuperSport Premier League ROA, SuperSport MaXimo 2, SuperSport GOtv Football |
| Gambia | SuperSport GOtv Football, SuperSport MaXimo 2, SuperSport Premier League ROA, DStv Now |
| Germany | Sky Sport Premier League, WOW, Sky Go |
| Ghana | SuperSport Premier League ROA, SuperSport MaXimo 2, DStv Now, SuperSport GOtv Football |
| Grenada | Csport.tv |
| Guatemala | Paramount+ |
| Guinea | SuperSport Premier League ROA, SuperSport GOtv Football, SuperSport MaXimo 2, DStv Now |
| Guinea-Bissau | DStv Now, SuperSport MaXimo 2, SuperSport GOtv Football, SuperSport Premier League ROA |
| Honduras | Paramount+ |
| Hong Kong | 620 Now Premier League TV, 621 Now Premier League 1, Now E |
| India | Hotstar VIP, JioTV |
| Indonesia | Vidio |
| International | VillaTV |
| Iran | beIN SPORTS CONNECT |
| Iraq | beIN SPORTS CONNECT |
| Ireland | SKY GO Extra, Sky Sports Premier League, Sky Ultra HD, Sky Sports Main Event |
| Italy | SKY Go Italia, NOW TV, Sky Sport Football |
| Jamaica | Csport.tv |
| Jordan | beIN SPORTS CONNECT |
| Kenya | SuperSport Premier League ROA, SuperSport GOtv Football, DStv Now, SuperSport MaXimo 2 |
| Kiribati | Sky Sport NOW |
| Kuwait | beIN SPORTS CONNECT |
| Latvia | Viaplay Latvia |
| Lebanon | beIN SPORTS CONNECT |
| Lesotho | DStv Now, SuperSport Premier League ROA, SuperSport GOtv Football, SuperSport MaXimo 2 |
| Liberia | DStv Now, SuperSport GOtv Football, SuperSport Premier League ROA, SuperSport MaXimo 2 |
| Libya | beIN SPORTS CONNECT |
| Lithuania | Viaplay Lithuania |
| Macau | iQiyi |
| Madagascar | SuperSport GOtv Football, SuperSport MaXimo 2, SuperSport Premier League ROA, DStv Now |
| Malawi | SuperSport Premier League ROA, DStv Now, SuperSport MaXimo 2, SuperSport GOtv Football |
| Malaysia | Astro Go |
| Mali | SuperSport Premier League ROA, SuperSport GOtv Football, DStv Now, SuperSport MaXimo 2 |
| Marshall Islands | Sky Sport NOW |
| Mauritania | beIN SPORTS CONNECT, SuperSport MaXimo 2, SuperSport GOtv Football, SuperSport Premier League ROA, DStv Now |
| Mauritius | DStv Now, SuperSport GOtv Football, SuperSport Premier League ROA, SuperSport MaXimo 2 |
| Mayotte | SuperSport Premier League ROA, SuperSport GOtv Football, SuperSport MaXimo 2 |
| Mexico | Paramount+ |
| Montserrat | Csport.tv |
| Morocco | beIN SPORTS CONNECT |
| Mozambique | SuperSport MaXimo 2, SuperSport Premier League ROA, DStv Now, SuperSport GOtv Football |
| Namibia | DStv Now, SuperSport MaXimo 2, SuperSport Premier League ROA, SuperSport GOtv Football |
| Nauru | Sky Sport NOW |
| Netherlands | Viaplay Netherlands |
| New Zealand | Sky Sport NOW |
| Nicaragua | Paramount+ |
| Niger | SuperSport GOtv Football, SuperSport MaXimo 2, SuperSport Premier League ROA, DStv Now |
| Nigeria | DStv Now, SuperSport Premier League Nigeria, SuperSport GOtv Football, SuperSport MaXimo 2 |
| Niue | Sky Sport NOW |
| Norway | Viaplay Norway |
| Oman | beIN SPORTS CONNECT |
| Palau | Sky Sport NOW |
| Palestinian Territory | beIN SPORTS CONNECT |
| Panama | Paramount+, Csport.tv |
| Paraguay | Star+ |
| Peru | Star+ |
| Poland | Viaplay Poland |
| Portugal | Eleven Sports 1 Portugal |
| Qatar | beIN SPORTS CONNECT |
| Reunion | SuperSport Premier League ROA, SuperSport GOtv Football, SuperSport MaXimo 2 |
| Rwanda | SuperSport GOtv Football, SuperSport Premier League ROA, SuperSport MaXimo 2 |
| Saint Helena | SuperSport GOtv Football, SuperSport MaXimo 2, SuperSport Premier League ROA |
| Saint Kitts and Nevis | Csport.tv |
| Saint Lucia | Csport.tv |
| Saint Vincent and the Grenadines | Csport.tv |
| Samoa | Sky Sport NOW |
| Sao Tome And Principe | SuperSport MaXimo 2, SuperSport GOtv Football, SuperSport Premier League ROA |
| Saudi Arabia | beIN SPORTS CONNECT |
| Senegal | SuperSport GOtv Football, DStv Now, SuperSport Premier League ROA, SuperSport MaXimo 2 |
| Seychelles | SuperSport GOtv Football, SuperSport MaXimo 2, Csport.tv, DStv Now, SuperSport Premier League ROA |
| Sierra Leone | SuperSport MaXimo 2, SuperSport Premier League ROA, DStv Now, SuperSport GOtv Football |
| Singapore | StarHub TV+ |
| Slovakia | Skylink |
| Solomon Islands | Sky Sport NOW |
| Somalia | SuperSport GOtv Football, SuperSport Premier League ROA, beIN SPORTS CONNECT, SuperSport MaXimo 2 |
| South Africa | SuperSport Premier League, SuperSport GOtv Football, DStv App, SuperSport MaXimo 2 |
| South Sudan | beIN SPORTS CONNECT, DStv Now |
| Spain | DAZN |
| Sudan | DStv Now, SuperSport Premier League ROA, SuperSport MaXimo 2, SuperSport GOtv Football, beIN SPORTS CONNECT |
| Swaziland | SuperSport MaXimo 2, SuperSport Premier League ROA, DStv Now, SuperSport GOtv Football |
| Sweden | Viaplay Sweden, V Sport Premium |
| Switzerland | Sky Sport Premier League |
| Syria | beIN SPORTS CONNECT |
| Tanzania | DStv Now, SuperSport MaXimo 2, SuperSport Premier League ROA, SuperSport GOtv Football |
| Togo | DStv Now, SuperSport GOtv Football, SuperSport MaXimo 2, SuperSport Premier League ROA |
| Tonga | Sky Sport NOW |
| Trinidad and Tobago | Csport.tv |
| Tunisia | beIN SPORTS CONNECT |
| Turkey | beIN CONNECT Turkey |
| Turks and Caicos Islands | Csport.tv |
| Tuvalu | Sky Sport NOW |
| Uganda | SuperSport Premier League ROA, SuperSport GOtv Football, SuperSport MaXimo 2, DStv Now |
| United Arab Emirates | beIN SPORTS CONNECT |
| United Kingdom | Sky Sports Main Event, Sky Ultra HD, SKY GO Extra, Sky Sports Premier League |
| United States | UNIVERSO NOW, NBC, nbcsports.com, UNIVERSO, Telemundo Deportes En Vivo, NBC Sports App |
| Uruguay | Star+ |
| Vanuatu | Sky Sport NOW |
| Venezuela | Star+ |
| Yemen | beIN SPORTS CONNECT |
| Zambia | SuperSport MaXimo 2, SuperSport GOtv Football, SuperSport Premier League ROA |
| Zimbabwe | DStv Now, SuperSport Premier League ROA, SuperSport MaXimo 2, SuperSport GOtv Football |
News about A Villa v Man City