Media Watch
1
Media Watch: City tracking Swansea starlet?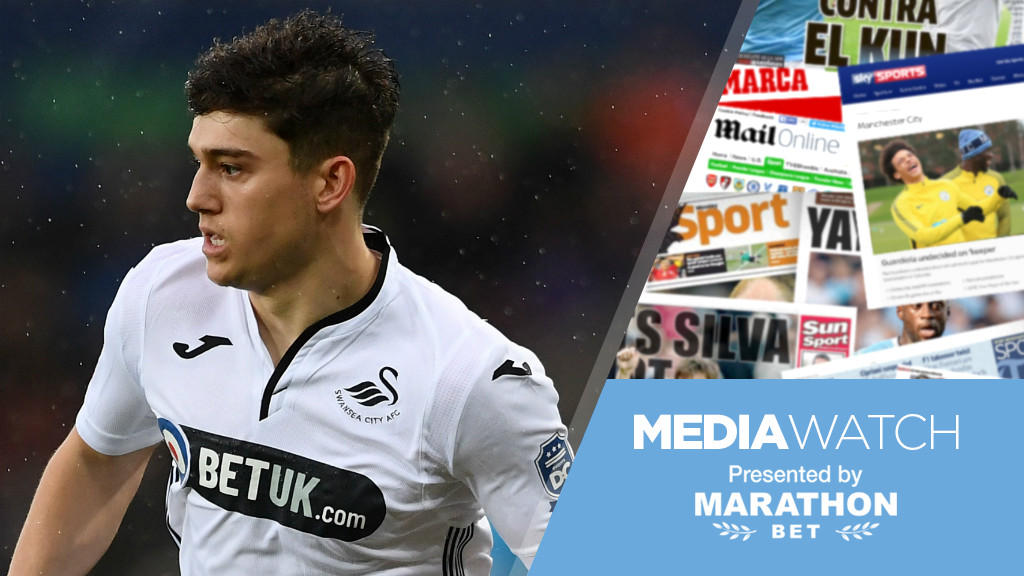 TARGET?: It's claimed City are monitoring Swansea's Daniel James
A heap of praise for our Argentine ace, plus a tip for greatness, a trip down Memory Lane and a tale of transfer gossip...
There's plenty of variety in Thursday morning's helping of City-centric news.
The Blues return to Premier League action on Saturday with a trip to Fulham but before the pre-match coverage kicks off, the footballing world are reflecting as the dust settles on the international break and focus turns to potential end-of-season awards.
READ: Nine City players named in Lionesses squad
WATCH: Inside City | Episode 334
One of the most-talked about prizes is the Player of the Year gong, with several City candidates being discussed.
One of them is the one and only Sergio Aguero, and he's received public backing, as Sam Allardyce told talkSPORT: "It's a tough one, there are definitely some good candidates this year, but I'd go for Aguero.
"Aguero has never won it and he deserves it for what he's done over the years.
"I think everyone would probably favour Raheem Sterling at the moment with the way he's going and the publicity he's getting.
"But I think it's taken for granted what Aguero is doing, and what he always does for Manchester City.
"So I'd like to see Aguero win it. Raheem Sterling is still young enough to win Young Player of the Year!"
Phil Neville has also heaped praise on our all-time top goalscorer, backing Aguero for the Premier League Golden Boot.

Quoted by the Premier League's official website, he said: "He's world, world-class. His record at Man City makes him one of the greatest foreign imports in terms of goal scoring that we've ever had.
"He's got so much quality around him in terms of crosses from the right and left - Leroy Sane, Raheem Sterling, Bernardo Silva, Kevin De Bruyne when he comes back fit, Ilkay Gundogan...
"He's got so much service and quality around him. He's always going to get chances."
Elsewhere, there's also praise for Phil Foden, who impressed once again on Tuesday night for England's Under-21s, prompting more comparisons with the game's all-time greats.
Michael Owen purred: "It appears as though he has the ball on a string - it's all in one movement.
"He doesn't even look at the ball a lot of the time - he just runs with it.
"I was going to mention a name then; it'll probably make headlines but Zinedine Zidane was exactly like that.

"When he used to run it was like the ball was in constant within his control. Most people run then push it, run then push it again.
"It all seems to be in one with him. I know he's a different type of player but it's like he was born to be with the ball. He's a lovely player - lovely to watch with lovely skills."
Meanwhile, Owen Hargreaves commented: "I think Phil is just one of those types of players – a bit like Paul Scholes – he is one or two steps mentally ahead of everyone else.
"He makes the game look easy. He's silky smooth, got a wand of a left foot, but his intelligence and smartness is what sets him apart."
In other news, These Football Times have taken a nostalgia trip, recalling another adored hero, who donned the sky blue.
In a piece entitled: 'Before Sergio Agüero there was Shaun Goater: the hero before the glitz', Will Sharp reflects on the career of a man who became a fans' favourite and City legend, after a difficult debut campaign..
He scribes: "In six fondly-recalled years poised either side of the new millennium, one particular footballer, lanky, unorthodox, and from the unlikely North Atlantic isle of Bermuda, captured City hearts in a way so few had done before him and with a style that likely none shall ever conspire to again. That man was Leonard Shaun Goater.
"Wanting nothing more than his fans' affection, and endeavouring never to be known as anything beyond honest and hard working, Goater came to personify a bygone era, a simpler time; a slowly fading representation of the romance of yesteryear."

Recommended reading.
Turning attentions to transfer gossip, the Sun claim City are 'lining up a £7million move for Swansea rising star Dan James.'
According to Mike McGrath: "Pep Guardiola is among the Premier League managers looking at Wales star Dan James.
"The Swansea winger, 21, just missed a £7million move to promotion-chasing Leeds in January but now looks set for a top-flight move this summer.
"Manchester City and a host of Prem rivals are now tracking James, who scored the winner against Slovakia during the international break.
"His form at the Liberty Stadium has alerted him to clubs as a homegrown project - and Swansea are braced for a summer scramble to land James.
"James has been compared to Wales team-mate Gareth Bale for his speed on the flanks and explosive start to his career.
"James has one season left on his contract at Swansea and talks have stalled as new chairman Trevor Birch is arriving at the club in the coming weeks."