Media Watch
1
Media Watch: Kinkladze's City wish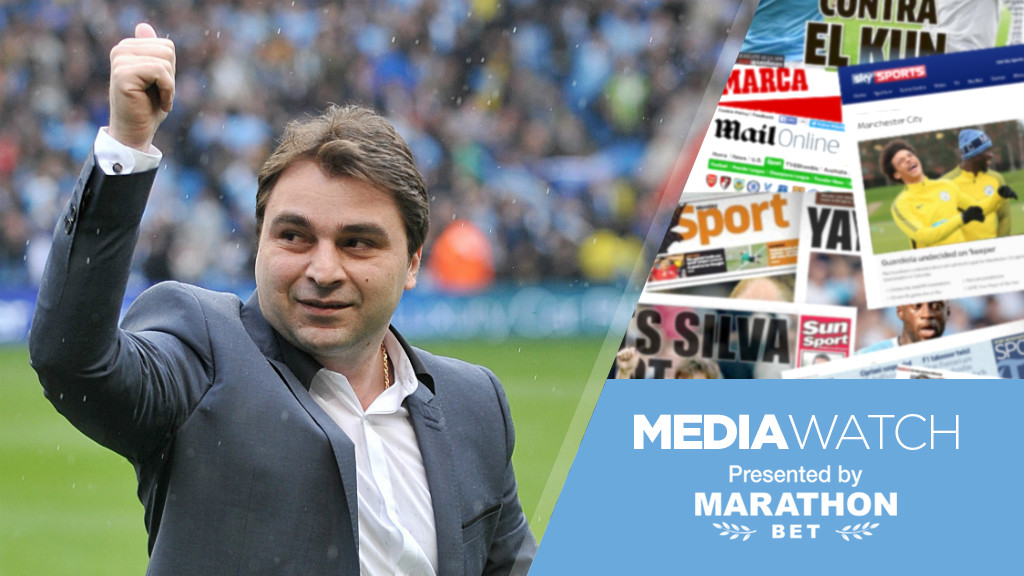 WISH: Georgi Kinkladze says he would love to play in City's current side...
Another day, another avalanche of praise across the board for the Premier League Champions… not that we're complaining!
One certainly never tires of reading such complimentary material – and there's plenty of it in today's City-centric headlines.
With City back top of the Premier League table and in excellent form at both ends of the pitch, the footballing world have been left purring, ensuring there are plenty of treats to savour in this Halloween edition!
Let's kick-off with Georgi Kinkladze's comments, in which he admits he would love to play in the current City side.
READ: Talking Points | Capital City and resilient Riyad
WATCH: Spurs 0-1 City | Extended highlights
GALLERY: Blues buoyant after Wembley win
In an interview with the Manchester Evening News, he was asked whether he enjoyed watching the Blues, and replied: " "Of course. Big time.
"I wish I played in this team.
"I would love to play with Guardiola. The way they play, with the players now City have, I would love to.
"I love David Silva of course, he is a top, top player. I also love Aguero and De Bruyne.
"All the midfielders and strikers are so, so good, it is amazing to watch and it would be so easy to play with them. The one-twos, the link play would be amazing."
Scarily good!
Elsewhere, Four Four Two have compiled a list of 'the 50 best football managers in the world'… and I'm sure you will not be surprised to discover who tops the chart.

Writes Andy Brassell: "Such was the quality of Manchester City's procession to the 2018 title that even the naysayers must give Guardiola at least some credit.
"Premier League records fell like dominos: most points, earliest title win, most goals, best goal difference, biggest winning margin, most consecutive wins, most away wins, fewest minutes trailed. At times, his team was simply breathtaking.
"The former Barcelona boss might have taken much inspiration from the great Marcelo Bielsa but he's already on another plane, rebuilding – yes, rebuilding has been required – a dazzling winning team at a third club.
"Doubters will persist until he steers Manchester City to a maiden Champions League title, but English supporters are starting to grasp what Bayern Munich fans did – when the football is this otherworldly, Europe isn't the be-all and end-all."
Meanwhile, ESPN's Michael Cox has penned a piece on Riyad Mahrez's increasing importance, examining the Algerian's role in Guardiola's squad.
He scribes: "Mahrez is increasingly looking like one of City's key players. His tactical role at City can be summarised concisely by assessing the nature of his four league goals so far.
"Mahrez scored two in a 5-0 thrashing of Cardiff City, one in a 5-0 victory over Burnley, and then came his first major goal for City, the winner in Monday's 1-0 victory over Tottenham Hotspur. Those four goals, stylistically, can be divided into two; Mahrez has scored two pairs of identical goals.
TV LISTINGS...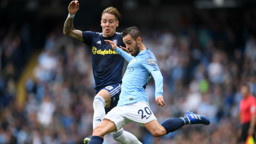 "His second strike against Cardiff, and his late goal against Burnley, were the type of goal we've come to expect from left-footed right wingers, strikes that can now be described, and universally understood, as Arjen Robben-esque.

"His first goal against Cardiff came when Sterling, usually the man playing the final pass, took up an inside-left position and fed the overlapping Ilkay Gundogan, who rolled the ball across the 6-yard box for Mahrez to tap home.
"Then came Monday. Ederson's long goal kick forced an error from Tottenham right-back Kieran Trippier, who first misjudged the high ball, and then allowed himself to be beaten easily down the outside by Sterling, who cut the ball into the area to find Mahrez steaming in, converting into an empty goal after Hugo Lloris had been dragged towards Sterling.
"That, then, provides the answer to the question of Mahrez's role at City, and whether he would play his own natural game or fulfil the previous template for a City winger: He's doing both, blending the old with the new."
A frightening prospect...
In other news, Bernardo Silva believes the fact City have already faced three title contenders away from home could prove significant in the title race.
As quoted by Sky Sports, the Portugal star stated: "I think either Chelsea and Liverpool (are contenders) – they are very strong. Arsenal as well. Even Tottenham – even though they lost, they're still contenders.
"I think that it's important to win these games – to have a draw away at Anfield, to win at the Emirates and now at Wembley. It's important.

"But still they have to come to play us at the Etihad, which is a bit better for us.
"I think it will be harder [to repeat last season's achievements] because last season, nobody was expecting us to win as many games and to reach that level of points. So, this season, the teams know they have to do better to beat us.
"It's still the beginning of the season and anything can happen. We have to keep strong and with the ambition of winning every game and never relax."
Finally, the Metro believe City have opened talks with Ajax regarding the alleged interest in Frenkie De Jong.
According to Sean Kearns: "Barcelona have been heavily linked with a move for the midfielder and club legend Xavi recently advised de Jong to move to the Camp Nou.
"Ajax are realistic about their chances of keeping de Jong but will not let the Dutchman leave permanently in January and want to keep him for the minimum of the rest of the season.
"However, Metro.co.uk understands City have held talks with Ajax chief Marc Overmars with a view to agreeing a deal that would see De Jong move to the Etihad next summer.
"Ajax value De Jong at around £70m and City would be willing to loan him back to the Dutch giants should they come to an agreement in January.
"Though £70m would be considered steep for a player as inexperienced as De Jong, City feel the Dutchman will be one of the best midfielders in Europe in two to three years' time."