Media Watch
1
Media Watch: Press hail City's capital gains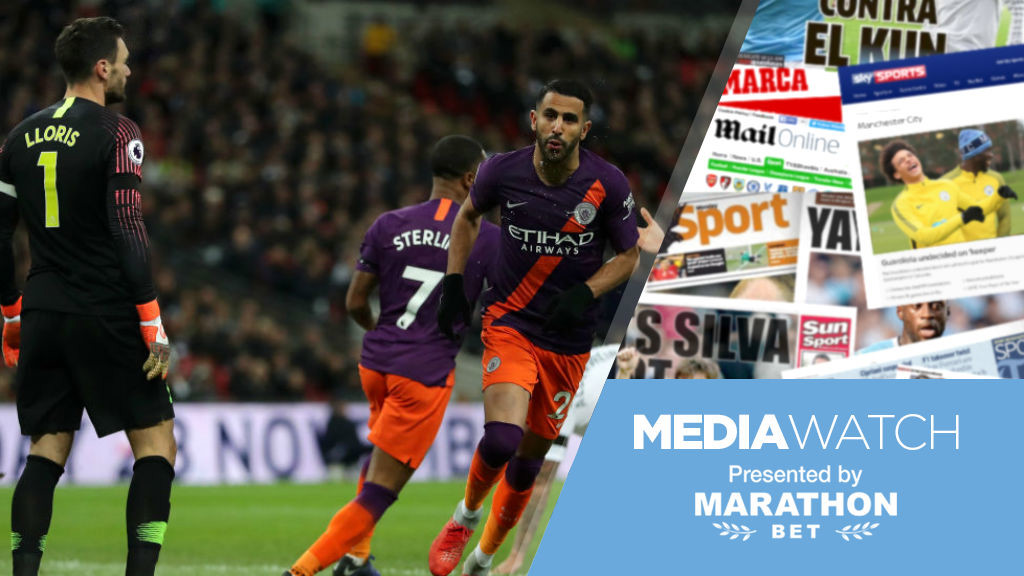 There's warm praise aplenty to fend off the Autumn chill for Manchester City supporters in today's media round-up following our crucial 1-0 Premier League triumph at Tottenham last night.
Pep Guardiola's side defied the best efforts of both a determined Spurs and a Wembley pitch that was far from at its best after playing host to NFL games for the past three weeks to restore our place at the top of the table.
Riyad Mahrez was City's match-winner with the former Leicester forward later paying an emotional tribute to Foxes owner Vichai Srivaddhanaprabha who tragically lost his life on Saturday after a helicopter crash outside the Club's King Power Stadium.
There were numerous individual stand-outs for the Blues. However, after a sixth successive clean sheet in the league, the Daily Mail's chief sports writer Martin Samuel highlighted the impact of City's collective defence which, remarkably, now hasn't conceded a goal in the league since September 1.
Samuel writes: "Ever so quietly, Manchester City have become rather good at defending.
READ: Guardiola hails Mahrez's mental strength
WATCH: Aymeric Laporte | It's a pleasure to play in this team
GALLERY: Spurs 0-1 City | Match Gallery
"You may not have noticed. Not many have. Everyone is so focussed on their aesthetic qualities, the wonderful front play, that this new resilience is rather passing under the radar. Yet it is there, alright. This was a sixth consecutive Premier League clean sheet, equalling their previous best run in 2015.
"To achieve it, they had to repel Tottenham who were chasing an equaliser for 84 minutes, plus injury time. Tottenham are a good team, with good forwards. Protecting a single goal advantage against them, certainly away from home, is not easy.
"Yet City survived. They maintained an unbeaten run that has lasted 16 matches in this competition, with just six goals conceded in that time. Indeed, they have only surrendered one of the last 53 games in which they have taken the lead – against Manchester United last April.
"That match messed up a great many of City's consecutive sequences, and perhaps as a reaction they have tightened up.
"One player, centre-half Aymeric Laporte, is yet to finish on a losing side in a league game since making his debut on January 31 – a new Premier League record."

For the Guardian's sport feature scribe, Barney Ronay, it was another hugely impressive performance from Raheem Sterling that caught the eye in the capital.
Not least in the way Sterling bamboozled England colleague Kieran Trippier before setting up Mahrez's winner.
Writes Ronay: "City were also sublime in attack at times, the short-range combinations between David Silva, Riyad Mahrez and Bernardo Silva so soft and sinuous they should probably have been pixelated out in the name of decency or subject to a tactful cut away by the TV director.
"In the middle of all this it was Sterling who provided a note of hard-running certainty. It is still easy to underestimate what City's most prosaic, no-frills attacker offers to this team of artists. It was Sterling's direct running in the sixth minute that made the only goal, initiated by Ederson's hard, flat forward pass.
READ: Spurs 0-1 Man City | Match verdict
WATCH: Sergo Aguero | Etihad Player of the Month Q and A
"With the ball at his feet City's keeper saw Sterling split left from the snap and sent the ball long. Kieran Trippier could only flick it on back towards his own goal. Sterling carried the play into his own favourite little hot spot by the intersection of six-yard box and touchline, then cut back for Riyad Mahrez, arriving late in the end zone, to ease the ball into an unguarded net.
"It was a wonderfully simple, well executed goal. But then Sterling is a hugely effective Premier League player now, reward for his own hard work with Pep Guardiola and for a clarity in his attacking intentions. He has become a pared back inside forward, operating in the same channels, with the same range of movements and with a brutal repetitiveness. It works. The assist for the goal was Sterling's third of the season to go with four goals in eight league games."
Sterling and fellow wide man Mahrez also caught the eye of Jamie Redknapp in his post-match analysis for the Daily Mail both for their work with and without the ball.
Redknapp reports: "Arms outstretched, fingers pointing to the wings, this is something we've become used to seeing from Pep Guardiola.
"It is the moment he orders his wingers to hug the touchline, pin the opposition full backs and use the width of the pitch to create space for his central midfielders to work their creative genius.
"On Monday night, Raheem Sterling on the left wing and Riyad Mahrez on the right worked tirelessly with and without the ball.

"The pitch was not in the best condition but those two floated across it. From the moment Sterling first burst past Kieran Trippier, the England full back looked petrified.
"Manchester City's wingers combined for their winning goal. Goalkeeper Ederson, not afraid to go long, fired a ball up to Sterling.
"He used his speed and strength to beat Trippier before cutting back for Mahrez to finish. Guardiola's wing wizards ran Tottenham ragged."
Finally, the Manchester Evening News carries an ominous warning for our rivals from manager Guardiola following the game.
Simon Bajkowski outlines how Pep wants even more from his players with a quarter of the campaign now behind us.
READ: Your guide to City's week ahead
WATCH: Kevin De Bruyne | The Road to Recovery
Bajkowski scribed: "Pep Guardiola sent a message that will dishearten Manchester City 's title rivals as he called for more from his team after beating Tottenham.
The 2018 Centurions sit top of the table after 10 games on 26 points, one of three teams unbeaten after more than a quarter of the campaign and leading Liverpool on goal difference.
An away win at Tottenham on Monday night, building on victory away to Arsenal on the opening day and a point at Anfield, mean City's title rivals are still looking for weaknesses in their armour.
Guardiola claims to have spotted several - even when taking the terrible pitch into account - and will work on turning them into strengths in time for the business end of the season.
"We still have a lot to improve, that is my feeling," said Guardiola.
"To play a game on that pitch is not easy and that's why there were many mistakes that normally should not happen but even knowing that I had the feeling we have a lot of things to improve individually and collectively to be a real contender.
"We are a very good side of course but when you go to play in the last third of the Premier League and especially in Europe we demand other issues and points that we still don't have.
"Hopefully we can talk about it, train it, be conscious about it and maybe in the future we can improve it."