Media Watch
1
Gossip: Midfielder linked with summer move
TRANSFER TALK: Jorginho has been linked
Friday's Media Watch brings us transfer speculation from Serie A, analysis of City's game-changing 'extra pass' plus a look ahead to the season's final opponents Southampton.
With most footballing issues already resolved it's no great surprise to see the journalists turning attention to the summer transfer window, with a now-regular Media Watch name cropping up again.
Paul Hirst reports in the Times: "Jorginho, the Napoli midfielder, expects to move to England this summer, with each member of the Premier League's top six interested in signing the Italian.
"It is understood that Napoli have set an asking price of €60 million (£52.9 million) for Jorginho after he played a key role in helping the Italian club mount a title challenge.
"The 26-year-old has scored three goals – including one against Manchester City – this season, but his main role has been linking Napoli's defence and attack.
"City, the Premier League champions, have scouted Jorginho extensively this season, and are considered to be the front-runners in the race for the holding midfielder's signature."
READ: Bernardo targets a perfect 10
EXPLORE: The best goals and clips from City's record-breaking season
Over at ESPN tactics expert Michael Cox has had a look at six key aspects of City's 18/19 success.
Under a section titled "the extra pass" he writes: "City have been absolutely determined to play one more pass than you expect: when a player has found himself in a good shooting situation, they frequently square the ball for a teammate in an great shooting situation.
"Sterling, for example, has scored a huge number of tap-ins and open goals thanks to the generosity of his teammates. This owes much to City getting so many players into the box for quick combination play and the Premier League's top four assisters are all City players: De Bruyne on 15, Sane on 12, Silva and Sterling on 11.
"In the era of "expected goals," managers are particularly aware of the importance of shooting from prime positions and City's "goal map" for this season is fascinating: there have been a few genuine long-range goals (often from De Bruyne) but absolutely nothing from between the penalty spot and the edge of the "D."
"Almost everything has been from either in the six-yard box or the "second six-yard box," to use an Alan Shearer expression: between the six-yard box and the penalty spot.
"The value of shooting from close-range is obvious but no-one has perfected the concept quite like City."
Must see!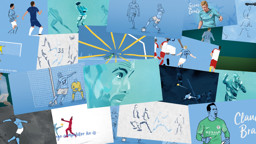 Finally over to the Southampton website for the pre-match views of Cedric Soares, whose side all but secured Premier League survival this week.

The full back said: "The fans had a big role in the win [against Swansea], and I thank everyone for sticking with us. They wanted to see the reaction from the players, and that was on show.
"Man City will be a different kind of game, but we need to face it the same way. We need to prepare the game like any other, for sure we will be studying them.
"We take it very very seriously. This is the only way I know in football to be successful, to keep focussed."
That's all for today's Media Watch, stay tuned to the Man City channels for more build up to Sunday's game.