Media Watch
1
Media Watch: City can earn 'exceptional' mark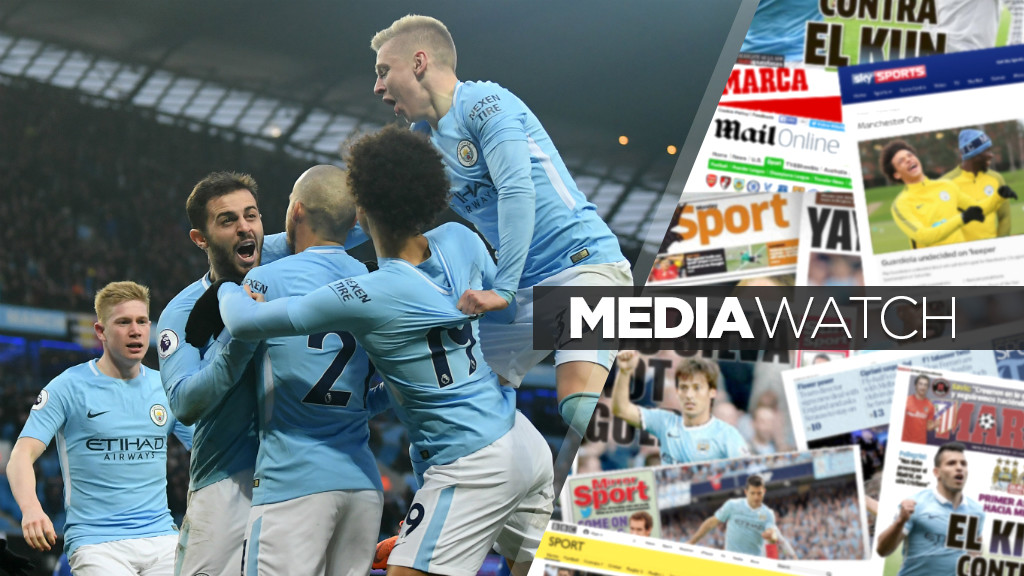 CHAMPIONS: Will City go on to break more records in 2017/18?
It's a double City matchday… and there's plenty to discuss!
Pep Guardiola's Premier League Champions host Swansea this afternoon (4:30pm BST) in the Blues' first game since clinching the title, while Nick Cushing's side welcome European Champions Lyon to the Academy Stadium in the Champions League semi-final first leg (1pm BST).
With so much excitement surrounding the Club, the footballing world have had plenty to say.
Simon Bajkowski of the Manchester Evening News believes this afternoon's Premier League clash provides City with the chance to show we're 'no ordinary Champions'.
He scribes: "Pep Guardiola has disproven many a myth this season as his Manchester City have stormed to the Premier League title playing possession-heavy football to try to win every single game, without compromise for either top six contender or relegation struggler.
"No side has survived without defeat, and former Swansea boss Paul Clement described the 4-0 battering in South Wales back in December as painful to watch.
"Around a quarter of Guardiola's total defeats in charge of Bayern and Barcelona, however, came after his team had won the league.
"And Premier League history tells us that the clubs at the bottom of the table are much more difficult to play at the end of the season when their fate - and all the money the league brings - hangs more precariously in the balance.
Beautiful Football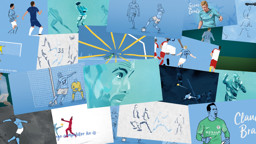 "As City enter their first of five games against teams currently residing in the bottom eight ahead of this weekend's games, will they prove the rule or once again mark themselves out as exceptional in both senses of the word?"

Switching to the opposition view, Swansea manager Carlos Carvalhal spoke equally highly of the Blues in his pre-match interview.
"They are the best team in in the Premier League," he stated. "At home especially, they are very powerful and we understand this is the most difficult challenge of the season.
"When they play at their top level, they are very difficult to beat. We know we will spend a lot of time defending. Every team does when they play Manchester City.
"But if they are distracted or not at their best, there may be a little chance for us. As I always say, if there is one per cent chance, we must have 100 per cent faith, so let's fight and see what happens."
Echoing his manager's sentiments, Martin Olsson agreed: "Manchester City have got such a big squad so even if they make changes, their team will still be full of quality.
"You can see the influence of Pep on the side in the way they've been playing. He's made them play very good football.
READ: City v Swansea talking points
WATCH: Inside City episode 293
"We're determined to give 100 per cent and we're going there to get something. They had pretty much the same side last season and I think we did very well against them at the Etihad.
"It will be tough, but if we go out there with confidence and belief, you never know what can happen."
The Swans defender also reserved praise for Raheem Sterling, asserting he expects the England winger to enjoy an impactful World Cup.
He told Press Association Sport: "Sterling has always been a good talent - just look at what he did at Liverpool.
"With the right manager he has had an even better season and you can see the difference Guardiola has made to him.
"He makes an impact and he is the type of player that can make an impact at the World Cup.
"He is scoring and setting up goals and those are the players that teams need. He is one of the players with England who has that extra bit of quality."
Elsewhere, ahead of City's Women's Champions League semi-final clash, the Daily Mail have penned a feature on Scotland international Jen Beattie, her side's integration within the Club and her sporting family.
As Jack Gaughan reports: "The statistics bear out the theory that all City teams are aligned.
"Nobody has completed more passes than Beattie, a Scottish central defender, in the Women's Super League this season.

"The count after last weekend was 742 in 12 appearances. Four of the top five are City players. It can be no coincidence that Beattie's numbers are so high during a year when Nicolas Otamendi, also a central defender, has broken the Premier League record.
"Perhaps that dynamic will flip should City's women reach the Champions League final. Lyon have reached the past six finals, winning four, and are possibly the most technically gifted side in the world. The champions edged out City 3-2 on aggregate at this stage last year.
"For Beattie — who played boys' football for Hamilton Academical until she was 14 — next week's second leg represents a return to France.
"After leaving Arsenal she was at Montpellier for a year in 2013 and had a familiar housemate. Brother Johnnie, capped 38 times by Scotland at rugby, had just switched from Glasgow Warriors."
Beattie recalled: "It was surreal but cool to think I was playing professional football and he was playing professional rugby in the same city in France.
"It was a no-brainer and probably the most time I've ever spent with him because of our schedules. He'd just got married and I stayed with them for six months. Just training and then the beach.
READ: We are one of Europe's best, says Cushing
WATCH: Cushing and Scott preview Lyon clash
Explore the goals so far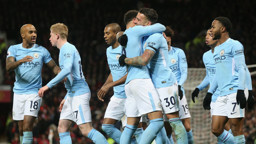 "Only one player spoke English. It was the most out of my depth I've ever been and I definitely grew up going there."
Reflecting on her move to Manchester three years ago, she declared: "I'll never forget that – [Nick Cushing] showing me videos of all the teams across the board of how we play out from the back. I love that, the technical work, and want to play that way."
In other news, Sports Lens claim City 'have an offer already on the table for Barcelona midfielder Sergio Busquets.'
According to their article: "Manager Pep Guardiola wants the Spanish international as a potential replacement for Fernandinho and is hoping a deal can be agreed this summer.
"The £180k-per-week deep-lying playmaker has risen through the youth ranks to the Barcelona first-team, becoming a cornerstone of the side, making over 470 appearances in all competitions.
"Busquets is adept at reading the game, capable of nullifying the opposition, while also being composed in possession and creative from deep. Guardiola knows him well after working with the Spaniard between 2008-2012.
"The City boss wants to bring him to the Etihad, although Don Balon say he isn't the only one. Paris Saint-Germain are also reportedly keen in the 29-year-old and are believed to have made an offer for his services."
If you want to relive the best moments from a truly memorable season, visit our Beautiful Football hub: https://www.mancity.com/beautifulfootball