Men's Team
1
Things we love: Selfie stars and Pablo's poem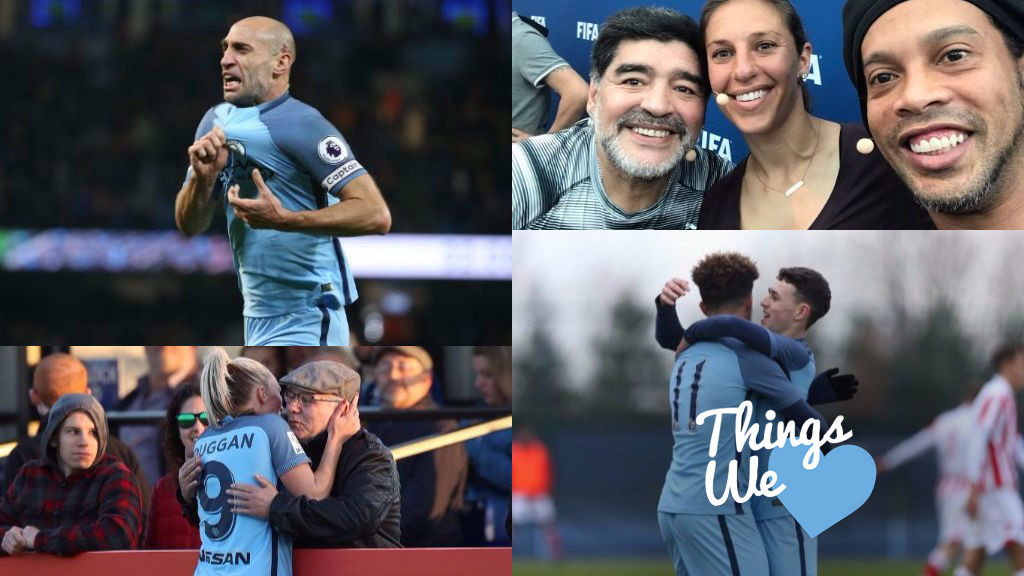 THINGS WE LOVE: Pablo Zabaleta, Toni Duggan, Carli Lloyd and Jadon Sancho all feature in this week's edition.
It's that time of the week again, when we scour the internet to fish out the best of what it's had to offer over the last seven days.
City are everywhere you turn on the internet these days and this week was no exception.
Here's this week's pick of the bunch...
What a trio!
It's supposed to be hard to come across World Cup winners. After all, it's just about the greatest thing a footballer can achieve. That's why seeing Diego Maradona, Carli Lloyd and Ronaldinho sharing a photo during a FIFA event in Bahrain is something special.
#10s pic.twitter.com/DWBX98lNc8

— Carli Lloyd (@CarliLloyd) May 9, 2017
Family first
Toni Duggan had a Tuesday night to remember. Not only did her hat-trick earn City a vital win in the Spring Series, her grandad was there to see it all.
When your grandad drives all the way from Liverpool to Bristol to surprise you - and then you score a hat-trick 🎩 pic.twitter.com/lyJ8r0Nrkc

— The FA WSL (@FAWSL) May 9, 2017
Goalamendi
Nicolas Otamendi doesn't score many. A fact that wasn't lost on this Twitter account dedicated to the defender.
I'm going to post Otamendi's goal vs Norwich everyday until he scores again for City...

— ㅤ (@Beardamendi) December 28, 2015
Superfan
Sometimes life just gets in the way and you have no option but to miss a City match. Not Sean Riley though. He's been at every game since 1989 as this fascinating read discusses.
Poetic Pablo
Pablo Zabaleta's chant is one of the most popular in the stands of the Etihad Stadium whenever the right-back is on the pitch. We're used to hearing songs about football players but a poem?
City fan Kay Roberts got creative and it seemed to hit the right note with Pablo.
Simply beautiful and emotional. 😘 https://t.co/MIC8fczIFr

— Pablo Zabaleta (@pablo_zabaleta) May 9, 2017
Dickov's Day
A host of ex-City stars got together for a match at Macclesfield Town to raise money for the East Cheshire Hospice and local grassroots football.
Shaun Goater, Gerard Wiekens, Trevor Sinclair, Andy Morrison, Kevin Horlock and Jim Whitley were all involved.
A huge thanks @AFCMacclesfield @thesilkmen & all the lads who turned out for my #PaulDickov11 yesterday 👌especially all the brilliant fans 💙 pic.twitter.com/VuludVwQDA

— Paul Dickov (@OfficialPDickov) May 8, 2017
Silky Sancho
Jadon Sancho's been catching the eye at the U17 European Championships – you may have seen his incredible assist in last week's victory over Norway. So much so, he's even been the subject of a column in the Telegraph.
93:20 filming continues…
Mario Balotelli's role in Sergio Aguero's 2012 title clincher – an assist while in a horizontal position – was crucial. Chappy's in Nice to get his thoughts on the day in the documentary to come…
The man himself!!!! pic.twitter.com/XIewIzpzLr

— Les Chapman (@ChappyMCFC) May 10, 2017
Have we missed anything? Tweet us @ManCity with your suggestions!