First Team News
1
Pep excited by FA Cup debut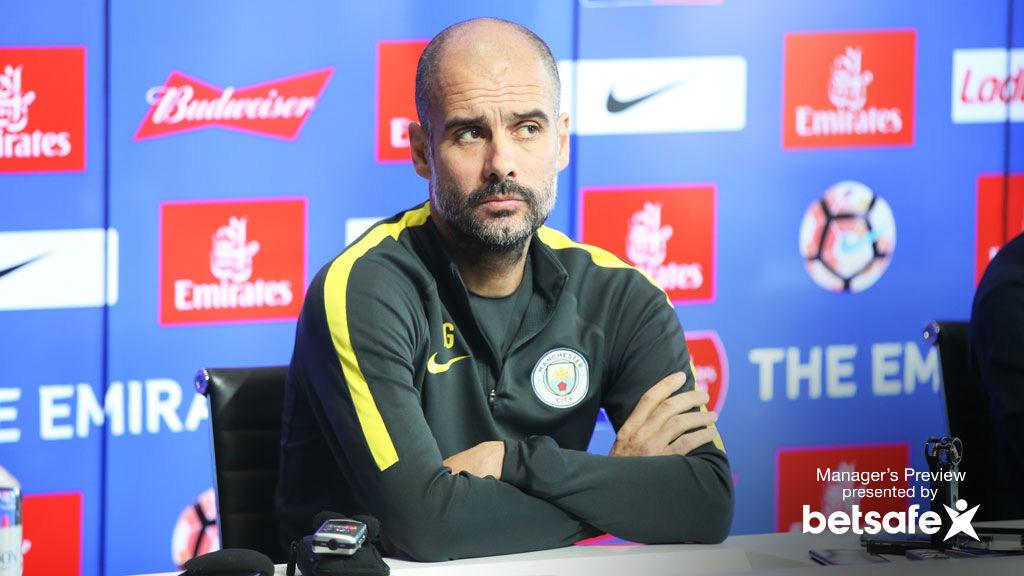 UP FOR THE CUP: Guardiola is excited by his FA Cup debut
Pep Guardiola can't wait to make his FA Cup debut as Manchester City manager.
The Blues boss, who managed Barcelona and Bayern Munich prior to his arrival at City in the summer, takes his team to West Ham on Friday night in the third round.
And he says it's the competition's unpredictability that excites him most.
"I lived in Spain and the cup is two games, so it's a little bit predictable what is going to happen," he said.
"In the Bundesliga it was completely different like in England - one game and the tradition there is so special, so good.
"The final is one game, the most beautiful game in Germany.
"And what I hear before is that the cup here is special because the lower team can beat the big teams in one game, which is why it is fascinating. What happens in the Premier League happens in the cup as well.
"So that's why I'm looking forward to it.
"But, of course, it's a Premier League game, it will be tough. We were unlucky in the draw"
Meanwhile, Guardiola moved to clarify his future after an interview given to a US news station at the weekend
He says City are the perfect club for him to achieve his targets, insisting he loves life at the Etihad and restating his desire to remain as in charge for the foreseeable future.
"I said in the interview [with NBC] I am not going to be training when I am 60 years old - but guys, I am 45," he said.
"I am not going to retire in two or three years. I love my job and am in the perfect place to do my job, especially here in England.
"I won't be training at 60 years old because I want to do something else in my life.
"I started playing football as a young guy, and my whole career was on the pitch, so I want to do something else in my life.
"But not in the next three, four, five or seven years.
"I said I wouldn't be training at 60 or 65.
"Maybe it was inappropriate to say I am starting to say goodbye to my career, but I know what I am thinking about when I am going to retire."
Guardiola also confirmed that Gabriel Jesus will begin training with the first team on Thursday afternoon.
The Brazilian striker arrived in Manchester this week but has been training on his own thus far.
Guardiola says Jesus is well rested after helping Palmeiras to their first league title since 1994 at the end of November and insists the Club will do everything they can to help him settle.
"He was three weeks, one month off on holidays - but he played two friendly games," Guardiola said of the 19-year-old.
"He rested, he needed that. He has made two training sessions - this afternoon he will make his first training session with the team.
"We are delighted he is here and what we are looking for is for him to settle as soon as possible.
"[We want to] Try to help him to be happy here, to have a good connection with his team-mates.
"The process to understand and play in the league needs time. And hopefully he can do what he is with the national team of Brazil, his old club, playing in front and help us to score the goals, which is his big value."