Men's Team
1
City A to Z: Z is for…?
ZABBA
This is the end of the line, folks. The letter 'Z' - we know you'll find it hard to get by without your daily alphabetical dose of the Blues, but the tank is empty and end this series we must...
Z is for…
Zabaleta
Only one place to start with the letter Z and that's with Pablo Zabaleta. If ever a club and a player were matched for each other, it was City and Zaba. The Argentina international has played 279 times for the Blues since signing from Espanyol in 2008 for a bargain fee in the region of £6m.
Since he arrived, his dependability and consistency has made the right-back position his own and his bravery and courage have made him one of the most popular players at the Club. Zabaleta puts his body on the line for the Blues time and time again, often to his own cost with numerous broken noses and head wounds earning him the nickname 'Mr Bump'.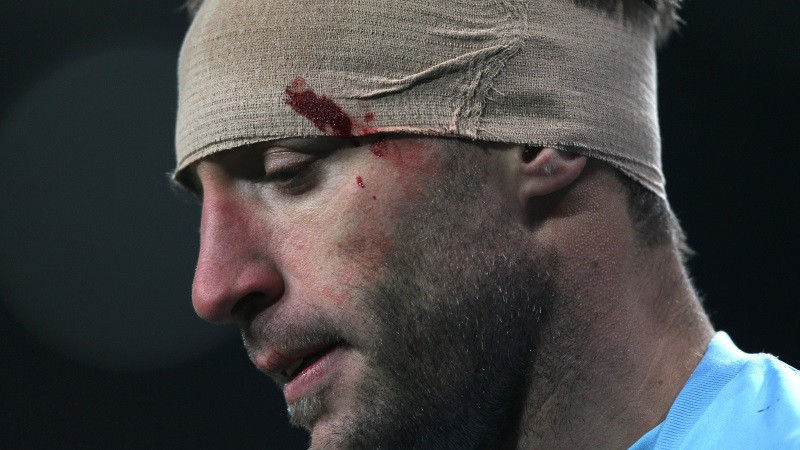 He has become an integral part of City's success in recent years and he has become an important member of the Argentina side in recent years and is closing in on a half-century of caps for his country. A few seasons ago a flag appeared about Zaba with 'Corazón de león' written on it -'Heart of a Lion' in English. Hard to think of a more apt description.
Zambia & Zimbabwe
Brothers Jim and Jeff Whitley were both born in Zambia and raised in Manchester. Both were full internationals for Northern Ireland and it was Jeff who had the greater success with the Blues, making 133 appearances between 1996 and 2001 before later enjoying spells with Notts County, Sunderland, Cardiff City and Wrexham.
Zimbabwe-born Benjani Mwaruwari joined City in February 2008 and stayed with City for two years, playing 31 times and scoring seven goals. Though he never recreated the form he enjoyed at Portsmouth, he was a popular figure and what proved to be a winning goal against United at Old Trafford on his debut certainly helped!
Zenith Data Systems Cup
It's an unfortunate fact of life that the Blues' awful decade from 1980 to 1990 saw the club enter some truly forgettable, awkwardly-named competitions that held little more than embarrassment for the City faithful.
With respect, the Zenith Data Systems Cup was a prime example. In 1989 the Blues played three games in a bid to lift a trophy few were interested in, beating Middlesbrough 2–1 at Maine Road and then Sheffield United 2–0 away. Leeds United ended the Blues' interest 2–0 at Elland Road – just as everybody was getting excited! The following year, City went out at the first hurdle in a 3–2 defeat at Sheffield Wednesday and thankfully, that was that.
City A-Z: The whole story...
A is for Aguero, Argentina and Ardwick
B is for Balotelli, Ballet on Ice and Berkovic
C is for Corrigan, Cricket and Curle
D is for Doyle, Dowd and Dzeko
E for Elano, Elvis the Eagle and Eriksson
F is for Flitcroft, Floodlights and Foe
G is for Goater, Gibson, Golden Goal
H is for Hart, Horlock and Huddersfield
I for Immel, Iheanacho and Ireland
J is for Johnstone, James and Jihai
K is for Kinky, Kippax, Keegan and Kennedy
L is for Lake, Lee and Lescott
M is for Maine Road, Mercer and Meredith
N is for Nash, Nicknames and North Stand
P is for Play-offs, Pearce and Poznan
Q is for Quigley, QPR and Quinn's disco pants
R is for Rosler, Revie and roundabout
S is for Silva, Summerbee, songs and substitutes
T is for Tevez, Trautmann and Tueart
U is for Underwear and Unsung Hero
V is for Varadi, Viljoen and Vonk
W is for War, Walsh and Wright-Phillips
X is for X-ray, Xmas and X-rated