First Team News
1
City A to Z: V is for...?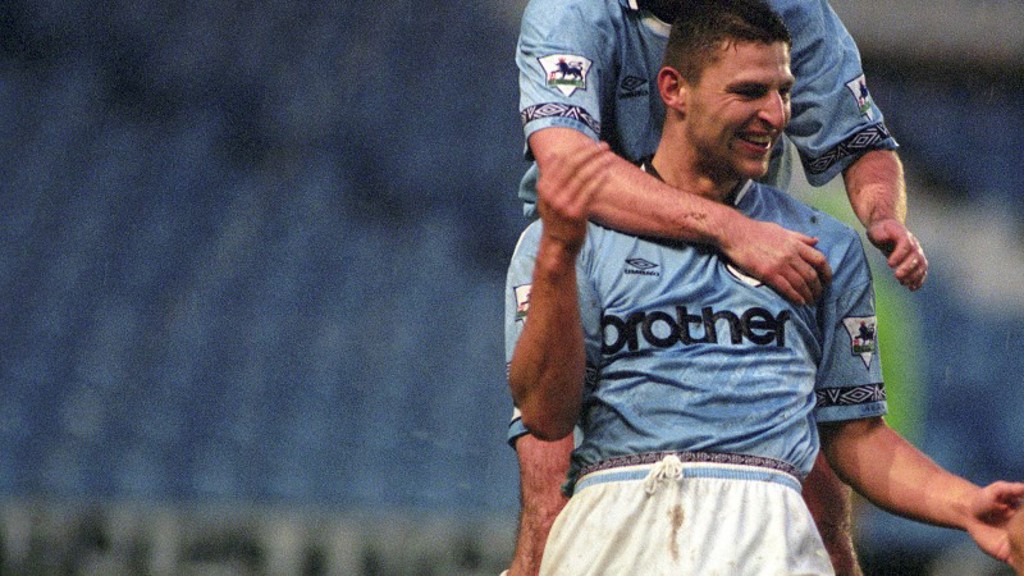 Ok, we're well into the business end of the City A to Z - today is all about the letter 'V' and a few names from the past...
V is for...
Varadi, Imre
Nobody could deny Imre Varadi made quite an impact during his two-year stay with City. The former Leeds United and Sheffield Wednesday striker was signed to inject some much-needed imagination into a sterile attack.
With only four goals in nine games, boss Jimmy Frizzell sold strikers Gordon Davies and Trevor Christie and in a straight swap deal with West Brom, Robert Hopkins and Varadi moved in opposite directions.
Varadi made his debut in a 2–1 defeat at Chelsea, scoring City's only goal. With young scoring sensation Paul Moulden partnering him, the pair inspired a four-match unbeaten run for the Blues, though City still couldn't avoid what had become an inevitable demotion to Division Two.
With Frizzell replaced, highly-rated forward Paul Stewart was signed from Blackpool by new manager Mel Machin and emerging youth-team product David White was by now also knocking on the first-team door.
Tony Adcock had also been signed during the summer from Colchester and, suddenly, City had some decent firepower. With a return of nine goals from a dozen starts, the 1987–88 season started extremely well for Varadi, who was a huge hit on the terraces.
Some believe the chanting of his name led to an inflatable banana appearing at Maine Road for one home game and thus followed a chant of 'Imre Banana' – but, we may never really know if this was the reason thousands of blown-up bananas started appearing at City matches

...V is for..
Varadi missed City's 10–1 thrashing of Huddersfield Town with injury and found it difficult to break back into the side. When he did, it took him three months to score again. His City career was beginning to peter out but he still managed eight goals in 14 starts and finished the season with 17 strikes from 26 League games.
He made just one full appearance and came on twice as substitute for the 1988–89 season, but new signings Wayne Biggins and Trevor Morley meant his opportunities would be, at best, limited. His former club Sheffield Wednesday made an acceptable offer and Varadi, who had scored 29 goals in 67 starts, left for Hillsborough, aged 29.
Viljoen, Colin
A £100,000 capture from Ipswich Town, South African-born midfielder Colin Viljoen had spent 11 years at Portman Road. He made his debut in a 4–1 win at Chelsea and he was an important member of the City side that reached the last eight of the UEFA Cup but failed to make a major impact during his brief stay which saw him make a total of 38 appearances over the course of two seasons before joining Chelsea in 1980.
Vonk, Michel
Michel Vonk joined City from SVV Dordrecht in March 1992 for £500,000.
He became a popular figure among the fans, with his song 'Ooh, Vonkey, Vonkey!' heard regularly on the Kippax. He made his debut in a 2–0 defeat at Nottingham Forest and remained in the side until the end of the season

...V is for...
Vonk's partnership with Keith Curle was cut short by an ankle injury after just eight games of the new season and he missed the next four months as a result. Full-back Andy Hill switched to centre of defence as cover until he returned in January 1993 and played out the remainder of the season.
He battled for his place with Alan Kernaghan the following term and never enjoyed the luxury of being an automatic choice for the remainder of his time at Maine Road, clocking up a total of 103 appearances during his three-year stay before joining Sheffield United in 1995.
Tomorrow is all about the letter 'W'– who or what should we include? Tweet us your suggestions @MCFC.

City A-Z: The story so far...
A is for Aguero, Argentina and Ardwick
B is for Balotelli, Ballet on Ice and Berkovic
C is for Corrigan, Cricket and Curle
D is for Doyle, Dowd and Dzeko
E for Elano, Elvis the Eagle and Eriksson
F is for Flitcroft, Floodlights and Foe
G is for Goater, Gibson, Golden Goal
H is for Hart, Horlock and Huddersfield
I for Immel, Iheanacho and Ireland
J is for Johnstone, James and Jihai
K is for Kinky, Kippax, Keegan and Kennedy
L is for Lake, Lee and Lescott
M is for Maine Road, Mercer and Meredith
N is for Nash, Nicknames and North Stand
P is for Play-offs, Pearce and Poznan
Q is for Quigley, QPR and Quinn's disco pants
R is for Rosler, Revie and roundabout
S is for Silva, Summerbee, songs and substitutes
T is for Tevez, Trautmann and Tueart