MATCHDAYS AT THE ETIHAD STADIUM

Matchdays at the Etihad Stadium are first and foremost about the action on the pitch but there is also so much more going on at the home of the Premier League Champions on matchdays. You will find all the information you need for attending the Etihad Stadium below.
Supporters are advised to arrive no later than 60-minutes prior to kick.
Well before the match starts, in our dedicated fan zone, City Square, you can enjoy live entertainment hosted by our City Square presenters from two and half hours before kick-off.  
At City Square there are three large screens, a main stage and the Summerbee Bar and family friendly Blue Moon Café.
The Summerbee Bar is our outdoor covered bar where fans can enjoy drinks and our Blue Moon Café, an outdoor covered spot for a bite to eat or hot drink.
Every week we have at least one live up and coming band or musical performance. In the past we have had The Blossoms and 1975 play sets at City Square. As music plays a really important part of the Manchester City match day we also have live DJ's spinning the tracks.
Our resident comedian and presenter, Capital FM's DJ Wingman entertains the fans with competitions and interactive games to win exclusive prizes – are you brave enough to go on stage? Each match we invite a number of special guests to come and chat with our brilliant presenters, Natalie Pike Danny Jackson and BBC Radio Manchester's Mike Minay. Over the years, City Square has been privileged to talk to guests such as Tom Cruise, Liam Gallagher, Ricky Hatton, Andrew Flintoff and fan favourite Georgi Kinkladze.
We link up with Cel Spelman and the Match Day Live team from the City studio as they bring us the team news, insight and analysis about todays game all with City legends and pundits.
At the Cityzens Hub you can get your picture taken with Pep Guardiola – well a real life cut out of him – as Manchester Citys latest signing.
City Square closes 30 minutes before kick-off to allow everyone to get in to support the team with enough time. Head back after the final whistle for our post-match analysis. Food & Drink will be available in City Square. 
City Square is also on Twitter, so you can keep up to date with what's happening for each match. 
Our Blue Carpet Experience takes place outside The Colin Bell Stand entrance and includes our very own unique team arrival. The first team usually arrive about 90 mins before kick-off. The show is aimed at our family audience and if the little ones want to see their heroes in person, this is the best place to be!
We have prizes and giveaways every week from scarfs to money-can't-buy experiences.
We also have live music, performers and entertainment, as well as exclusive guests for interviews in front of the fans. Don't miss this part of our match day and get up close to our players as they arrive off the team bus! 
Head over straight back to City Square as it re-opens for post-match analysis with our Match Day Live presenter Cel and his punditry team. The Café and Bars reopen, result dependant, and we analyse the game and review the goals, incidents and matchday stats.
Arrive early to allow plenty of time to pass our security checks. Small handheld bags, no larger than A4 size (12"x8"x3") will be accepted.
Backpacks, holdalls, rucksacks, or other similar items of any size, large or small, will not be allowed into the stadium. Small handheld bags, no larger than A4 size (12"x8"x3") will be accepted. If you must bring a bag to the stadium that exceeds the allowable size, the bag storage facilities is available on the Orange car park that you can use to securely store your items will be in place until the match has finished.
The bag storage is priced at £10 per item. 
Manchester City is encouraging supporters to consider alternative forms of transport on matchday by relaunching the Walk to the Match initiative which in be in place for all weekend matches.
Having worked closely with Manchester City Council, an improved designated walking route from the city centre to the Etihad Stadium.
As well as offering a sustainable and healthy alternative way to get to matches, there will be plenty of entertainment for fans that come along, including face painting and a marching band.
To view the walking routes, click here.
Outside the stadium, toilets are located at City Square behind the Blue Moon Café and behind the Summerbee bar.
Inside the stadium, toilets are located on the concourses and are clearly sign-posted.
Accessible toilets are in the same locations and can entered using a radar key.
Food & Beverage

At City Square and around the stadium there are kiosks featuring fan favourites such as fish and chips, street food and pizza. 

You can also head to Summerbee Bar for a pre-match drink with the City faithful.

There is a range of hot & cold options including vegan & halal options, compostable beer cups and edible coffee cups.

Play Makers

Look out for our Playmakers – dressed in yellow – they are around the stadium, City Square and in the Family Stand.

They are there to help and if you have any questions please ask as they are only too happy to help. They are regularly stocked with free goodies and treats for all so give them a smile.

In the Stadium

Turnstiles open 2 hours before kick-off. We host guest music playlists from our celebrity fans to get you ready for the match.

The last 15 minutes before kick-off really ramp up to get everyone ready and in good voice for the team walking out. Look out for our 1894 fan group in South Level 1 providing flags, colour and noise!

Family Stand

New activities within the North Stand include ceiling flags featuring fan chants, the "Family Stand Says" for junior fans to ask questions of each other and voice opinions.

Appearances from the Manchester City mascots – the Moonies, roaming selfie frames, face painters, Match Attax giveaways and a colouring-in wall.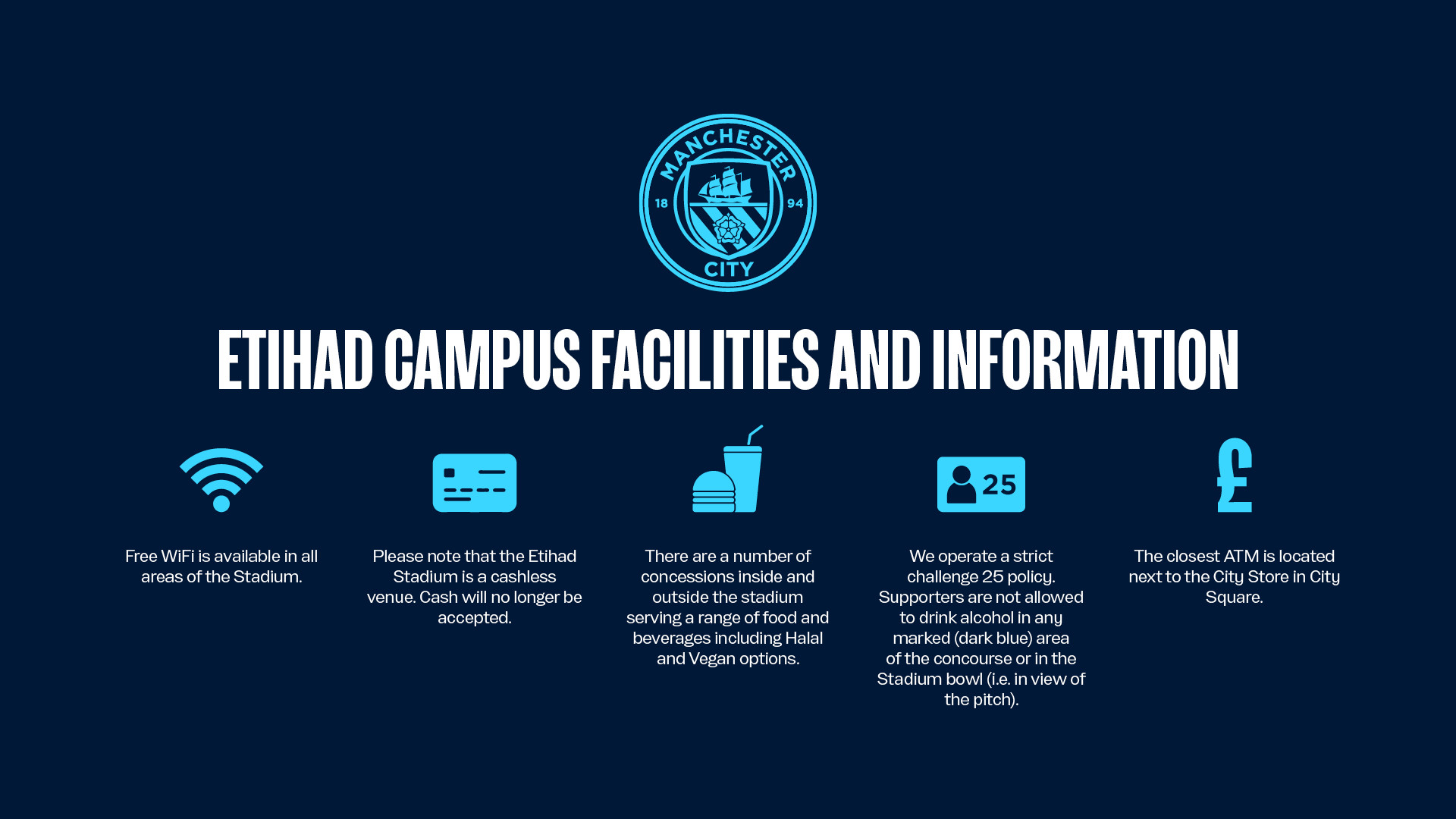 ACCESSIBILITY INFORMATION
Manchester City recognises that disabled supporters may need assistance to fully enjoy the experience at both the Etihad Stadium and Academy Stadium and offer a variety of reasonable adjustments based on individual needs.
An accessible buggy service will be in operation for supporters who require mobility assistance from Orange and Blue Car Parks to D, H, S and W doors. This complimentary service will operate pre and post-match, subject to any operational security changes and is available on a first come, first served basis. 
Pre-match pick-up points – Blue Car Park entrance opposite Joe Mercer Way. This will run to D, H, S & W doors until approximately 1-hour before kick-off when the service will stop by the Metrolink station. The service will then run from either side of City Square to the accessible entrance doors. There will also be an additional service outside Orange Car Park, opposite East Reception. This service will cease to run through City Square 1-hour before kick-off. The service will be available from 3-hours before kick-off until 15-minutes before kick-off.
Post-match the service will resume 30-minutes after the final whistle from accessible entrances to car parks. There will be a buggy service from the top of Joe Mercer Way to Blue Car Park 15-minutes before the final whistle.
We respectfully ask that face covering are worn when using the buggy service. 
The above timings are subject to Event Safety Control and may change if operationally required.
KICK IT OUT
The 'Kick It Out' app provides news updates on the campaign's latest projects, but its most prominent feature is the 'Report It!' function which empowers people at all levels of the game to report incidents of discrimination. Manchester City are proud to support this campaign.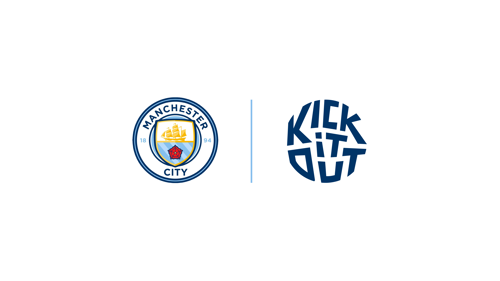 PRAYER ROOM
We have a Multi-Faith Prayer Room within the stadium to provide supporters with a quiet space for prayer and reflection. If you'd like to use this space on a matchday, please approach a steward who will guide you to the space.
Ground Regulations
We ask all fans to join us in creating a positive environment and atmosphere, where everyone is welcomed, accepted and has a fantastic matchday experience.
We operate a zero-tolerance approach to all discriminatory and abusive behaviour including any form of Racism, Homophobia, Islamophobia, Antisemitism and Sexism. Such behaviour may include abusive comments, chanting, or gesture-making of any kind.
If you see or hear such behaviour, talk to a steward or the police, or report it on the Kick It Out app. Alternatively, if you would prefer to speak to a member of our team after the match, you can contact our dedicated supporter services team at [email protected]
Android and iOS users can download the free Kick It Out app on Google Play or via The App Store.
Any supporter, who attempts to invade the field of play, at any time, will be ejected from the stadium and may be arrested. This also applies to any supporters identified to be throwing items on to the field of play or into the home supporter areas.
The Etihad Campus, including the car park and concourses are smoke free, including electronic cigarettes.