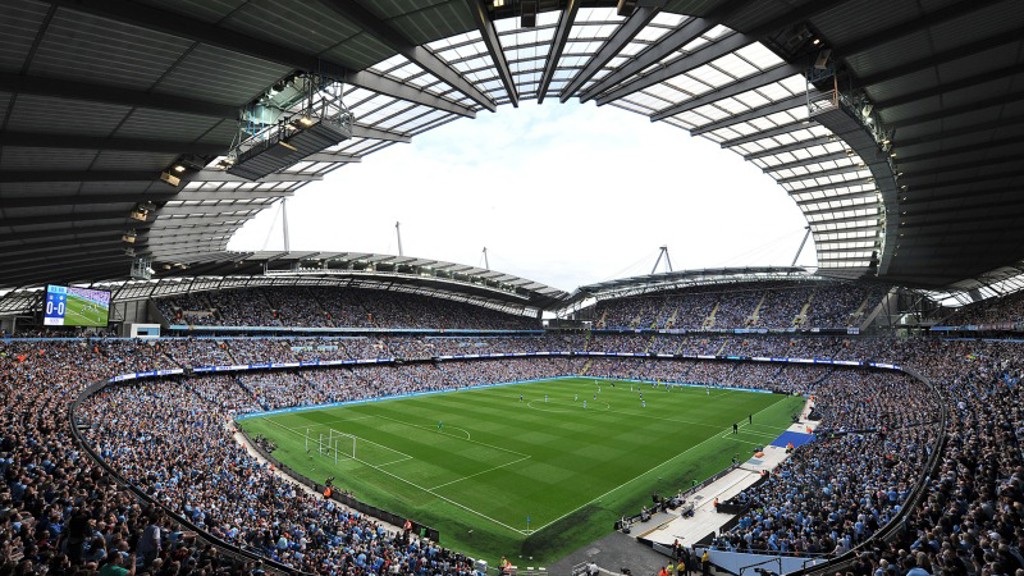 Visiting the Etihad Stadium
The Etihad Stadium is the home of Manchester City Football Club. The venue can also host a number of other events including concerts.
Stadium Address
Etihad Stadium,
Etihad Campus,
Manchester M11 3FF
How to get here
Walking
The Club has enhanced the walking route to the Etihad Stadium and will relaunch with a special sustainable walk to the match before the Everton game on New Year's Day 2020. Come down and join us. More information can be found here and a new downloadable map of the route including the meeting point can be found here.
Cycling
There are a number of bike racks around the stadium. The Club accepts no liability and all bikes are left at their own risk.
Buses
There are bus stops adjacent to the stadium. At the end of the match buses will be lined up on Ashton New Road next to the South Stand heading to Manchester city centre. Further information is available at tfgm.com or via Twitter @OfficialTfGM
Our dedicated tram stop, Etihad Campus is adjacent to the stadium, located in City Square.
Metrolink runs from the city centre including. Manchester Piccadilly station to Etihad Campus stop and on towards Ashton. The journey time from Piccadilly is less than 10-minutes. On event days, trams run to/from the stadium stop every 6 minutes.
Tickets must be purchased before travel, ticket machines are located on every Metrolink platform.
Please note that both Holt Town and Velopark Metrolink stops, located on either side of the Etihad Campus stop, will not be open for at least an hour after an event at the Stadium so we strongly advise you to use the Etihad Campus stop for your return journey.
Metrolink Park & Ride
Journeys to the stadium are really easy from the many Park & Ride sites on the Metrolink network. Parking is free for Metrolink passengers. For those travelling from the east or north there are two large Park & Ride car parks located at Ashton West and Ashton Moss.
The journey time to the Stadium is less than 25-minutes. Click here for more information about Metrolink Park & Ride. Please note the consumption of alcohol is strictly prohibited on Metrolink trams.
Car Parking
Pay on the day car parking is available on site in the Blue Car Park's G & H, accessed from Alan Turing Way (Gate 2).* Parking prices are as follows:**
Car -

£8 for two or more passengers, £10 for single occupancy.

Coach and minibus – free of charge

Motorbike – free of charge
On matchday, home supporter coaches park in the Blue car park. Visiting supporter coach parking is available in the Grey Car Park C & D, accessible via Ashton New Road (Gate 7). Both the coach and car parks will be open 3 hours before kick-off until 1 hour after final whistle on the day of the match.
* Gates will be locked and cars are left at own risk overnight.
**Prices correct at time of publication and any changes will be clearly displayed on the day.
Accessible Parking
Blue Badge parking is available on-site in the Blue car park, however it is limited due to the number already allocated to our seasonal supporters. Please call our Access Team on +44 (0)161 444 1894 (option 1, 1, 2) to discuss further. You can find out more at mancity.com/access.
Residents Parking
A resident parking scheme is in place in the streets around the Etihad Stadium and this is strictly enforced and identified through on-street signage. Please do not park in these areas as you will be fined and your vehicle may be clamped or removed. Please respect the needs of local residents. There are a number of satellite car parks around the stadium. The Club does not endorse these car parks.
Do not leave valuables on display in your vehicle and any items left in vehicles are done so at your own risk. The venue accepts no liability for the theft, damage or loss to your vehicle or items within it.
Road Closures
Please note that a road closure operates immediately after the event to allow pedestrians to leave the Etihad Stadium safely. This is in place for approximately 20 minutes after the match. This is, however, subject to GMP approval and may be in place for longer than stated above. Roads affected by the closure are as follows:
Ashton New Road – between Alan Turing Way and Darley Street

Grey Mare Lane – between Ashton New Road and Alan Turing Way

Merrill Street – between Pollard Street and Ashton New Road
City Square
The best way to beat the traffic of course is to stay and enjoy the post-match fun in City Square, at the Stadium end of Joe Mercer Way. City Square, with a fully license outdoor bar and café, is a great place to enjoy food and drink and reflect on the game and watch the highlights with City pundits, player interviews and celebrity guests.
What can I bring with me?
Only small bags no larger than 16.5" x 12" x 6". They will be subject to security checks at the entrances
Flags and banners (maximum of 2m x 1m). Please note flag poles or offensive language on the flags will not be allowed. They will be checked and a fire safety certificate is required
Prohibited Items
The following articles must not be brought to the Etihad Stadium: weapons, air horns, narcotics, fireworks/flares, bottles / cans / glasses, cameras, long umbrellas, food / drink, selfie sticks, tablet PCs and pushchairs / prams.
If you have any questions please tweet us at our official supporter account or email [email protected]
We look forward to seeing you at the Etihad Stadium!