City defender Ruby Mace and goalkeeper Khiara Keating have been named in England Under-23s' squad for fixtures with Norway and Belgium.
Emma Coates' team will begin their European League campaign with a meeting with Norway on Thursday 21 September at Byrne Stadium with kick-off scheduled for 17:30 (UK).
The new competition will see England join eight other European nations in the first structured schedule of its kind for the Under-23s age group.
Kicking-off in September's international break and running through five successive windows until April 2024, Coates' side will compete with Belgium, France, Italy, Netherlands, Norway, Portugal, Spain and Sweden.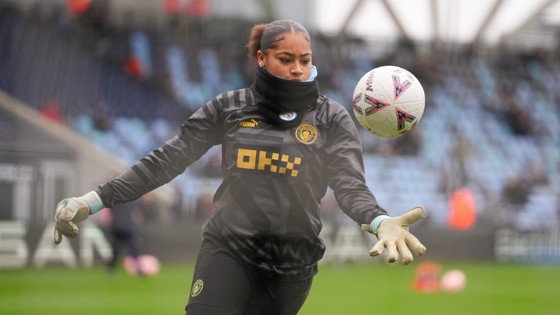 They will then face Belgium on Monday 25 September at 19:00 (UK) at Shrewsbury Town's New Meadow.
Elsewhere, Lois Marley-Paraskevas and Jemima Dahou have been included in England Under-19s' latest squad who will face Denmark and Germany at St George's Park.
It follows news that seven City stars have been named in the Sarina Wiegman's squad for Nations League matches with Scotland and the Netherlands.
Stay close to mancity.com and our official app for City-centric reports on all our international representatives across the pause in domestic action.
ENGLAND U23 SQUAD
Goalkeepers
Lucy Thomas (Birmingham City), Fran Bentley (Bristol City), Kayla Rendell (Southampton)
Defenders
Poppy Pattinson (Brighton & Hove Albion), Naomi Layzell (Bristol City), Mia Ross (Charlton Athletic), Kiera Skeels (Charlton Athletic), Tara Bourne (Sheffield United), Ella Morris (Southampton), Asmita Ale (Tottenham Hotspur), Anouk Denton (West Ham), Ruby Mace (Manchester City)
Midfielders
Laura Blindkilde Brown (Aston Villa), Ruby Grant (BK Hacken), Missy Bo Kearns (Liverpool), Grace Clinton (Tottenham Hotspur, on loan from Manchester United), Melisa Filis (West Ham)
Forwards
Freya Gregory (Aston Villa), Aggie Beever-Jones (Chelsea), Missy Goodwin (Leicester City), Molly Pike (Southampton), Jessica Naz (Tottenham Hotspur), Emma Harries (West Ham)
ENGLAND U19 SQUAD
Goalkeepers
Eve Annets (Reading), Lucy Jones (Birmingham City, dual registered with West Bromwich Albion), Hannah Poulter (University of South California)

Defenders
Brooke Aspin (Chelsea, loan to Bristol City), Ria Bose (Chelsea), Cerys Brown (Chelsea), Araya Dennis (Arsenal, dual registered with Crystal Palace), Evie Rabjohn (Manchester United), Katie Reid (Arsenal,dual registered with Watford), Jessica Simpson (Manchester United), Mari Ward (Bristol City)

Midfielders
Ashanti Akpan (Chelsea), Jemima Dahou (Manchester City, dual registered with Blackburn Rovers), Maddy Earl (Arsenal), Grace Ede (Sunderland), Shauna Guyatt (Crystal Palace), Lois Marley-Paraskevas (Manchester City), Alexia Potter (Chelsea, dual registered with Crystal Palace), 

Forwards
Ava Baker (Leicester City), Mia Enderby (Liverpool), Freya Godfrey (Arsenal, loan to Charlton Athletic), Georgia Mullett (Aston Villa), Poppy Pritchard (Durham), Katy Watson (Sunderland)