For a lifelong City fan to step out onto the pitch, donning the sky blue shirt, every game must feel special.
It's the dream of every football fan - a dream few are able to realise; Keira Walsh is one of those lucky few.
Since making her debut as a 17-year-old in City's first season in the top flight, Walsh treasures hundreds of unforgettable memories... but of her 145 appearances, which game was her favourite?
A tough choice. So tough in fact, the midfielder could not pick between two - and so, here is the first of her two-part selection, presented by Marathon Bet...
The pick
The FA Cup Final in 2017 when we played Birmingham.
In terms of the way we played, we absolutely dominated from start to finish and that's the only game I've played in where I've felt there was no doubt in my mind we were going to win – that there was no other possibility.
In the first half especially, it was unbelievable. We scored three goals and it was a literally perfect performance.
Everyone was playing so well and games like that are few and far between when every single person on the 11 is on their game.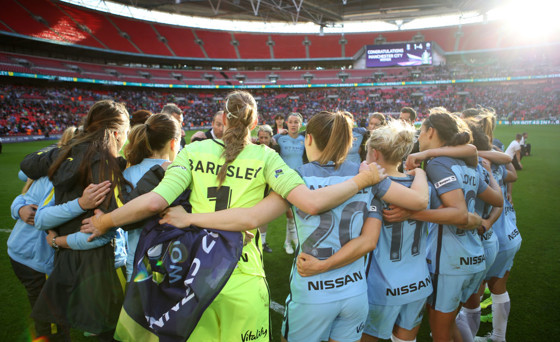 CITY+ | Free to Cityzens until football is back
Playing at Wembley
It was the first time at Wembley for a lot of us but everyone was pretty relaxed even before the game.
We knew what we needed to do. Nick is so focused and so methodical with his gameplan and that resonated with a lot of players, especially those who are logical like Jen Beattie, Demi Stokes and Lucy Bronze. They liked to know the processes and Nick was very good at that.
As a person, I'm naturally quite laid back. I try not to let occasions get to me too much.
For most people, walking onto that pitch, you'd think: 'Yeah, that's amazing. It takes your breath away' but I try not to think about that too much and try to be a bit more jovial about it so I'm more relaxed.
Pre-match
It's the day of the game I start to focus.
When you're walking around the pitch the day before, you take it all in but I'm more thinking about where I'm going to be playing rather than looking around, thinking about how many seats it holds. That only adds to the pressure of the game so I try not to think about it too much.
Everyone was quite relaxed. Jill Scott was probably dancing – that's her speciality and when she's excited, she likes to bust out a few dance moves!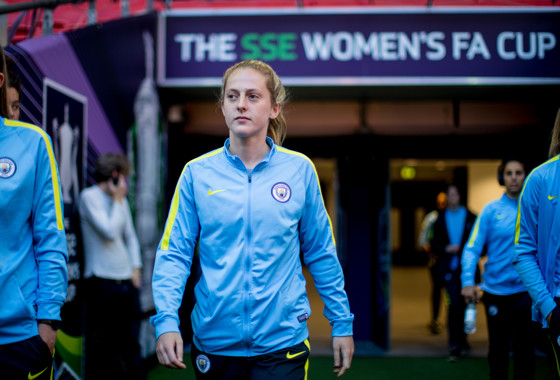 CITYZENS AT HOME | Fun & educational activities to do at home
The game
Everyone was just on it: working hard and everything just seemed to click, playing the way City want to play.
We had some fantastic players in every position and the whole squad were fighting for their place. That showed on the pitch - everybody stepped up and everyone had played a part throughout all the rounds.
Once we got the first goal, we settled down and put passes together and then we found ourselves 3-0 up at half-time!
We felt quite comfortable but even then, at half-time, I remember us being so focused. 'Don't let the result get ahead of us.'
We knew there were still 45 minutes to go – still a job to do. When the final whistle went, that's when the celebrations went crazy.
The celebrations
It was a massive crowd and you could hear the City fans chanting.
It was special to be able to celebrate with my parents as well at Wembley and again, I won that trophy with a lot of good friends like Abbie McManus and Nikita Parris. It was really nice.
After the game, the changing room definitely wasn't relaxed – everyone was jumping around!
I think every professional player dreams of winning the FA Cup at Wembley. It is really special.