Happy birthday, Georgia Stanway!
Georgia Stanway may only be 22 years of age but the City star is already emerging as a local and national heroine.
The Barrow-born forward - now a fully-fledged England international - has already helped her Club to six trophy successes, represented her country at a World Cup and has bagged some sensational goals along the way, including two fine Cup Final strikes at Wembley.
Once photographed standing alongside Steph Houghton as a youngster, she now plays proudly alongside the skipper for both Club and country - and finds herself the person with whom football fans want their picture taken!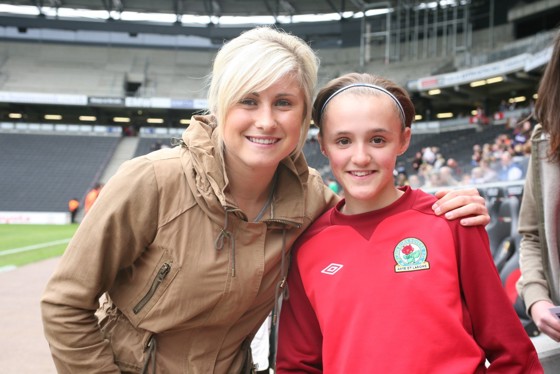 But who was it who first sparked her dream? Whose shirt did she own? Who does she model her game on?
Presented by Hays, Stanway reveals her footballing icon...
"My idol is Alan Shearer," she smiled.
"He's somebody who has been close to my family. We don't know him personally but a lot of my family loved watching him play. Some are Newcastle fans and I am from watching him play.
"I was really close with nana growing up. I used to collect Match Attax playing cards and every time I got Shearer, I'd give it to my nana to look after it.
"Just before she died, she gave my 2005 shiny Shearer card back to me and I've always kept it.
"It's something that doesn't mean a lot to anybody but it means a lot to me. Nana always watched him and Shearer was a favourite player."
Admired for her power, accuracy and ability to strike from distance, Stanway certainly carries traits of Shearer's game into her own.
SUBSCRIBE TO THE MAN CITY PODCAST
"He's a prolific goalscorer – somebody that scores goals easily – but he's also such a team player and that's something I always want to go off," she added.
"Playing for the team is massively important but there's no better feeling than scoring a goal, winning the game.
"Goals win games and he's somebody who stands out to me as a matchwinner.
"He's how I grew to love football. I remember around the time of the World Cup, I received a message from him before one of the games – a video message, wishing me the best of luck for my up-and-coming games.
"That was good to see and one day, hopefully I'll have the chance to meet him."
With increased media coverage and visibility, Stanway and her teammates now stand in the spotlight as role models themselves - idols for both budding female and male footballers.
Although humble, the 21-year-old admits she is immensely proud of her status, hoping to inspire the next generation and beyond.
"It's mad to think people are actually looking up to women's footballers – not because we're women but for how much the women's game has grown," she said.
"When you go back to your hometown, you see how many people are supporting you.
"With the situation now, we have to go running in the street or the park and the amount people who shout to me, congratulating me, telling me to keep doing what I'm doing and that I'm doing the town proud…
"Normally, you don't realise that's the case when you're in such a bubble of training, playing matches – it's a cycle and you forget people out there are following your path.
"It's amazing to hear that."
𝐻𝒶𝓅𝓅𝓎 𝒷𝒾𝓇𝓉𝒽𝒹𝒶𝓎 to the one and only @StanwayGeorgia! 💙

🔷 #ManCity | https://t.co/axa0klUGiM pic.twitter.com/nN09R1L8e9

— Manchester City (@ManCity) January 3, 2021