One of our longest-serving female players, Jill Scott has enjoyed hundreds of memories in sky blue.
Glorious goals, wonderful wins, long-awaited trophy lifts... magic moments glittering a six-year City career.
But which of her sensational 167 games was her favourite?
In the latest of our feature, presented by Marathonbet, Scott shares her most memorable City match...
The pick
I'm going to go back to the Continental Cup semi-final in 2014.
It was our first year as a professional team and we played Chelsea, which was a really big test - all odds were against us.
The game was played at a different stadium as well - Ewen Fields in Hyde - and we beat them 1-0 with Toni Duggan scoring.
It was such a great day and we went on to win the trophy.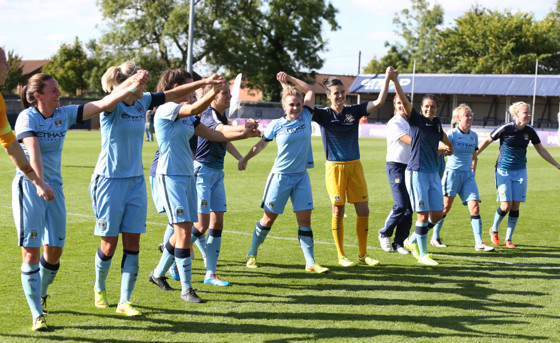 The squad
Looking back, that was one of my favourite seasons in football.
It was a new challenge for me after leaving Everton and the team spirit was really good.
The team was mixed in terms of experience of playing at the top level but every single player showed improvement that year and it was great to see and be part of.
Everything was new and there was a real buzz around the team. We knew it was going to take a few years to compete and we knew there would be dips along the way but there was a plan in place, a process and we had real togetherness.
Nick Cushing was fantastic too, introducing us to a style of football we really enjoyed, challenging us every single week.
It was really exciting.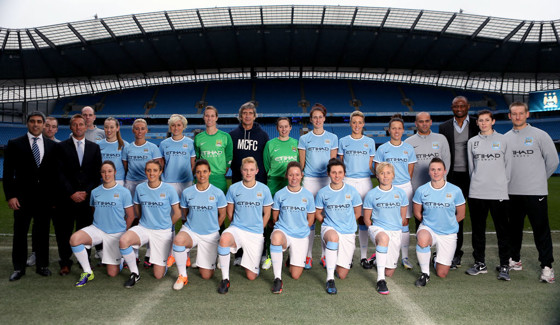 The cup run
We'd lost our first four games at the beginning of the season. We knew it was going to be tough but by our own standards, we expected to pick up some points.
It was hard to take but everything happens for a reason. We got our first win against Everton in the Continental Cup and that kick-started us - we realised we were good enough to win these games.
Pre-match
Sometimes, you just get a feeling that things are going to go well, especially if you've had a good week in training - spirits are high and you just think: 'There's no way we're losing this game.'
It doesn't always go to plan but I remember the day before, we'd had a really good training session - it was highly competitive - and I just thought to myself: 'We're not going out of this competition.'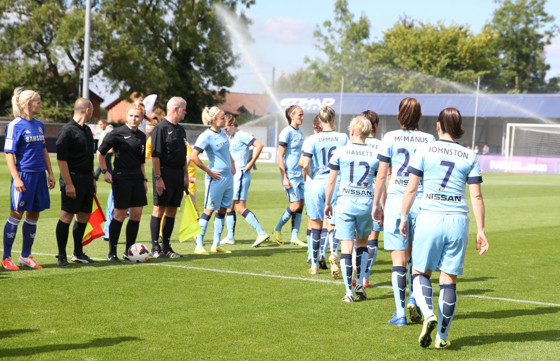 The game
The sun was shining and the atmosphere was amazing. The fans were really close to the pitch and all of our families were there.
I remember we played a little bit of a different system. We tried to get one over on them tactically.
We'd worked on it in training and we felt all we had to do was bring the hard work, which is always ensured with this team.
CITY+ | Free to Cityzens until football resumes
The magic moment
I remember Toni running through - it was a one-on-one situation.
I was already running towards her celebrating before she put it in the back of the net because I already knew what the outcome would be!
You can see from the celebrations how much it meant. It was just a massive pile-on!
Winning as underdogs
It actually felt like we'd won the trophy, although it was the semi-final.
It's true what they say - there's no better feeling than winning when the odds are stacked against you.
When I was at Everton, my first ever trophy was the League Cup - the equivalent of the Conti Cup but it had a different name.
It was against Arsenal and we were the underdogs but we won 1-0. When I look back, it's weird because the two Finals are an exact replica - a cross comes in from the right and we score to win the game!
SHOP | 'El Mago - David Silva: A decade of magic'
We both hung on for 90 minutes, fighting with our backs against the wall! You come away, thinking: 'How did we win that?' but it's a great feeling.
Those two wins will down in my career as the two with the best feelings. I've got the date of the Everton Final tattooed on my ankle, so you can see how much it meant.
When you're the underdog, there is no better feeling than winning against the odds. I definitely agree with that!
A Time to Reflect 💙
Always been a hobby of mine to write poems pic.twitter.com/fv1N35jXkV

— Jill Scott (@JillScottJS8) March 21, 2020