In our latest edition of Top Tips, Aoife Mannion talks us through her lockdown rehab, favourite recipe and TV recommendations...
Presented by Gatorade, our women's team share their advice and recommendations for coping through this uncertain period of the COVID-19 pandemic...
First of all, how is recovery going?
Well so far! I'm ticking along. I have kit and equipment at home so I can't complain. I'm being looked after very well.
I'm plodding through it, taking each day as it comes. I have a team of people around me, looking after me, and I'm at a Club with the best facilities in the country for women's football.
It can be hard but I'm being looked after as best as I can. Sometimes, I think: 'What would it have been like for me if it was done under different circumstances - in another time or place?' and I guess if I had to pick a time and place, this would have been it.
I frame that in my head and that takes the angst out of it.
Tell us about your Instagram Stories!
I have so much fun on them. I'm glad they seem to bring people some joy or insight into my recovery.
People seem to like it and they egg me on a bit!
It meant a lot to hear Georgia Stanway say she's motivated by them. She has asked me in the past: "How do you manage to do this and keep so upbeat?" and I'm honestly just plodding through it.
I didn't really think about what it looked like from the outside but I think people are enjoying them so they're here to stay for now.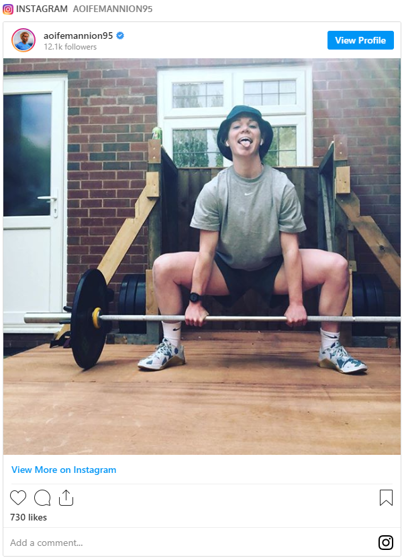 CITYZENS AT HOME | Fun & educational activities to do at home
What advice would you give for keeping fit and motivated during the pandemic?
I would say: try and have some sort of structure and routine during the day and try to find one type of exercise you like.
There are so many ways you can exercise but don't force it if you don't like it.
Whether it's sport, jogging, going out for a walk with music or a podcast on... good feels of exercise don't discriminate.
At the moment, I'm not at a point in my rehab where I can go out running but I can go out for a walk with my family.
Don't discount little bits of exercise. Just go and find something you like and have a good relationship with it.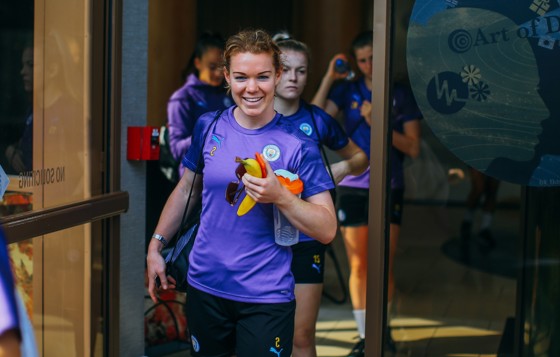 Any healthy eating tips? What's the best meal you've cooked?
Eating delicious food is so important!
I've done a bit of cooking. I get Gusto delivered in - I pick recipes and cook them for the family.
I made a brilliant pork belly. It was an idiot proof recipe - if I can cook it, anyone can!
Any advice on how to stay calm and connected?
Firstly, acknowledge that this is an unsettling situation - uncertain and unprecedented - and stay in contact with family and friends as best you can.
I would have been living alone if I'd stayed in Manchester and I made the decision to go back to Birmingham and be close to my family, which has really helped.
I'm personally lucky that no-one in my immediate family is a key worker so I don't have that added anxiety that a lot of my friends have but if you do have worries, share them with friends and family - talk about it - and be mindful of how much information you're taking in from the news.
CITY+ | Free to Cityzens until football resumes
Thankfully, there are a lot of ways to keep in touch. The team are keeping connected with WhatsApp and Zoom calls. We have group chats and team meetings and we've also done quizzes, Pilates classes and yoga together.
Everyone has groups of close friends too - little circles within the squad - and everyone has been checking up on each other, making sure everyone is okay.
As an injured player, I have to keep in touch with the Strength and Conditioning Coach and Physio a lot too so there are lots of meetings and such to keep me busy!
What are you watching on Netflix? Any recommendations?
The Last Dance. It's all about Michael Jordan: his career and what he did for basketball.
It's out of this world to imagine the impact he had and it's interesting to see insight into that.
I'd recommend Killing Eve on the BBC too - that's really good with a great storyline - and I've also been told to watch Money Heist.
Do you have a message for the fans, during this difficult period?
We're so gutted we can't play football but we hope everyone is staying safe.
Above all, staying safe is the priority.
We can't wait to see you again and share celebrations with you when we're back competing for trophies.
I miss everyone at our training ground so much ... will shed a tear the day I set foot back in the reception at the CFA 😢 I hope everyone is staying safe 💙

— Aoife Mannion (@aoifemannion_) April 8, 2020