Gareth Taylor has confirmed City will be without goalkeeper Ellie Roebuck for the 2021/22 season opener against Real Madrid.
City kick-off the new campaign with a Champions League Round Two clash against the European debutants on Tuesday night, seeking a strong advantage to take back to Manchester for the return leg.
With several members of the squad having only returned to training last week, it has been a tight turnaround in pre-season for Taylor's side.
BUY THE 2021/22 WOMEN'S HOME KIT
With Lucy Bronze and Ellen White already sidelined, each undergoing periods of rehabilitation, Roebuck's absence provides another blow but pleasingly, Taylor asserts hers is not a serious knock.
"We've had a couple of issues – some players returning, some we've lost," he reflected, speaking in his pre-match press conference.
"Roebuck's left in Manchester. That's disappointing for Ellie but I think it's a minor issue and one that won't keep her out for too long.
"It's a slight calf issue. Outside of that, we've had it kind of x-rayed and scanned and got the images back.
"It was tight for this game so hopefully, there's no issue regarding the FA WSL game [against Everton] coming up and we're hoping to get her back for the second leg. It's a shame because it's nothing too severe."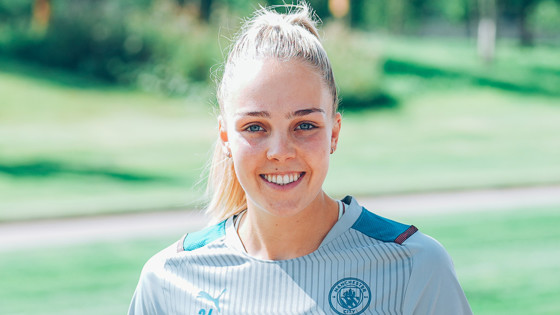 Taylor also shared positive updates on Bronze and White, as well as Chloe Kelly, who is sidelined for a lengthy period with an ACL injury.
"It's a blow [to lose Lucy]. Lucy is a player who you really want," he conceded. "She's quite robust and plays a lot of minutes and games throughout the season. She played every minute for Team GB.
"It's a shame but the surgery was a success and speaking to her, she seems optimistic of a quick return.
"The sooner she's back, the better but we're confident of the players we have stepping up. That's a real positive for us to see."
On Ellen, he added: "She's doing really well. She was on the pitch today before we left.
"She's looking good. Similar to the conversation we had about Lucy and Chloe, these players are given a return time and they're ambitious to cut that.
"Ellen's looking good. We have to monitor that day by day but it was good to see her out on the pitch with a smile on her face.
"Chloe's doing great. With Chloe, you have to understand she's a dream to work with – injured or fully fit, or in analysis or individual sessions.
"She's great to work with and the medical department talk about how far ahead she is because of how much application she puts in. She really listens and is in a good place.
"We're still looking probably at the turn of the year – how far in I don't know – but I feel it'll be similar to Lauren Hemp like last season, when it was like having a new player in the January window.
"Hopefully, that's the case: give her some game time under her belt.
"We're not expecting too much too soon given the severity but I'm sure she'll be a shot in the arm when we get her back."
Friday marked further cause for celebration with City's fifth signing of the summer: Australian international Alanna Kennedy.
All five new faces – Kennedy, Hayley Raso, Khadija 'Bunny' Shaw, Ruby Mace and Vicky Losada – are pushing to make their debuts for the Club and Taylor has been impressed with what he has seen from the quintet so far.
Asked whether Kennedy could make her debut within her first week, he replied: "We'll see. She's with us.
"With the couple of injuries we do have, the squad's fairly small but we're in good shape. Everyone's really looking forward to the game.
"We had a good week with the Olympic girls and the new signings are bedding in really well – Bunny, Mace, Losada.
"Hayley and Alanna came in late but have hit the ground running in their desire to do well and fit in really well with the team ethos.
"There's a really good spirit at the moment. It's been a different kind of pre-season but we feel ready and are looking forward to the start."
Tuesday's game will be broadcast live on CITY+.
Available across all digital platforms - mancity.com, Man City app and Smart TV, CITY+ provides Cityzens with unrivalled access to new and exclusive City content.