Alanna Kennedy has become the second Australian international to join the City ranks this summer.
Following in the footsteps of compatriot Hayley Raso, as well as Ruby Mace, Khadija Shaw and Vicky Losada, the 26-year-old is the fifth new recruit of 2021/22.
Here are 10 things you may or may not know about our new Blue…
BUY THE 2021/22 WOMEN'S HOME KIT
1: CFG family
Alanna spent a season on loan at City Football Group club Melbourne City FC, where she clinched the 2017/18 W-League Championship.
That season, she was also named in the Westfield W-League Team of the Decade.
"My time at Melbourne City was really good," she recalled. "For me, the thing I liked best about Melbourne was the same thing I like about City – the brand of football that they play.
"They pride themselves on being a good, possession-based team and that's something that is suited to me as a player.
"I really enjoyed my time there. We won the league so I have good memories there."
2: Good friends
It will not come as a surprise to know that Kennedy is very familiar with compatriot Hayley Raso but the pair are actually very close friends off the pitch – and they both have tattoos of their own national team numbers!
"Rass and I are good friends," Kennedy declared. "When I told her the news, she was excited and I already knew she was heading here.
"It was exciting for us to be able to have a friendly and familiar face around.
"I'm looking forward to playing with her again."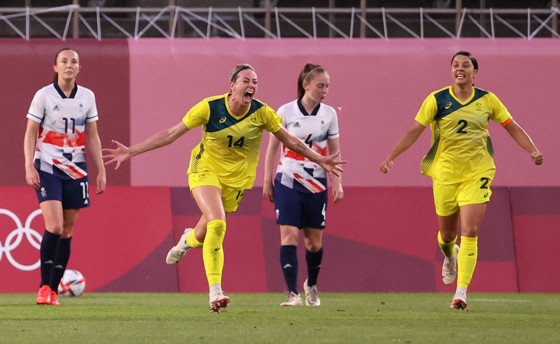 3: Olympic Aussies
The defender scored against Team GB at the 2020 Tokyo Olympics, breaking the deadlock in a topsy-turvy seven-goal thriller in the quarter-finals!
Ellen White bagged a hat-trick in that game but it was the Matildas who triumphed 4-3 after extra-time to reach the semis.
Kennedy rose highest to open the scoring, heading a corner past Ellie Roebuck, but she insists she won't be engaging in any banter with her new teammates – at least upon first meeting!
"I might keep quiet on that to start with!" she laughed. "I don't want to tread on anyone's toes!
"I was just a small part of that exciting game but we'll see how it goes!
"Playing in the tournament was, an amazing experience and we achieved history for our country.
"Unfortunately, we knocked out Team GB on the way, which was obviously a really great moment for us, but we were slightly disappointed with the end, missing out on a medal, having had two chances and just falling short.
"'Bittersweet' is a good way to describe it."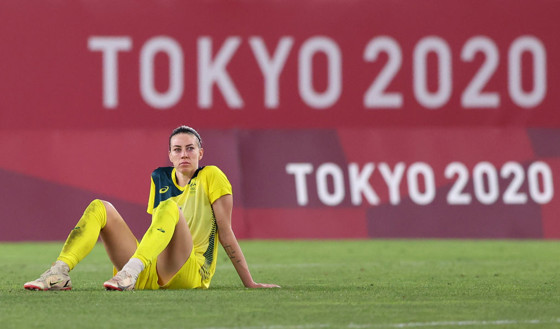 4: Australian Outback
Kennedy describes her playing style as a ball-playing defender, who likes to build from the back, with her key strengths: her technical ability and composure.
She can also play in midfield and so brings useful versatility, and believes Gareth Taylor's playing style suits her game perfectly.
"I'm attracted to the football that's played here and I'm hoping I can continue to grow and learn as a player," she stated.
"I'm someone who always loves to be on the ball. I loved playing in midfield and I've had to grow into the role of being a defender – I was pushed to the back over time – but I really enjoy it.
"I want to bring the qualities I have into the team, my own identity and some of my experience as well.
"I'm always looking to improve as a player and learn from the people and players around me. I'd like to continue to become a better one-v-one defender and improve my game off-the-ball.
"Hopefully, it will all intertwine and we can make it work."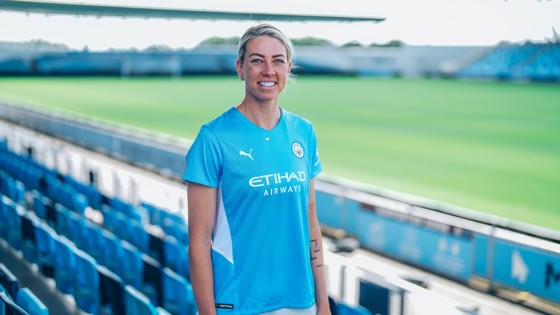 5: Free-kick specialist
Fellow defenders Steph Houghton and Alex Greenwood may face some competition in the set-piece department, as Kennedy is well-known for her fine free-kicks, adding another attacking option to Taylor's squad!
"I like to take free-kicks – that's another one of my strengths," she said, "but I know there are already some amazing free-kick takers at the Club.
"I'm just excited to share the field with them."
6: Tottenham hotshot
Kennedy played against City for Tottenham Hotspur last season, alongside former Blue Abbie McManus.
City triumphed in both FA Women's Super League encounters – 4-1 and 3-0 – and the centre-back admitted Taylor's side were tough to defend against!
"[When I played against City, I remember thinking]: they have amazing technical players," she remembered.
"They had a lot of brilliant individuals that come together and obviously, they possessed the ball really well.
"There are amazing players here at the Club and the team are always so hard to break down. Being a defender, it was obviously hard to defend against!"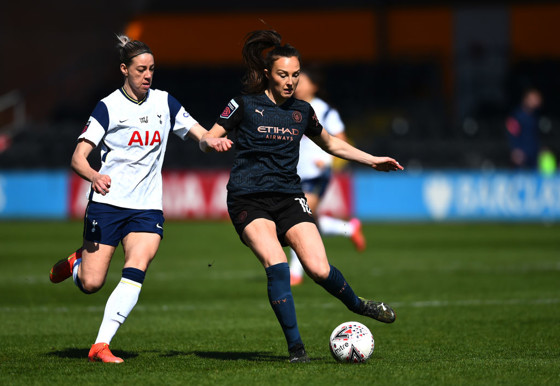 7 Coffee Club
Off the pitch, Alanna describes herself as an 'easy-going' person, who enjoys drawing and spending time with her family.
An avid coffee lover, she already has a common interest with her new teammates and is sure to fit in well!
"I would say I'm pretty easy going," she reflected. "I don't take myself too seriously.
"I like to spend time with my family – that's really important to me – and I enjoy going to cafes in my time off. I'm a bit of a foodie in that sense and a coffee lover.
"I just like to chill really – nothing too strenuous! I do a bit of my drawing and all that kind of stuff in my spare time too.
"I don't know much about Manchester so I am excited to explore the city. From what I've heard, the people are really friendly and super nice. I'm sure there'll be a few people who can show me around!
"I'm excited to be here. I know a lot of the girls through the football world, although I haven't yet played with any of them.
"That'll be a new experience and I'm excited for the journey of getting to know them as people and players."
8: One jump ahead
In her youth, Kennedy also enjoyed high-jumping and had to choose between the sport and football to determine her future career path.
(Thankfully, she chose the latter!)
"There was a bit of a fork in the road where I had to pick between football or high jump," she explained.
"When I was younger, my family were very active and my sister and I did little athletics.
"We just loved being active and doing the gala days every weekend. Being tall, high jump was something that I did well at!
"I think above everything, one of the things that stands out about being a footballer is spending time with your friends and being on a team so ultimately, it was a no-brainer for me to pursue my football with my friends."
9: Solid gold
Alanna says the best piece of advice she's ever received is to take a positive from every situation and use every experience to help you to grow.
"I remember someone saying that to me: 'Take little pieces of gold from everywhere you go,'" she illuminated.
"It's something that's always stuck with me and I try my best to do that, and really hone in on a couple of things I can focus on to better myself."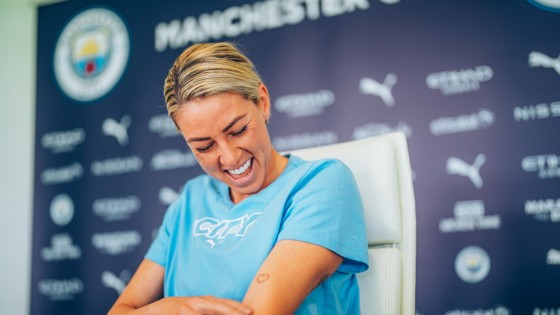 10: AK ink
Alanna has around 20 tattoos with a variety of styles and meanings – from her aforementioned Matildas national team number to a Lara Croft tribute; the 'scales of justice' to her dad's favourite number…
And there may be more to come!
"There's a few!" she smiled. "My first ever tattoo was a cross, which I just thought looked good.
"I also have my dad's favourite number and his birth year, and a Lara Croft-inspired one, which symbolises the strong women in my life and reminds me of my mum, who used to play Tomb Raider all the time!
"I have a love heart too, which is a reminder of what's important in the world, and the Scales of Justice with a play on words – "just us" – meaning all we have is each other and it's important to stand up for each other and what we believe in. That's something I feel is a strong trait of mine.
"I have a few different ones! I have a few little ones on my back and on my ankle as well.
"I'm always looking to get some more. I enjoy the artistic look of it."