Gareth Taylor asserts his team are doing all they can to improve our fortunes in the 2021/22 season.
City fell to defeat in the second Manchester Derby of the campaign, falling to a late Ona Batlle goal, after Ivana Ferreira Fuso had controversially cancelled out Vicky Losada's stunning opener – the ball seemingly kicked out of Karima Benameur Taieb's hands in the build-up.
Although we could still yet progress to the knock-out stages, with seven defeats so far in all competitions, Taylor's side are in the midst of a tough period of results.
CITY+ | SUBSCRIBE TO ACCESS EXCLUSIVE CONTENT
Though he admitted the performance at Leigh Sports Village was below par, Taylor insisted the players are giving their all, encouraging the City faithful to stick by the squad.
"We're disappointed," he reflected. "We got a goal and then after 10-15 minutes, we let them back into the game, allowing them to press and hassle us.
"They pressed us hard and we took too long on the ball, had too many touches and we made a change at half-time, trying to get more quality.
"At half-time, I didn't feel we were finding our rhythm but we still had 62% of possession. It's what we do with that – we need to impose ourselves a bit more.
"We made a few changes (to the starting XI), which was the first time in a while we were able to.
"There were positive signs in the second period but we didn't get some of the decisions and we were off the pace.
"Stick with the players. They're trying their hardest. We're fighting as hard as we can.
"Confidence is low at the moment, which is understandable. We're trying to get momentum but it's one step forward and two steps back."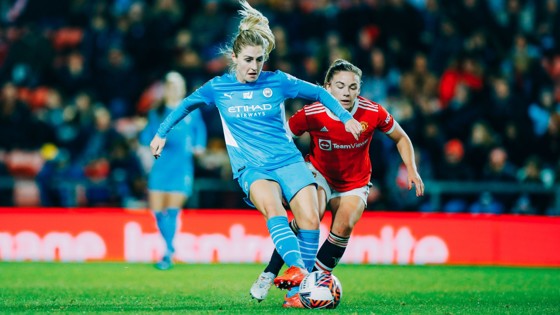 The Head Coach also provided an update on Australian international Alanna Kennedy, who missed the game with a thigh strain.
"We're not having a lot of luck with injuries," he added. "We lost Alanna between the Chelsea game and this game.
"It was a thigh strain in running after the game. That was frustrating – another injury. She would have played tonight.
"It's a couple of weeks maybe. There's a debate whether she'll go on international duty.
CHRISTMAS AT THE CITYSTORE - SHOP NOW!
"We're in a tough moment but we're working hard and keeping things positive, with the understanding we've had a number of issues this season.
"We're trying to hang on the good moments, making them more prolonged, and we're looking to when we'll have players back who have been out for a long time.
"We'll be in a much better place then but at the moment, we have to keep fighting."