Chloe Kelly says she was delighted to see her efforts on the training pitch pay off, having bagged a brace in Sunday's 4-1 win over Tottenham Hotspur.
The 22-year-old netted a worldie to break the deadlock against the North Londoners – her first City goal from open play.
The forward cut inside from the left before arrowing an effort past Becky Spencer – a strike she says she had been practicing in training yesterday!
"It's paying off – doing the extra work," she explained.
"Yesterday, I was out on the training pitch doing some extra work on cutting in and finishing.
"I knew I could cut in and the full-back was giving me space to do so.
"In my first two chances, I put one wide and another at the 'keeper but I believe in myself and I knew one would come off.
"I just kept trying. I'm a player who plays with confidence and I knew I could do it.
"I feel like I've got more to give – I'm still learning. There's more to do but I feel good and comfortable in this team.
"I'm learning a lot every day and I feel so settled."
Kelly also hailed the efforts of her teammates, adding she feels the team are really starting to 'click' and highlighting the importance of squad depth.
"We're really gelling now," she continued. "We knew it would take time – we're a new team with a new manager and new signings.
"It's really starting to click on the pitch. We knew it would happen. We're confident in our ability as a team.
"The mood has been great all along. The girls are doing great and the girls who were already here have really welcomed us.
"It's about everyone out there, giving all they can. We have three games in a week so the next person coming on has to do their job.
"We have a good enough squad to do that – that's what makes us a great team.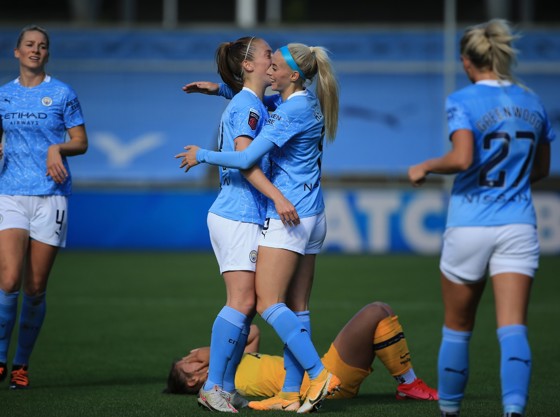 "We have natural winners and leaders and the new signings have given an extra spark to the squad.
"Sam Mewis is great on the ball. When she's running with it, no-one is getting it off her!
"It's been great playing with them and learning from them. They're experienced players – World Cup winners – and we also have young players around us, and players like Steph Houghton and Jill Scott, who we can learn from too.
"They look so settled and they don't look like 'new signings' anymore – we feel like we've been here forever! That's down to the players and coaching staff.
"We can't take our foot off the gas. We have a game on Wednesday and then another on Sunday and we have a lot to build on still."
MCWFC V TOTTENHAM: FREE DIGITAL MATCHDAY PROGRAMME