Happy birthday to City defender, Abby Dahlkemper!
The USA international turns 28 today, and admits that she's been pleasantly surprised by the technical quality of the English game.
She immediately hit the ground running after signing from North Carolina Courage in January, putting in consistently assured performances and helping to fill the void left by captain Steph Houghton's injury in recent months.
As a World Cup winner, Dahlkemper's reputation as one of the finest centre-halves in women's football was never in question, but she feels that she has hit new heights since signing for City.
"I think just how technical and tactical things are here, the girls are so good with the ball at their feet," she reflected.
"Sometimes if you get stuck in a rondo, you could be there for a while!
"Just having to like really focus on that, having clean touches and the details on that surprised me in a really good way.
"It's definitely improved me as a player… just having to be more aware and more sharp and the details on the passing and what we want to do with the ball in different stages of the field.
"It's been great. I've learned a lot."
The prospect of adapting to the demands of a new league and a different country's lifestyle would be a daunting prospect for any prospective footballer, but Dahlkemper has passed the test with flying colours.
The defender was recently married before moving to City, meaning she has simultaneously dealt with the difficulties that a long distance relationship presents whilst also focusing on her football.
But the American insists she's loving life in Manchester, and has paid tribute to the warm welcome she received from everyone at the Club.
CITY+ | WATCH FULL-MATCH REPLAYS OF EVERY CITY GAME
She said: "I think you have to make sacrifices, I mean, it's been tough, but good and rewarding.
"I'm growing and learning a lot and I just want to make myself the best player I can be.
"The staff and the girls have made it such an easy transition and I've already learned so much being here so I'm happy.
"I'm in Ancoats, so I love that area. I've gone more into the city centre and stuff so I'm making my way around safely with the pandemic still going on."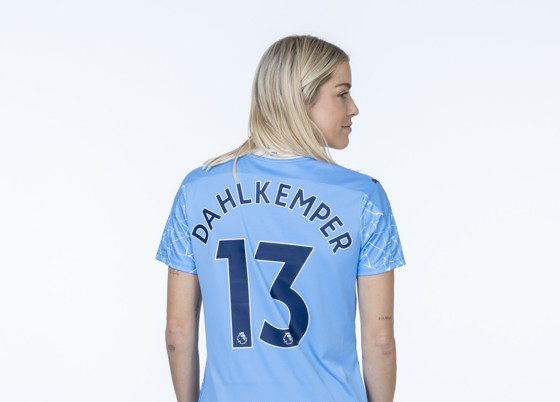 Nonetheless, one obstacle remains: getting to grips with some of the UK's unique regional accents.
When asked whether she still struggled to understand any of her teammates, her response was immediate.
"Alex (Greenwood), I'm like, 'what are you saying?'," she joked about her fellow defender, who hails from Liverpool.
"I can tell some accents are different than others, but everyone is kind of hard to understand sometimes."
While Dahlkemper is pleased with the team's progress in the short time she has been here, she hopes we can use this season's achievements to propel us to greater success moving forward.
Gareth Taylor's side took the Women's Super League title race to the final day but, despite a 1-0 victory over West Ham, had to settle for a runners up spot behind Chelsea.
While it was disappointing not to finish top, City ended the season with a record points haul for a second placed side and also retained the Women's FA Cup with victory over Everton.
Furthermore, despite an aggregate defeat to Barcelona in the Champions League quarter-finals, our hard-fought 2-1 home triumph in the second leg demonstrated that City can mix it with the best Europe has to offer.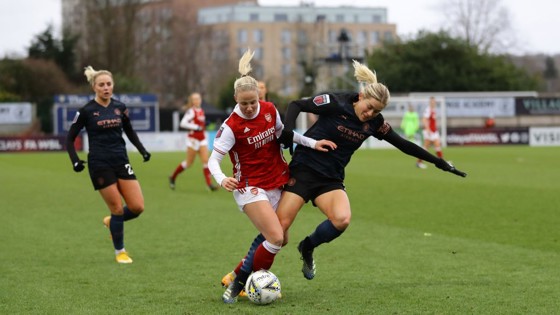 And Dahlkemper believes we can use those positive experiences to launch another assault towards Women's Super League and Champions League glory next season.
"We fell short of the league and Champions League this past year, but I think we're definitely eyeing that next year," she revealed when talking about the team's aspirations next season.
"We just have to try and to stay in the moment as much as possible, but also have high goals for ourselves and the team as a whole.
"I think that we are definitely capable of doing that."
Manchester City are in Women's FA Cup action against West Ham United on Sunday 16 May, with kick-off scheduled for 14:00.
The match is available to watch live on CITY+, and you can also find an in-depth Q&A with Abby Dahlkemper in Sunday's free digital match programme.
It is available to view on mancity.com and our official app from Sunday morning.