With the dust having settled on the 2021/22 season, attentions turn to the eagerly-awaited new campaign.
City have already been busy in the summer transfer window, bringing in three fresh new faces: Deyna Castellanos, Laia Aleixandri and Leila Ouahabi, as well as a new contract for Jess Park, as Gareth Taylor bids to bolster his side for the upcoming term.
There's plenty to be excited about with the squad set to challenge for another four trophies and with the dates for the new season now revealed, you won't want to miss a kick of the action.
Get your diaries at the ready! Seasoncard information will also be released soon…
2022/23 WSL fixtures
Though the official date and time of the 2022/23 fixture release is still to be confirmed, the calendar for the new campaign is set to be announced in mid-July.
The opening round of the new league season will take place on the weekend of 9-11 September 2022.
The 2022/23 term will conclude on the weekend of 27-28 May 2023.
FA Cup Final
City have reached the Women's FA Cup Final four times in the past five years, lifting the trophy on three occasions.
The showpiece finale of this year's tournament is set for Sunday 14 May 2023.
Continental Cup
City will have to wait to discover when our defence of our fourth Conti Cup will begin with information still to be confirmed.
Women's Champions League
Gareth Taylor's side will enter the competition in the first qualifying round. The draw will take place on Friday 24 June.
The 2022/23 tournament will be the second season of the new format, including a home-and-away group stage.
Round one will be one-venue mini tournaments with the semi-finals set for 18 August 2022 and Final (and third-place play-off) scheduled for 21 August 2022.
The Final will be contested at the PSV Stadion in Eindhoven in either 3/4 June 2023.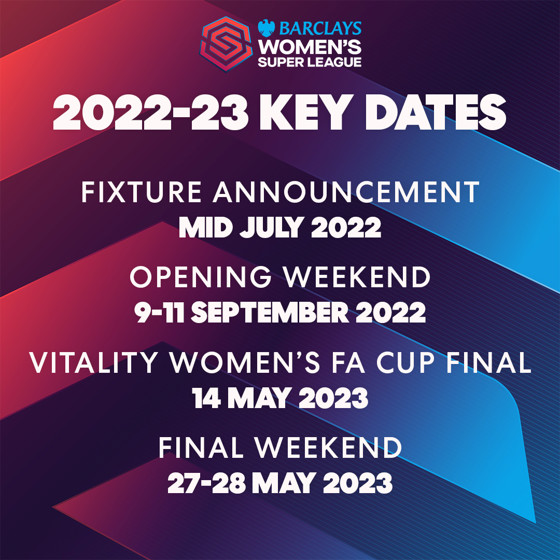 Stay tuned to mancity.com and our official app for more information on fixtures and tickets in the coming weeks.