Everything you need to know ahead of City's crucial Premier League clash against the Hammers.
TEAM NEWS
Fernandinho and Aymeric Laporte have recovered from the knocks they picked up against Wolves in midweek to start in central defence. 
Pep Guardiola has made three changes to the team that won at Molineux, with Jack Grealish, Gabriel Jesus and Riyad Mahrez replacing Phil Foden, Ilkay Gundogan and Raheem Sterling. 
The Hammers make one change, with Tomas Soucek coming in for the injured Said Benrahma.
CITY: Ederson, Cancelo, Fernandinho (C), Laporte, Zinchenko, Rodrigo, De Bruyne, Bernardo, Mahrez, Jesus, Grealish.
SUBS: Steffen, Ake, Sterling, Gundogan, Foden, Egan-Riley, Mbete, Palmer, Lavia.
WEST HAM: Fabianski, Coufal, Dawson, Zouma, Cresswell, Rice (C), Soucek, Bowen, Lanzini, Fornals, Antonio.
SUBS: Areola (GK), Johnson, Fredericks, Kral, Noble, Masuaku, Okoflex, Vlasic, Yarmolenko.
WHEN AND WHERE
The match gets underway on Sunday 15 May with kick-off at the London Stadium scheduled for 14:00 (UK).
Viewers in the UK can watch the action live on Sky Sports Main Event and Sky Sports Premier League, with our global TV listings at the foot of this page showing where the game is being broadcast around the world.
MAN CITY APP COVERAGE
The best place to follow every City game is on the official Man City app. You will not miss a beat. 
Alistair Mann will provide commentary throughout the 90 minutes with Michael Brown providing co-commentary.
Minute-by-minute text updates are available in our Matchday Centre, starting at 12:00 (UK).
For those with push notifications turned on, you'll get alerted as soon as the teams are announced and any goals go in.  
And our Matchday Live show with special guests Trevor Sinclair and David James will begin just before 13:00 (UK).
SUBSCRIBE TO THE OFFICIAL MAN CITY PODCAST
The Matchday Live team will then reconvene for a quick half-time debrief before a more in-depth post-match verdict, including their reaction to the full-time thoughts of Pep Guardiola and, time permitting, one of our players.
The guests will also answer viewer questions throughout the broadcast, with audience participation actively encouraged on Matchday Live. To get in touch, send a WhatsApp to: +447537186538.
Highlights from the match can be found later in the evening, while a full-match replay will also be available from midnight following the game with a CITY+ subscription.
TEAM NEWS
Ruben Dias, John Stones and Kyle Walker are out for City.
At his press conference on Friday afternoon, Pep Guardiola revealed Fernandinho and Aymeric Laporte both picked up knocks against Wolves and will be assessed on matchday ahead of Sunday's game.
Michail Antonio (hip,) Craig Dawson (calf) and Said Benrahma (ankle) all face late fitness tests for the Hammers, while Angelo Ogbonna is ruled out.
PEP GUARDIOLA PREVIEW
"West Ham have been extraordinary the last two seasons, not just this one, the previous one. They made an incredible season in all competitions, especially in the Europa League.
"Unfortunately they were not lucky in the game against Frankfurt and after a few minutes Cresswell was sent off and it is so difficult to manage these type of games with 10 against 11.
"They had an incredible season and are so strong in many departments. At set pieces and in the middle with Declan Rice and Tomas Soucek.
"They attack the chance perfectly, quality with Manuel Lanzini, Said Benrahma and Pablo Fornals. They are a top side, a difficult one, but at the same time we know how important it is."
PREVIOUS MEETING
City had to battle a dogged West Ham and blizzard conditions to edge a narrow 2-1 victory at the Etihad.

In freezing temperatures, Ilkay Gundogan gave City a first-half lead after good work by Riyad Mahrez.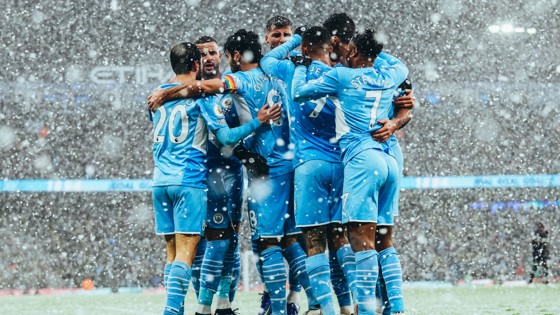 And though chances came and went for the champions, sub Fernandinho's 90th-minute goal proved vital, with Manuel Lanzini pulling one back in added time.
LAST TIME OUT
A superb Kevin De Bruyne quadruple in midweek inspired City to a 5-1 Premier League victory over Wolves, putting City three points clear at the top of the table.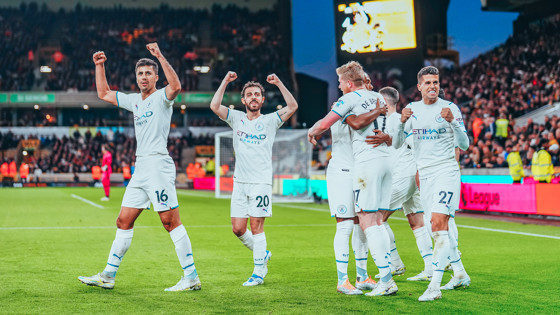 FORM GUIDE
City boast a superb away league record so far this season, losing just once in our opening game of the season away to Tottenham Hotspur.

Pep Guardiola's men have also won the last five league games, scoring 22 goals and conceding just twice in the process.

As for the Hammers, their form has dipped of late, with David Moyes' side winning just once in their last five Premier League games, though they won last time out, beating Norwich 4-0 at Carrow Road.
TV LISTINGS
| | |
| --- | --- |
| Algeria | beIN SPORTS CONNECT |
| Andorra | RMC Sport 1 |
| Angola | SuperSport MaXimo 1, DStv Now, SuperSport Premier League ROA |
| Argentina | ESPN Argentina, Star+ |
| Aruba | RUSH |
| Australia | Optus Sport |
| Austria | Sky Sport 1/HD, Sky Go |
| Bahamas | RUSH |
| Bahrain | beIN SPORTS CONNECT |
| Barbados | RUSH |
| Benin | SuperSport Premier League ROA, SuperSport MaXimo 1 |
| Bermuda | RUSH |
| Bolivia | Star+ |
| Botswana | DStv Now, SuperSport Premier League ROA, SuperSport MaXimo 1 |
| Brazil | ESPN, NOW NET e Claro, Star+, GUIGO |
| British Virgin Islands | RUSH |
| Brunei | Astro Go |
| Burkina Faso | SuperSport Premier League ROA, DStv Now, SuperSport MaXimo 1 |
| Burundi | SuperSport Premier League ROA, DStv Now, SuperSport MaXimo 1 |
| Cameroon | SuperSport Premier League ROA, SuperSport MaXimo 1, DStv Now |
| Canada | DAZN |
| Cape Verde | SuperSport MaXimo 1, DStv Now, SuperSport Premier League ROA |
| Cayman Islands | RUSH |
| Central African Republic | SuperSport MaXimo 1, SuperSport Premier League ROA |
| Chad | DStv Now, SuperSport Premier League ROA, SuperSport MaXimo 1, beIN SPORTS CONNECT |
| Chile | Star+, ESPN Chile |
| China | Migu, QQ Sports Live, PPTV Sport China, iQiyi |
| Colombia | Star+ |
| Comoros | SuperSport Premier League ROA, SuperSport MaXimo 1 |
| Congo | SuperSport Premier League ROA, DStv Now, SuperSport MaXimo 1 |
| Congo DR | SuperSport MaXimo 1, SuperSport Premier League ROA |
| Costa Rica | Sky HD |
| Cote D'Ivoire | SuperSport MaXimo 1, DStv Now, SuperSport Premier League ROA |
| Curacao | RUSH |
| Czech Republic | Premier Sport |
| Denmark | Viaplay Denmark |
| Djibouti | SuperSport MaXimo 1, DStv Now, beIN SPORTS CONNECT, SuperSport Premier League ROA |
| Dominica | RUSH |
| Dominican Republic | Sky HD, RUSH |
| Ecuador | Star+ |
| Egypt | beIN SPORTS CONNECT |
| El Salvador | Sky HD |
| Equatorial Guinea | DStv Now, SuperSport Premier League ROA, SuperSport MaXimo 1 |
| Eritrea | SuperSport MaXimo 1, SuperSport Premier League ROA, DStv Now |
| Estonia | TV3 Sport Open |
| Ethiopia | DStv Now, SuperSport MaXimo 1, SuperSport Premier League ROA |
| Finland | V Sport Premium, V Sport 2 Finland, Elisa Viihde Viaplay |
| France | Free, Canal+ Décalé, RMC Sport 1, RMC Sport en direct |
| French Guiana | RUSH |
| Gabon | SuperSport Premier League ROA, SuperSport MaXimo 1, DStv Now |
| Gambia | SuperSport MaXimo 1, DStv Now, SuperSport Premier League ROA |
| Germany | Sky Go, Sky Sport 1/HD, Sky Ticket |
| Ghana | SuperSport Premier League ROA, DStv Now, SuperSport MaXimo 1 |
| Grenada | RUSH |
| Guadeloupe | RUSH |
| Guatemala | Sky HD |
| Guinea | SuperSport MaXimo 1, SuperSport Premier League ROA, DStv Now |
| Guinea-Bissau | SuperSport MaXimo 1, DStv Now, SuperSport Premier League ROA |
| Guyana | RUSH |
| Haiti | RUSH |
| Honduras | Sky HD |
| Hong Kong | 621 Now Premier League 1, Now Player, 620 Now Premier League TV |
| Iceland | SíminnSport |
| India | JioTV, Hotstar VIP |
| Indonesia | mola.tv, Mola TV App, Mola |
| Iran | beIN SPORTS CONNECT |
| Iraq | beIN SPORTS CONNECT |
| Ireland | Sky Ultra HD, Sky Sports Premier League, Sky Sports Main Event, SKY GO Extra |
| Israel | Sport 1 |
| Italy | Sky Sport 4K, NOW TV, SKY Go Italia, Sky Sport Football |
| Jamaica | RUSH |
| Japan | DAZN |
| Jordan | beIN SPORTS CONNECT |
| Kazakhstan | Setanta Sports Kazakhstan |
| Kenya | SuperSport Premier League ROA, DStv Now, SuperSport MaXimo 1 |
| Korea Republic | SPOTV ON |
| Kuwait | beIN SPORTS CONNECT |
| Latvia | TV3 Sport Open |
| Lebanon | beIN SPORTS CONNECT |
| Lesotho | SuperSport Premier League ROA, SuperSport MaXimo 1, DStv Now |
| Liberia | SuperSport Premier League ROA, DStv Now, SuperSport MaXimo 1 |
| Libya | beIN SPORTS CONNECT |
| Lithuania | TV3 Sport Open |
| Luxembourg | RMC Sport 1 |
| Macau | iQiyi |
| Madagascar | SuperSport MaXimo 1, SuperSport Premier League ROA, DStv Now |
| Malawi | SuperSport Premier League ROA, SuperSport MaXimo 1, DStv Now |
| Malaysia | Astro SuperSport 3, Astro Go |
| Mali | SuperSport MaXimo 1, SuperSport Premier League ROA, DStv Now |
| Martinique | RUSH |
| Mauritania | SuperSport Premier League ROA, beIN SPORTS CONNECT, DStv Now,SuperSport MaXimo 1 |
| Mauritius | RMC Sport 1, SuperSport MaXimo 1, SuperSport Premier League ROA, DStv Now |
| Mayotte | SuperSport Premier League ROA, SuperSport MaXimo 1 |
| Mexico | Blue To Go Video Everywhere, Sky HD |
| Monaco | RMC Sport 1 |
| Montserrat | RUSH |
| Morocco | beIN SPORTS CONNECT |
| Mozambique | SuperSport MaXimo 1, SuperSport Premier League ROA, DStv Now |
| Namibia | SuperSport Premier League ROA, SuperSport MaXimo 1, DStv Now |
| Netherlands | Ziggo Sport 14, Ziggo Sport Voetbal, Ziggo Sport Select |
| New Zealand | Spark Sport |
| Nicaragua | Sky HD |
| Niger | SuperSport MaXimo 1, SuperSport Premier League ROA, DStv Now |
| Nigeria | DStv Now, SuperSport MaXimo 1, SuperSport Premier League Nigeria |
| Norway | TV 2 Play, TV2 Sport Premium |
| Oman | beIN SPORTS CONNECT |
| Palestinian Territory | beIN SPORTS CONNECT |
| Panama | Sky HD |
| Paraguay | Star+ |
| Peru | Star+ |
| Portugal | Sport TV Multiscreen, Sport TV2 |
| Puerto Rico | RUSH |
| Qatar | beIN SPORTS CONNECT |
| Reunion | SuperSport Premier League ROA, SuperSport MaXimo 1 |
| Rwanda | SuperSport MaXimo 1, SuperSport Premier League ROA |
| Saint Helena | SuperSport MaXimo 1, SuperSport Premier League ROA |
| Saint Lucia | RUSH |
| Sao Tome And Principe | SuperSport Premier League ROA, SuperSport MaXimo 1 |
| Saudi Arabia | beIN SPORTS CONNECT |
| Senegal | SuperSport Premier League ROA, DStv Now, SuperSport MaXimo 1 |
| Seychelles | DStv Now, SuperSport Premier League ROA, SuperSport MaXimo 1 |
| Sierra Leone | SuperSport Premier League ROA, DStv Now, SuperSport MaXimo 1 |
| Slovakia | Premier Sport |
| Somalia | SuperSport MaXimo 1, beIN SPORTS CONNECT, SuperSport Premier League ROA |
| South Africa | SuperSport MaXimo 1, SuperSport Premier League, DStv App |
| South Sudan | beIN SPORTS CONNECT, DStv Now |
| Spain | DAZN |
| Sudan | SuperSport Premier League ROA, beIN SPORTS CONNECT, DStv Now,SuperSport MaXimo 1 |
| Suriname | RUSH |
| Swaziland | DStv Now, SuperSport MaXimo 1, SuperSport Premier League ROA |
| Sweden | V Sport Premium, Viaplay Sweden |
| Switzerland | Sky Sport 1/HD, Canal+ Décalé, RMC Sport 1 |
| Syria | beIN SPORTS CONNECT |
| Tanzania | DStv Now, SuperSport Premier League ROA, SuperSport MaXimo 1 |
| Thailand | AIS PLAY, True Premier Football HD 2, True Premier Football HD 1, PPTV HD 36 |
| Timor-Leste | Mola, mola.tv |
| Togo | SuperSport MaXimo 1, SuperSport Premier League ROA, DStv Now |
| Trinidad and Tobago | RUSH |
| Tunisia | beIN SPORTS CONNECT |
| Turkey | S Sport+ |
| Turks and Caicos Islands | RUSH |
| U.S. Virgin Islands | RUSH |
| Uganda | SuperSport Premier League ROA, DStv Now, SuperSport MaXimo 1 |
| Ukraine | Setanta Sports+ |
| United Arab Emirates | beIN SPORTS CONNECT |
| United Kingdom | Sky Sports Premier League, Sky Ultra HD, Sky Sports Main Event, SKY GO Extra, BBC Radio Manchester |
| United States | Telemundo Deportes En Vivo, Telemundo, SiriusXM FC, USA Network |
| Uruguay | Star+ |
| Venezuela | Star+ |
| Vietnam | K+ SPORT 1 |
| Yemen | beIN SPORTS CONNECT |
| Zambia | SuperSport Premier League ROA, SuperSport MaXimo 1 |
| Zimbabwe | SuperSport Premier League ROA, SuperSport MaXimo 1, DStv Now |
News about West Ham v Man City