Vincent Kompany says his old City team-mate Mario Balotelli had three different personalities when it came to football - and he loved them all in one way or another!
One of City's greatest captains, Kompany was speaking about the squad from the 2011/12 campaign in one of our extended 93:20 interviews on CITY+ when he was asked what Mario was like as a player and a friend – on and off the pitch.
He immediately smiled at the mention of the enigmatic Italian who became a cult hero to City fans during his three years with the Club.
"With Mario, you have to separate three different personalities in one," said Kompany.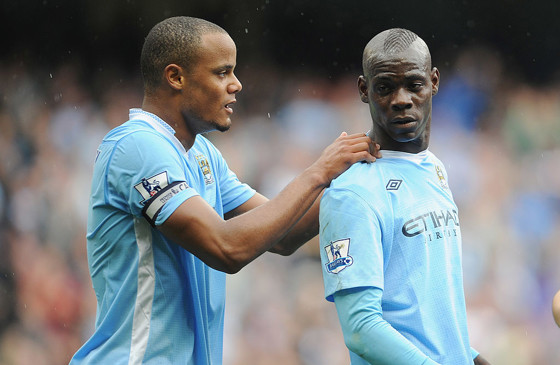 "He has the one which is the footballer with all his gifts and ability, and I believe he had many different sorts of profiles as a striker - he was quick, he could run in behind and he could finish in any number of ways.
"He was also very good at holding the ball up and because he was lean and not carrying too much weight, he was agile and mobile.
CITY+ | SIGN UP TO ACCESS EXCLUSIVE CONTENT
"That side him was an incredible talent.
"Then there's the Mario that as a professional and in his personal life, had the ability to cause a moment of attention and was unpredictable - it's part of who he is and it was part of the reason he has had a life of ups and downs.
"That's him and he is who he is.
"Finally, there is the real Mario - the third personality if you like - the Mario who is very kind, has lots to give and is always willing to help.
"That particular Mario is honest and says what he thinks, and he is someone I really have a lot of time for as a person.
"It's just the guy in the middle that sometimes made it more difficult to work with!"
And the day after Carlos Tevez announced his retirement, Kompany also recalled the impact the Argentine had on City's 2011/12 title run-in after serving a lengthy club suspension having fallen out with manager Roberto Mancini.
"Luckily, Carlos went away and came back in time to save the day!" smiled Kompany.
"Carlos was a special player one of the best players in the world at that time and whenever he was in our team, he just made us just better.
"We were lucky that we had so many good strikers at the time in Edin Dzeko, Mario and Sergio so we were able to patch things over while he was away
"But he came back into the team and that gave us added competition at just the right time and it was as though he'd never been away, really."