Pep Guardiola says his players gave everything against Spurs - without reward.
The boss admitted Tottenham defended well throughout, but that the stadium jinx that has now seen City fail to score on all five visits, has struck again.
"We did really well for the first 15 minutes until the goal we conceded, and we played a good first half," said Pep.
"The second half was not as good, but there was a lot of interruptions and as we did in the first, we could not control.
"We had our chances, but against a team that defends really well, it's not going to be easy.
"The guys gave everything, and we had our opportunity score, but we couldn't do it.
"We created in the beginning, and they defended with nine players really well.
"Their team is fantastic, the squad they have is fantastic."
Commenting on another goalless visit to the Tottenham Hotspur Stadium, Pep added: "Always I have the feeling that we play well against them, but for one reason or another we are unable to score and not able to win.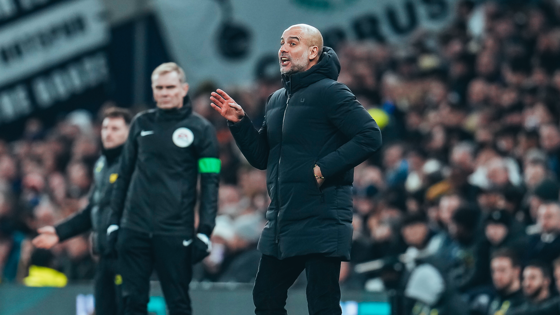 "They defended deep and after there were the duels and second balls, but with Højbjerg in the middle, they are good with second balls.
"They have wingers like Son and Kulusevski so normally you can concede from transitions.
"We want to defend inside and attack inside, that's why we put two strikers there to try to put balls to them with Bernardo in the first half and second with Kevin and be patient.
"I have the feeling that it's my job to find solutions, but we play well, quite decent against them. At the end it was open, and they were good in transitions.
"I have a lot of gratitude for these players. I knew it, we are not same after winning a lot but the way we try to go with the fight and fight to the end.
"We try until the end. We look at the next step, everything is nice and doesn't matter what happened in the past.
"Now we are sad and tomorrow we reflect and look at what happened in the game. Next, we have to think about Aston Villa - it will be tough.
"It's a long, long season for us and all the teams but we try to continue."