Pep Guardiola hailed City's 2-0 Premier League win over Newcastle as his side's 'best performance of the season.'
City moved up to fifth in the Premier League table with a comfortable triumph, as goals from Ilkay Gundogan and Ferran Torres extended our impressive unbeaten run to ten games in all competitions, and extended our excellent home record against the Magpies.
Reflecting on the victory, Guardiola could not speak highly enough of his side's display, hailing the hosts' rhythm and focus.
"We did really well," he said. "It was a tough game with the weather conditions.
SUBSCRIBE TO THE OFFICIAL MAN CITY PODCAST
"We struggled to score goals but we played like we needed to play. It was important the way we played.
"It was the best performance of the season in terms of (the fact that): our football has to be played in one rhythm – it can't be up and down all the time.
"We have to make a tempo. To do this, everyone has to be in the right position and do his job.
"It's not easy with ten players behind the ball but the guys did really well and I'm glad for the way we played.
"Results are a consequence of the way we play. We are getting better – the players realise why it is important to do what we do.
"Our success in the past has been (a product of): everyone in his position, doing what he has to do.
"The players were incredible – everyone was so focused and we made a good performance.
"It was unfortunate we didn't score more but it was good. We have to improve on our clinical situation – we missed two chances two metres from the goal. When we improve here, we will score many goals.
"We climbed some positions (in the table) but now, we don't stop. In less than 48 hours, we have another game at Goodison Park and we will try to play well."
Guardiola also reserved praise for Man of the Match Joao Cancelo, who produced an influential display in defence – and attack.
The City boss admitted the Portugal star had taken time to adapt to life in sky blue – but is delighted to see the full-back shining now.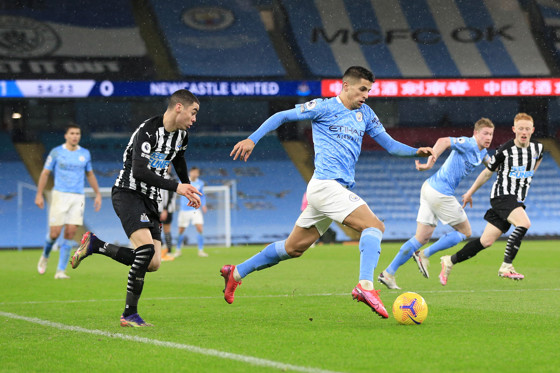 "In the beginning when he arrived, it wasn't easy for us – him or me," he conceded. "Now, we understand a lot of things.
"He's a player with incredible quality, and his regeneration and physicality is incredible. He could play tomorrow!
"But he always has to be focused. He can be distracted, which is dangerous for a defender.
"In the final third, he has a special quality. He has courage. Sometimes I ask him to play in different positions than what he is comfortable with.
"In the second half, especially next to his friend Bernardo, he was very good."