Ilkay Gundogan praised Manchester City's defensive stability and durability after beating Newcastle United 2-0 at the Etihad Stadium on Boxing Day.
The German international opened the scoring after 14 minutes, converting calmly following Raheem Sterling's cut-back.

Ferran Torres added a second five minutes before the hour mark, before Bernardo Silva and Sergio Aguero came close to making it three.

Pep Guardiola's men coasted to another defensive shutout in the league and boast the best defensive record in the top-flight, conceding only 12 times in 14 games and Gundogan was quick to shower praise on the team's rigid nature this season.
OFFICIAL MAN CITY START PAGE AND WALLPAPERS
"We have been solid in our defending," he admitted. "If we can keep it solid at the back and not concede, then we always give ourselves a chance because we know we're going to score goals.

"In the first half especially, I felt like we moved the ball well. We scored the opener, which is always important. The weather conditions were not the best here today, but I think it was a solid performance.

"A good win and three important points and in less than 48 hours, we go again."

The 30-year-old netted his second league goal of the season and feels that despite Gabriel Jesus being missing after testing positive for COVID-19 and Sergio Aguero not 100% fit yet, City have the strength in depth to find goals from others in the team.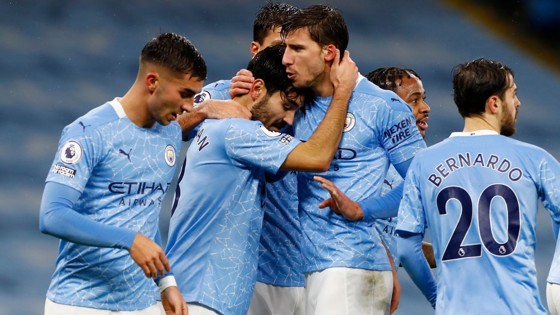 "I think we should always share the responsibility of scoring on the pitch," he said. "Obviously we're missing some great players but we have the quality of players to come in the team to cope, such as Ferran [Torres], who played as the striker today and scored. Obviously this is something that we need, the quality and to be ruthless to get this done."

The midfielder also provided an insight into how the team managed to break down the visitors, who defended with a deep block and seemed happy to soak in the pressure.

"I think Newcastle tried to press a bit more in the second half and it was about finding the perfect balance and deciding when to go forward, and to be patient to wait for one of their players to jump, and when they did, to try and find the free player.

"I think we did it quite well and could have scored more. We had chances to do that but obviously the important thing is we got the three points.

"We want to try and take it step by step. With all the games coming in a tight schedule, it is even more important to get the three points.

"It may not always be beautiful and amazing football, but I think generally in the world of football, it is hard to be like that every game. We need wins where we work hard as these are also worth three points."