Find out everything you need to know ahead of City's Carabao Cup Third Round trip to Newcastle United.
WHEN AND WHERE
Pep Guardiola's side head to St James' Park to face the Magpies on Wednesday 27 September, with kick-off scheduled for 20:00 (UK).
The clash will be shown live in the UK on Sky Sports Main Event, Sky Sports Football and Sky Ultra HD, and you can keep across all of the action via the official Man City app, as well as the key moments on Twitter: @ManCity.
Supporters living around the world can find out how they can tune in via our global TV listings, courtesy of liversoccertv.com.
MAN CITY APP COVERAGE
Our official app allows you to follow all of the action from east London in one place.
Minute-by-minute text updates will begin in our Matchday Centre two hours before kick-off, whilst our Matchday Live show will begin at 19:00 (UK).
We will have special guests on the latest Matchday Live show, also offering their expert insight at half-time and in greater detail after the final whistle.
They will also answer viewer questions throughout the broadcast, with audience participation actively encouraged on Matchday Live. To get in touch, send a WhatsApp to: +447537186538
During the game you can listen to live audio commentary from Alistair Mann while our text commentary continues.
Make sure to have push notifications turned on as well, so you can be alerted to key moments in the action, including goals, red cards and the team news.
Highlights and a full-match replay on CITY+ can be viewed following full-time.
CITY+ | SIGN UP TO ACCESS EXCLUSIVE CONTENT
PEP GUARDIOLA PREVIEW
Pep Guardiola addressed the media on Tuesday afternoon. During the press conference, the boss was asked to provide a squad update prior to our trip to Newcastle.
SUBSCRIBE TO THE OFFICIAL MAN CITY PODCAST
And he had good news about a couple of players who were recently side lined through injury.
"Jack is much better, Mateo as well," said Guardiola. 
I don't know how many minutes, from the beginning or second half, but they're going to play minutes, yeah."
With Rodrigo unavailable for selection through suspension, Guardiola said that Kalvin Phillips will make his first start of the season.
"He will start. Not just this week but for many times since he arrived, Rodri has been really important, his consistency, he knows everything, the game like what happened against Forest.
"The second half was a little bit more defensively, you have to do the process, and [Phillips] made three or four incredible options to help us breathe."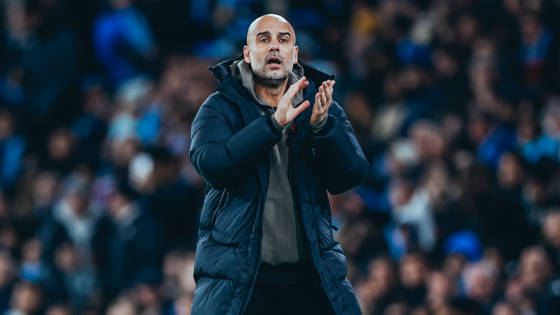 PREVIOUS MEETING
We last faced Newcastle in the League Cup back in October 2014, where we were knocked out of the competition as a youthful Magpies earned the club's first win in 12 attempts at the Etihad Stadium.
We most recently faced Eddie Howe's side in August this year, securing a 1-0 win thanks to a stunning finish from Julian Alvarez.
LAST TIME OUT
First-half strikes from Phil Foden and Erling Haaland saw 10-man City overcome Nottingham Forest 2-0 to make it six wins out of six in the Premier League and extend our lead at the top of the table.
GLOBAL TV LISTINGS
Courtesy of livesoccertv.com.
| | |
| --- | --- |
| Algeria | beIN SPORTS CONNECT, TOD, beIN Sports Premium 1, beIN Sports English |
| Angola | SuperSport Football Plus ROA, DStv Now, SuperSport MaXimo 1 |
| Anguilla | ESPNPlay Caribbean, ESPN Caribbean |
| Antigua and Barbuda | ESPNPlay Caribbean, ESPN Caribbean |
| Argentina | Star+, ESPN Argentina |
| Aruba | ESPN Caribbean, ESPNPlay Caribbean |
| Australia | beIN Sports Connect, beIN SPORTS 2 |
| Austria | DAZN |
| Bahamas | ESPN Caribbean |
| Bahrain | TOD, beIN Sports Premium 1, beIN SPORTS CONNECT, beIN Sports English |
| Barbados | ESPN Caribbean, ESPNPlay Caribbean |
| Belize | ESPN Norte, ESPN Caribbean |
| Benin | SuperSport MaXimo 1, SuperSport Football Plus ROA |
| Bermuda | ESPN Caribbean |
| Bolivia | Star+ |
| Botswana | SuperSport Football Plus ROA, DStv Now, SuperSport MaXimo 1 |
| Brazil | Star+, GUIGO, ESPN, NOW NET e Claro |
| British Virgin Islands | ESPNPlay Caribbean, ESPN Caribbean |
| Burkina Faso | DStv Now, SuperSport MaXimo 1, SuperSport Football Plus ROA |
| Burundi | SuperSport Football Plus ROA, SuperSport MaXimo 1, DStv Now |
| Cameroon | DStv Now, SuperSport Football Plus ROA, SuperSport MaXimo 1 |
| Canada | DAZN |
| Cape Verde | SuperSport Football Plus ROA, DStv Now, SuperSport MaXimo 1 |
| Cayman Islands | ESPN Caribbean, ESPNPlay Caribbean |
| Central African Republic | SuperSport Football Plus ROA, SuperSport MaXimo 1 |
| Chad | TOD, beIN Sports Premium 1, SuperSport Football Plus ROA, beIN SPORTS CONNECT, SuperSport MaXimo 1, beIN Sports English, DStv Now |
| Chile | Star+, ESPN Chile |
| Colombia | Star+, ESPN |
| Comoros | SuperSport MaXimo 1, SuperSport Football Plus ROA |
| Congo | SuperSport Football Plus ROA, DStv Now, SuperSport MaXimo 1 |
| Congo DR | SuperSport Football Plus ROA, SuperSport MaXimo 1 |
| Costa Rica | Star+, ESPN Norte |
| Cote D'Ivoire | SuperSport Football Plus ROA, SuperSport MaXimo 1, DStv Now |
| Croatia | Arena Sport 3 Croatia |
| Cuba | ESPN Caribbean, ESPNPlay Caribbean |
| Czech Republic | Nova Sport 1 |
| Djibouti | beIN Sports English, beIN Sports Premium 1, TOD, SuperSport Football Plus ROA, DStv Now, SuperSport MaXimo 1, beIN SPORTS CONNECT |
| Dominica | ESPN Caribbean, ESPNPlay Caribbean |
| Dominican Republic | ESPN Caribbean, Star+, ESPN Norte, ESPNPlay Caribbean |
| Ecuador | ESPN, Star+ |
| Egypt | TOD, beIN SPORTS CONNECT, beIN Sports English, beIN Sports Premium 1 |
| El Salvador | Star+, ESPN Norte |
| Equatorial Guinea | DStv Now, SuperSport MaXimo 1, SuperSport Football Plus ROA |
| Eritrea | DStv Now, SuperSport MaXimo 1, SuperSport Football Plus ROA |
| Ethiopia | SuperSport Football Plus ROA, DStv Now, SuperSport MaXimo 1 |
| France | beIN Sports 2, beIN SPORTS CONNECT, Free |
| Gabon | SuperSport Football Plus ROA, DStv Now, SuperSport MaXimo 1 |
| Gambia | SuperSport MaXimo 1, DStv Now, SuperSport Football Plus ROA |
| Germany | DAZN |
| Ghana | SuperSport Football Plus ROA, SuperSport MaXimo 1, DStv Now |
| Greece | Action 24 |
| Grenada | ESPN Caribbean, ESPNPlay Caribbean |
| Guadeloupe | ESPN Caribbean, ESPNPlay Caribbean |
| Guatemala | Star+, ESPN Norte |
| Guinea | SuperSport MaXimo 1, DStv Now, SuperSport Football Plus ROA |
| Guinea-Bissau | SuperSport MaXimo 1, SuperSport Football Plus ROA, DStv Now |
| Haiti | ESPN Caribbean, ESPNPlay Caribbean |
| Honduras | Star+, ESPN Norte |
| Iran | TOD, beIN Sports English, beIN SPORTS CONNECT, beIN Sports Premium 1 |
| Iraq | beIN Sports English, TOD, beIN SPORTS CONNECT, beIN Sports Premium 1 |
| Ireland | Sky Sports Football, SKY GO Extra, Sky Sports Main Event, Sky Ultra HD |
| Israel | Sport 1 |
| Italy | DAZN |
| Jamaica | ESPNPlay Caribbean, ESPN Caribbean |
| Japan | DAZN |
| Jordan | beIN SPORTS CONNECT, beIN Sports Premium 1, TOD, beIN Sports English |
| Kenya | DStv Now, SuperSport MaXimo 1, SuperSport Football Plus ROA |
| Kuwait | TOD, beIN Sports Premium 1, beIN Sports English, beIN SPORTS CONNECT |
| Lebanon | beIN SPORTS CONNECT, TOD, beIN Sports Premium 1, beIN Sports English |
| Lesotho | SuperSport MaXimo 1, SuperSport Football Plus ROA, DStv Now |
| Liberia | SuperSport MaXimo 1, SuperSport Football Plus ROA, DStv Now |
| Libya | beIN Sports English, beIN Sports Premium 1, beIN SPORTS CONNECT, TOD |
| Madagascar | DStv Now, SuperSport Football Plus ROA, SuperSport MaXimo 1 |
| Malawi | DStv Now, SuperSport MaXimo 1, SuperSport Football Plus ROA |
| Mali | DStv Now, SuperSport Football Plus ROA, SuperSport MaXimo 1 |
| Martinique | ESPNPlay Caribbean, ESPN Caribbean |
| Mauritania | SuperSport MaXimo 1, TOD, SuperSport Football Plus ROA, DStv Now, beIN Sports English, beIN SPORTS CONNECT, beIN Sports Premium 1 |
| Mauritius | SuperSport MaXimo 1, DStv Now, SuperSport Football Plus ROA |
| Mayotte | SuperSport MaXimo 1, SuperSport Football Plus ROA |
| Mexico | Star+, ESPN Mexico |
| Montserrat | ESPN Caribbean, ESPNPlay Caribbean |
| Morocco | TOD, beIN Sports Premium 1, beIN Sports English, beIN SPORTS CONNECT |
| Mozambique | SuperSport Football Plus ROA, DStv Now, SuperSport MaXimo 1 |
| Namibia | SuperSport MaXimo 1, DStv Now, SuperSport Football Plus ROA |
| Netherlands Antilles | ESPN Caribbean |
| Nicaragua | Star+, ESPN Norte |
| Niger | SuperSport MaXimo 1, SuperSport Football Plus ROA, DStv Now |
| Nigeria | SuperSport MaXimo 1, DStv Now, SuperSport Football Plus Nigeria |
| Oman | beIN SPORTS CONNECT, beIN Sports Premium 1, TOD, beIN Sports English |
| Palestine | beIN Sports English, beIN Sports Premium 1, TOD, beIN SPORTS CONNECT |
| Panama | ESPN Norte, Star+ |
| Paraguay | Star+ |
| Peru | Star+ |
| Portugal | Sport TV2, Sport TV Multiscreen |
| Puerto Rico | ESPNPlay Caribbean, ESPN Caribbean |
| Qatar | TOD, beIN Sports English, beIN Sports Premium 1, beIN SPORTS CONNECT |
| Reunion | SuperSport MaXimo 1, SuperSport Football Plus ROA |
| Rwanda | SuperSport Football Plus ROA, SuperSport MaXimo 1 |
| Saint Barthelemy | ESPNPlay Caribbean, ESPN Caribbean |
| Saint Helena | SuperSport MaXimo 1, SuperSport Football Plus ROA |
| Saint Kitts and Nevis | ESPNPlay Caribbean, ESPN Caribbean |
| Saint Lucia | ESPN Caribbean, ESPNPlay Caribbean |
| Saint Martin | ESPN Caribbean, ESPNPlay Caribbean |
| Saint Vincent and the Grenadines | ESPNPlay Caribbean, ESPN Caribbean |
| Sao Tome And Principe | SuperSport MaXimo 1, SuperSport Football Plus ROA |
| Saudi Arabia | beIN SPORTS CONNECT, TOD |
| Senegal | DStv Now, SuperSport MaXimo 1, SuperSport Football Plus ROA |
| Seychelles | SuperSport Football Plus ROA, SuperSport MaXimo 1, DStv Now |
| Sierra Leone | DStv Now, SuperSport Football Plus ROA, SuperSport MaXimo 1 |
| Slovakia | Nova Sport 1 |
| Slovenia | Arena Sport 1 Premium |
| Somalia | beIN Sports English, beIN SPORTS CONNECT, TOD, beIN Sports Premium 1, SuperSport Football Plus ROA, SuperSport MaXimo 1 |
| South Africa | DStv App, SuperSport Variety 2, SuperSport MaXimo 1 |
| South Sudan | beIN Sports English, TOD, beIN Sports Premium 1, beIN SPORTS CONNECT, DStv Now |
| Spain | DAZN, DAZN 1, Movistar+ |
| Sudan | beIN Sports English, DStv Now, SuperSport Football Plus ROA, beIN SPORTS CONNECT, beIN Sports Premium 1, TOD, SuperSport MaXimo 1 |
| Swaziland | DStv Now, SuperSport MaXimo 1, SuperSport Football Plus ROA |
| Switzerland | DAZN |
| Syria | beIN Sports Premium 1, TOD, beIN SPORTS CONNECT, beIN Sports English |
| Tanzania | DStv Now, SuperSport Football Plus ROA, SuperSport MaXimo 1 |
| Togo | SuperSport MaXimo 1, DStv Now, SuperSport Football Plus ROA |
| Trinidad and Tobago | ESPNPlay Caribbean, ESPN Caribbean |
| Tunisia | TOD, beIN SPORTS CONNECT, beIN Sports Premium 1, beIN Sports English |
| U.S. Virgin Islands | ESPNPlay Caribbean, ESPN Caribbean |
| Uganda | SuperSport Football Plus ROA, SuperSport MaXimo 1, DStv Now |
| United Arab Emirates | beIN Sports English, beIN Sports Premium 1, beIN SPORTS CONNECT, TOD |
| United Kingdom | Sky Sports Main Event, Sky Sports Football, Sky Ultra HD, SKY GO Extra |
| United States | ESPN+ |
| Uruguay | Star+ |
| Venezuela | ESPN, Star+ |
| Yemen | beIN SPORTS CONNECT, TOD, beIN Sports Premium 1, beIN Sports English |
| Zambia | SuperSport MaXimo 1, SuperSport Football Plus ROA |
| Zimbabwe | DStv Now, SuperSport MaXimo 1, SuperSport Football Plus ROA |
News about Newcastle v Man City