Everything you need to know about Manchester City's Premier League game against Manchester United.
united 0-0 city
team news
City make eight changes from the midweek win over Marseille.
The in-form John Stones gets the nod in central defence ahead of Aymeric Laporte, with only Riyad Mahrez, Kyle Walker and Fernandinho remaining from the team that started in midweek.
Sergio Aguero is ill and Eric Garcia is injured.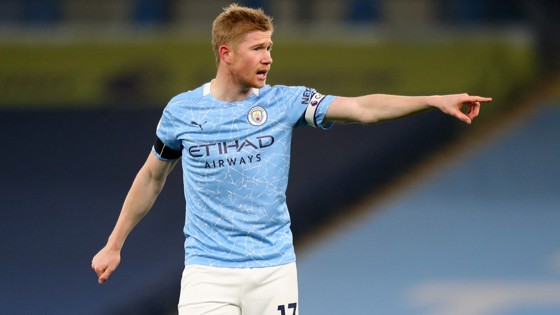 UNITED V CITY: MATCHDAY CENTRE
LINE-UPS:
City: Ederson, Walker, Cancelo, Dias, Stones, Fernandinho (c), Rodrigo, De Bruyne, Sterling, Jesus, Mahrez
Subs: Steffen, Gundogan, Laporte, Bernardo, Torres, Mendy, Foden
United: de Gea, Wan-Bissaka, Lindelöf, Maguire, Shaw, Fred, McTominay, Pogba, Fernandes, Greenwood, Rashford
Substitutes: Bailly, Mata, Martial, Henderson, Telles, Matic, van de Beek
When and Where
The 183rd Manchester derby takes place at Old Trafford and gets under way at 17:30 (UK) on Saturday 12 December.
In the UK, the game will be broadcast live on Sky Sports and you can also follow it here on mancity.com.
We'll have minute by minute text updates and live audio commentary in our Matchday Centre, whilst you can also keep up to date with all the action on Twitter: @ManCity.
A full-match replay will be available to watch on CITY+ from midnight.
Fans living abroad can find out how they can tune in from around the world by checking out our global TV listings at the foot of this page.
We're Not Really Here
Gareth Barry, Michael Brown and Shaun Goater will be the guests on our live matchday show.
Cel Spellman will be hosting the show, which begins at 16:30 (UK), one hour before we kick-off against Ole Gunnar Solskjaer's men.
We're Not Really Here is available to watch on all of our digital platforms and offers a City focused perspective to your pre-match build-up, with Barry, Brown and Goater sharing their thoughts and derby memories as we prepare for the big game.
The show resumes at half-time for a brief summary of the opening 45 minutes and, five minutes after the final whistle, we'll be live for half an hour of post-match reaction.
Our guests will dissect the game and respond to the fans' Man of the Match poll, questions, and comments, whilst we will also hear a player's reaction and, time permitting, watch Guardiola's post-match press conference.
Pep Guardiola preview
"There are a lot of games to play. We are in the beginning of the season. But it's important to win and beat a big rival. Now is time to focus on the Premier League."
Ole Gunnar Solskjaer preview
"Starting quickly is one thing and we want to start good. We have done well in last few games against City but there are loads of things we can do better.
"We really wanted to go through [in the Champions League] but we have to move on. It was a tight group decided by fine margins. Focus has been on this game and Manchester derby. That is the best game you can ask for."
Form guide
City come into the game on the back of a five-match unbeaten run in all competitions. We've won three of our last five outings in the Premier League and sit seventh in the table, with 18 points from ten games.
United are one point and one place above us and have won four consecutive games in the league.  However, they suffered a 3-2 defeat to RB Leipzig in their previous fixture, which saw them knocked out of the Champions League in the group stage.
Last meeting
United were the victors when we travelled to Old Trafford in March for what proved to be our final game before the 2019/20 season was temporarily suspended due to the COVID-19 pandemic.
Anthony Martial fired the visitors into a first half lead and Scott McTominay sealed the host's win when he scored from distance in the dying seconds.
Match officials
Referee: Chris Kavanagh
Assistants: Lee Betts, Constantine Hatzidakis
Fourth official: Craig Pawson
VAR: Paul Tierney
Assistant VAR: Ian Hussin
Global TV listings
| | |
| --- | --- |
| Algeria | beIN SPORTS CONNECT |
| Andorra | RMC Sport 1 |
| Angola | DStv Now, SuperSport Premier League ROA, SuperSport Maximo |
| Anguilla | Flow Sports App, Flowsports.co |
| Antigua and Barbuda | Flowsports.co, Flow Sports App |
| Argentina | ESPN Play Sur, ESPN2 Sur |
| Aruba | Flow Sports App, RUSH, Flowsports.co |
| Australia | Optus Sport |
| Austria | Sky Go, Sky Sport 1/HD |
| Bahamas | Flow Sports App, Flowsports.co, RUSH |
| Bahrain | beIN SPORTS CONNECT |
| Barbados | Flowsports.co, RUSH, Flow Sports App |
| Belarus | Belarus TV, Belarus 5 |
| Belgium | VOOsport World 1, Play Sports 1 |
| Benin | Canal+ Sport 3 Afrique, SuperSport Premier League ROA, SuperSport Maximo |
| Bermuda | Flow Sports App, Flowsports.co, RUSH |
| Bolivia | ESPN2 Sur, ESPN Play Sur |
| Botswana | DStv Now, SuperSport Premier League ROA, SuperSport Maximo |
| Brazil | Watch ESPN Brasil, ESPN Brasil, GUIGO |
| British Virgin Islands | RUSH, Flowsports.co, Flow Sports App |
| Bulgaria | Play Diema Xtra, Diema Sport 2 |
| Burkina Faso | Canal+ Sport 3 Afrique, SuperSport Premier League ROA, SuperSport Maximo, DStv Now |
| Burundi | SuperSport Maximo, SuperSport Premier League ROA, Canal+ Sport 3 Afrique, DStv Now |
| Cameroon | SuperSport Premier League ROA, Canal+ Sport 3 Afrique, SuperSport Maximo, DStv Now |
| Canada | DAZN |
| Cape Verde | DStv Now, Canal+ Sport 3 Afrique, SuperSport Maximo, SuperSport Premier League ROA |
| Cayman Islands | RUSH, Flow Sports App, Flowsports.co |
| Central African Republic | Canal+ Sport 3 Afrique, SuperSport Maximo, SuperSport Premier League ROA |
| Chad | SuperSport Maximo, beIN SPORTS CONNECT, DStv Now, SuperSport Premier League ROA, Canal+ Sport 3 Afrique |
| Chile | ESPN Play Sur, ESPN2 Sur |
| China | QQ Sports Live |
| Colombia | ESPN Play Sur, ESPN2 Colombia |
| Comoros | SuperSport Maximo, SuperSport Premier League ROA |
| Congo | SuperSport Premier League ROA, Canal+ Sport 3 Afrique, DStv Now |
| Costa Rica | Sky HD |
| Cote D'Ivoire | SuperSport Maximo, SuperSport Premier League ROA, Canal+ Sport 3 Afrique, DStv Now |
| Curacao | RUSH |
| Cyprus | Cytavision Sports 3, Cytavision on the Go |
| Czech Republic | Premier Sport, DIGI GO |
| Denmark | V Sport Ultra HD, TV3+ HD, Viaplay Denmark |
| Djibouti | SuperSport Maximo, DStv Now, beIN SPORTS CONNECT, Canal+ Sport 3 Afrique |
| Dominica | Flowsports.co, RUSH, Flow Sports App |
| Dominican Republic | Sky HD, RUSH |
| Ecuador | ESPN Play Sur |
| Egypt | beIN SPORTS CONNECT |
| El Salvador | Sky HD |
| Equatorial Guinea | SuperSport Premier League ROA, DStv Now, SuperSport Maximo, Canal+ Sport 3 Afrique |
| Eritrea | SuperSport Maximo, DStv Now, SuperSport Premier League ROA |
| Estonia | TV3 Sport |
| Ethiopia | SuperSport Maximo, DStv Now, SuperSport Premier League ROA |
| Finland | V Sport Jalkapallo, V Sport Ultra HD, V Sport Premium, Viaplay Finland |
| France | RMC Sport 1, Canal+ Sport, Free, RMC Sport en direct |
| French Guiana | RUSH |
| Gabon | SuperSport Maximo, Canal+ Sport 3 Afrique, DStv Now, SuperSport Premier League ROA |
| Gambia | SuperSport Maximo, DStv Now, Canal+ Sport 3 Afrique, SuperSport Premier League ROA |
| Germany | Sky Ticket, Sky Go, Sky Sport 1/HD |
| Ghana | Canal+ Sport 3 Afrique, SuperSport Maximo, DStv Now, SuperSport Premier League ROA |
| Grenada | RUSH, Flow Sports App, Flowsports.co |
| Guadeloupe | RUSH |
| Guatemala | Sky HD |
| Guinea | DStv Now, SuperSport Maximo, Canal+ Sport 3 Afrique, SuperSport Premier League ROA |
| Guinea-Bissau | DStv Now, SuperSport Premier League ROA, SuperSport Maximo, Canal+ Sport 3 Afrique |
| Guyana | RUSH |
| Haiti | RUSH |
| Honduras | Sky HD |
| Hong Kong | Now Player, 621 Now Premier League 1, 620 Now Premier League TV |
| Hungary | Spíler1 |
| Iceland | SíminnSport |
| Indonesia | Mola TV, mola.tv, Mola TV App |
| International | MUTV App |
| Iran | beIN SPORTS CONNECT |
| Iraq | beIN SPORTS CONNECT |
| Ireland | SKY GO Extra, Sky Ultra HD, Sky Sports Premier League, Sky Sports Main Event |
| Israel | Sport 2 |
| Italy | SKY Go Italia, Sky Sport Uno, NOW TV, Sky Sport Football |
| Jamaica | Flow Sports App, RUSH, Flowsports.co |
| Japan | DAZN |
| Jordan | beIN SPORTS CONNECT |
| Kazakhstan | Setanta Sports Kazakhstan |
| Kenya | DStv Now, SuperSport Premier League ROA |
| Korea Republic | SPOTV ON |
| Kuwait | beIN SPORTS CONNECT |
| Latvia | TV3 Sport |
| Lebanon | beIN SPORTS CONNECT |
| Lesotho | SuperSport Maximo, DStv Now |
| Liberia | SuperSport Premier League ROA, SuperSport Maximo, DStv Now |
| Libya | beIN SPORTS CONNECT |
| Lithuania | TV3 Sport |
| Luxembourg | RMC Sport 1 |
| Madagascar | SuperSport Premier League ROA, DStv Now, SuperSport Maximo |
| Malawi | SuperSport Maximo, DStv Now, SuperSport Premier League ROA |
| Mali | SuperSport Premier League ROA, SuperSport Maximo, Canal+ Sport 3 Afrique, DStv Now |
| Malta | GO TV Anywhere, TSN2 Malta |
| Martinique | RUSH |
| Mauritania | DStv Now, beIN SPORTS CONNECT, Canal+ Sport 3 Afrique |
| Mauritius | SuperSport Premier League ROA, RMC Sport 1, DStv Now |
| Mexico | Sky HD, Blue To Go Video Everywhere |
| Monaco | RMC Sport 1 |
| Montserrat | Flowsports.co, Flow Sports App, RUSH |
| Morocco | beIN SPORTS CONNECT |
| Mozambique | SuperSport Premier League ROA, SuperSport Maximo, DStv Now |
| Myanmar | Skynet Myanmar |
| Namibia | DStv Now, SuperSport Premier League ROA, SuperSport Maximo |
| Netherlands | Ziggo Sport 14, Ziggo Sport Select |
| New Zealand | Spark Sport |
| Nicaragua | Sky HD |
| Niger | DStv Now, SuperSport Maximo, Canal+ Sport 3 Afrique, SuperSport Premier League ROA |
| Nigeria | SuperSport Premier League Nigeria, DStv Now, SuperSport Maximo, Canal+ Sport 3 Afrique |
| Norway | TV2 Sumo, TV2 Sport Premium |
| Oman | beIN SPORTS CONNECT |
| Palestinian Territory | beIN SPORTS CONNECT |
| Panama | Flow Sports App, Sky HD, Flowsports.co |
| Paraguay | ESPN2 Sur, ESPN Play Sur |
| Peru | ESPN Play Sur, ESPN2 Sur |
| Philippines | Premier FOOTBALL |
| Poland | Canal+ Sport 2 Poland, nc+ GO, Canal+ Sport Online |
| Portugal | Sport TV LIVE, Sport TV1 |
| Puerto Rico | RUSH |
| Qatar | beIN SPORTS CONNECT |
| Romania | Eurosport Player Romania, Eurosport Romania |
| Russia | Okko Sport |
| Rwanda | SuperSport Maximo, SuperSport Premier League ROA, Canal+ Sport 3 Afrique |
| Saint Kitts and Nevis | Flowsports.co, Flow Sports App |
| Saint Lucia | RUSH, Flowsports.co, Flow Sports App |
| Saint Vincent and the Grenadines | Flow Sports App, Flowsports.co |
| Sao Tome And Principe | SuperSport Premier League ROA, SuperSport Maximo |
| Senegal | SuperSport Maximo, SuperSport Premier League ROA, DStv Now, Canal+ Sport 3 Afrique |
| Seychelles | SuperSport Maximo, Flow Sports App, Flowsports.co, SuperSport Premier League ROA, DStv Now |
| Sierra Leone | Canal+ Sport 3 Afrique, SuperSport Maximo, DStv Now, SuperSport Premier League ROA |
| Slovakia | DIGI GO, Premier Sport |
| Somalia | beIN SPORTS CONNECT |
| South Africa | SuperSport Premier League, SuperSport Maximo, DStv App |
| South Sudan | SuperSport Premier League ROA, DStv Now, beIN SPORTS CONNECT |
| Spain | DAZN |
| Sudan | DStv Now, SuperSport Maximo, beIN SPORTS CONNECT |
| Suriname | RUSH |
| Swaziland | SuperSport Premier League ROA, DStv Now, SuperSport Maximo |
| Sweden | V Sport Ultra HD, V Sport Premium, Viaplay Sweden |
| Switzerland | RMC Sport 1, Sky Sport 1/HD, Canal+ Sport |
| Syria | beIN SPORTS CONNECT |
| Tanzania | DStv Now, SuperSport Premier League ROA, SuperSport Maximo |
| Timor-Leste | mola.tv, Mola TV |
| Togo | SuperSport Premier League ROA, SuperSport Maximo, Canal+ Sport 3 Afrique, DStv Now |
| Trinidad and Tobago | Flow Sports App, Flowsports.co, RUSH |
| Tunisia | beIN SPORTS CONNECT |
| Turkey | S Sport, S Sport+ |
| Turks and Caicos Islands | Flow Sports App, RUSH, Flowsports.co |
| U.S. Virgin Islands | RUSH |
| Uganda | DStv Now, SuperSport Maximo, SuperSport Premier League ROA |
| Ukraine | Setanta Sports Ukraine |
| United Arab Emirates | beIN SPORTS CONNECT |
| United Kingdom | Sky Sports Main Event, Sky Sports Premier League, BBC Radio Manchester, SKY GO Extra, Sky Ultra HD |
| United States | Telemundo Deportes En Vivo, NBC, Telemundo, NBCSports.com, NBC Sports App |
| Uruguay | ESPN Play Sur, ESPN2 Sur |
| Venezuela | ESPN Play Sur |
| Yemen | beIN SPORTS CONNECT |
| Zambia | SuperSport Premier League ROA, SuperSport Maximo |
| Zimbabwe | SuperSport Premier League ROA, SuperSport Maximo, DStv Now |