Pep Guardiola says Erling Haaland expected to score the amount of goals he has so far.
The Norwegian has bagged 20 goals in just 13 appearances this season, racing to the top of the Premier League scoring charts in the process.
But such is the belief in his own ability, the City boss says Haaland believes he is just about where he thought he'd be ahead of Sunday's game with Liverpool.
"When a player arrives you always expect the best," said Guardiola.
"I think the bigger challenge was adapting as quickly as possible, knowing the way we want to play, the lifestyle in Manchester and so on.
"I speak with Erling, and he was expecting the goals he was scoring (so far).
"So far, he was unbelievable, it is important he is playing regularly.
"He came here for many years, and he arrived just a few months ago.
"Bad moments will come and it's a case of okay go for the next one.
"We know his skills, but also how he behaved in the bad moments.
"It maybe 20 minutes not involved he's never out of the game.
"Always he's there and has the chance – 'I will arrive and have the moment'.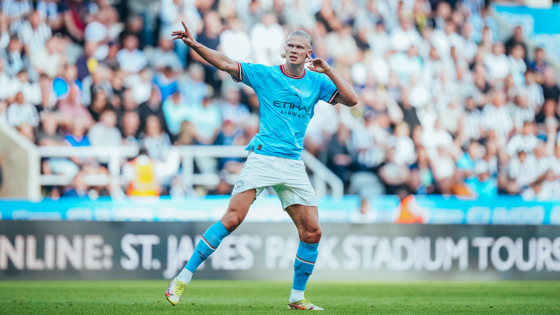 "He's never disconnected. He's more involved than the beginning but he was never disconnected.
"That's the skill he has. Sometimes it's difficult when you're surrounded, but he has the quality, we need him there.
"He can drop (deeper), but we need him there with his space in behind and movement."
Asked whether Haaland could score 50 goals this season given his blistering start, the boss said: "I don't know. Try to score tomorrow and at the end of the season, we will see.
"He will score a lot with this rhythm."
Guardiola takes his team to Anfield with a 13-point advantage over Jurgen Klopp's men.
Despite the gap, the boss believes there is plenty of time for Liverpool to mount a title challenge – and is expecting nothing less.
"Arsenal are running incredibly strong, so we have to try to be close to them," he said.
"Of course, there are a few teams in front, Arsenal are there, for many years they weren't but they were patient with Mikel, who changed the club.
"Tottenham will be a contender, Chelsea, and Liverpool as well. Liverpool and Jurgen always I consider a contender.
"Always the Premier League is fascinating because many teams can be champions.
"The last few seasons it was ourselves and Liverpool who had this chance, but we are in October, anyone can be the champions, and no-one is out of it. This is just my opinion.
"The opponents are getting better and want to challenge, they don't want us to be champion, to stay there you have to continue to do it."